PRESIDENT DONALD J. TRUMP GAB MESSAGES


=> Locogringo:
YouTube Takes Down Right Side
Broadcasting's Video of Trump Rally with
Over 2 Million Views — Bans Them from
Covering Trump Rally Tomorrow — Watch
On Rumble!....... Original Article Gateway Pundit, by Jim Hoft

(10) RSBN on Twitter: "URGENT: Download the RSBN app to livestream tomorrow's Sarasota rally! We will still have all day coverage regardless of Big Tech's attempt to shut us down. We will also have a stream on Rumble - make sure you follow us there!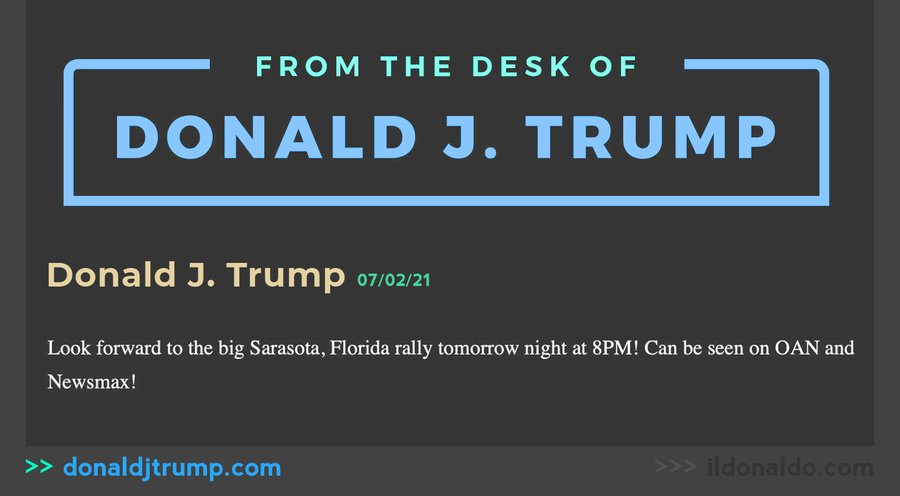 Rumble —

Saturday, July 3, 2021: Join the RSBN crew for all day LIVE coverage as President Donald J. Trump, 45th President of the United States of America, holds a major rally in Sarasota, FL on Saturday, July 3, 2021 at 8:00PM EDT.




=> Locogringo: Sheriff: 35K To 45K Attendees At Trump Ohio Rally...
=> Fubho: Breaking: President Trump to Hold Major Rally on July 3rd in Sarasota, Florida - TWO SATURDAY RALLIES IN A ROW!!!
=> Woody Nickels:

=>

Biden:

"Who needs 20 rounds in their guns?"

Me:

"Who needs 25,000 armed troops and miles of metal fencing for their inauguration?

" __Jason Meister
=> Woody Nickels: "We watched the election be stolen real time - we won't forget and - we know - you
all know too, the election was a damn fraud

."



** RSBNETWORK.COM
** Bannon's War Room on Rumble - Steve Bannon's War Room: Pandemic
** Pro Trump News • The Antidote To Media Bias • protrumpnews.com
** Populist Press Trump News
** Woody Nickels: Will AOC Have to Eat Her Words? By June 2018 She Said 12 Years Until Climate Armagedden. Less than 10yrs to go.



There are two rules here: Don't insult DONALD TRUMP - OR other posters!


(ALL FACTS AND OPINIONS ABOUT THE FRAUDULENT WHITE HOUSE OCCUPANT ARE WELCOME!)