PRESIDENT DONALD J TRUMP WON THE ELECTION!
HOLD THE LINE, NEVER GIVE UP, NEVER GIVE IN, NEVER SURRENDER! ___Donald Trump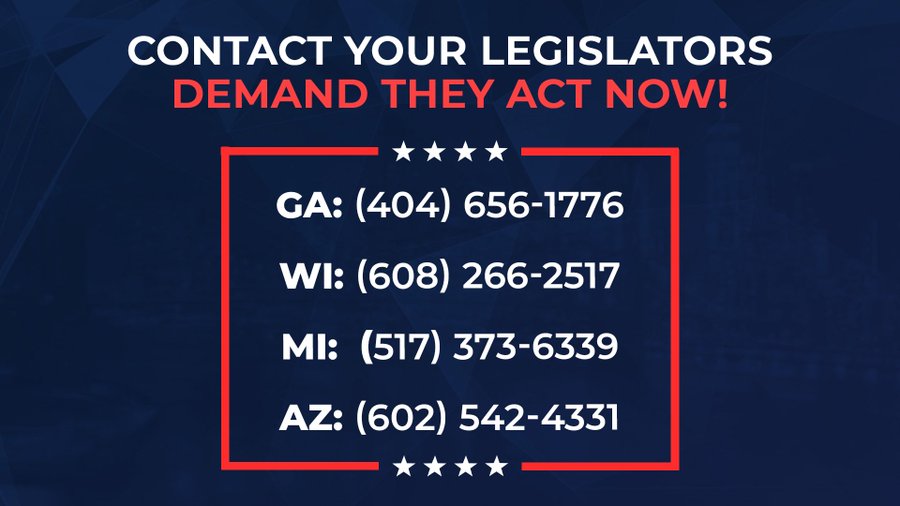 => Fubho: Motion passes to audit Fulton County absentee ballots…
=> Fubho: MUST-SEE: Lara Trump Lays Out the Process Next Week to Cast Aside the Fraudulent Electoral Votes Resulting in President Trump's Victory (VIDEO)
=> Fubho: "For Five States to Stop Counting on Election Night Is Absolutely Unprecedented" – Sidney Powell Lays Out Evidence of Rampant Election Fraud in Latest Interview (Audio)
=> Fubho: Will Wisconsin Officially Move Their Electoral College Votes to President Trump After 200,000 Mostly Biden Votes Were Ruled Illegitimate?
=> Fubho: Pennsylvania Reported 200,000 More Ballots Cast than People Who Voted – Will The State Now Legitimately Go to the Trump Column?
=> Fubho: Attend the STOP THE STEAL Rally in Washington, D.C., on January 6

Locogringo:

BINGO...it's a start........only need the first state to fall............ Inventor Jovan Hutton Pulitzer Testified Before GA Senate, Totally Destroyed GA 2020 Election Results... ...GA Senate Committee Unanimously Passes Motion To Audit Fulton County Using Pulitzer's Method

Locogringo: GAME Over: Dominion Voting Machines LIVE HACKED During Georgia Senate Hearing [VIDEO] County GOP Chair Testifies at Georgia Senate Election Hearing: '3 People From the Sec of State Showed up With Guns, and Badges and Handcuffs, and 2 Dominion Tech Reps' — 'They Came With the Intent of Intimidation'

** CHECK OUT BANNON'S NEWS AGGREGATOR!
**Woody Nickels: Will AOC Have to Eat Her Words? By June 2018 She Said 12 Years Until Climate Armagedden. Less than 10yrs to go.

This is a pro-Trump Thread: There are two rules: Don't insult the President - OR other posters who post on this Thread.
.