An SI Board Since December 2020
| Posts | SubjectMarks | Bans | Symbol |
| --- | --- | --- | --- |
| 2 | 1 | 0 | SNPX |
Undiscovered ultra low float and brutally underpriced Gem with a potential MEGA Blockbuster Drug targeting Alzheimer disease a $10+ Billion Market . Stock just started trading a few days ago so its still unknown .This is the CHEAPEST Alzheimer play you can get on the whole markets and there are only 5 million outstanding shares .This could be much much more than just a 10 Bagger .GLTA

Synaptogenix (SNPX)

Market Cap: $9 million
Cash: $8 million or enough untill end 2021
Price: $1.80

Shares Out: 5 million

Homepage

synaptogen.com

Neurotrope initiates long-term Alzheimer's study with bryostatin

seekingalpha.com

CC transcript from last week

otcmarkets.com

"The NIH agreed to give us an initial grant of $2.7 million with the ability for us to request additional capital. They wanted a trial of longer duration, 6 months inmoderate and moderately severe Alzheimer's patients. Together, we plan the foundation of a real Phase 2b trial of longer duration, which is currently ongoing. Wehave focused the lower 20-microgram dose on a moderate Alzheimer's stratum with patients not on Namenda.The design is encouraging with the important datapoints gleaned from our past short-term pilot studies, and the support received from the NIH as well as leading key opinion leaders in Alzheimer's.

Today, we have dosed approximately 20 patients so far out of our target of 100. The trial will be 6 months and does have longer duration than the prior two. This longer period keeps us in line with industry standard trials, and should allow sufficient time for the inexorable deterioration of the placebo group, a situation thatpresented itself with a placebo population in the 2 previous much shorter pilot trials .

Additionally, we are in active discussions with several possible academic collaborators to assess the usefulness of bryostatin's regenerative mechanism of action inseveral other neurodegenerative diseases, most prominently, Multiple Sclerosis as our initial target, but ultimately to include Parkinson's disease, Fragile Xsyndrome and autism

What do you see as the value proposition of Synaptogenix for shareholders? I guess I'll take that one. So we're trading substantially below cash right now with nearly $1.70 per share in cash and cash equivalents. I look at some comparable companies in Phase 2 trials with similar previous trials with smaller or similar ends, or – I see their valuations, and I see we have a significant opportunity for growth.Our shareholders are also going to benefit from our strong IP position, as well as the over $200 million in funding support during the decades of clinical researchthat Dr. Alkon and his team got at the NIH and the Rockefeller Institute. So I think we feel really good about this arbitrage of where we are trading and wheresimilarly situated companies in the market are valued .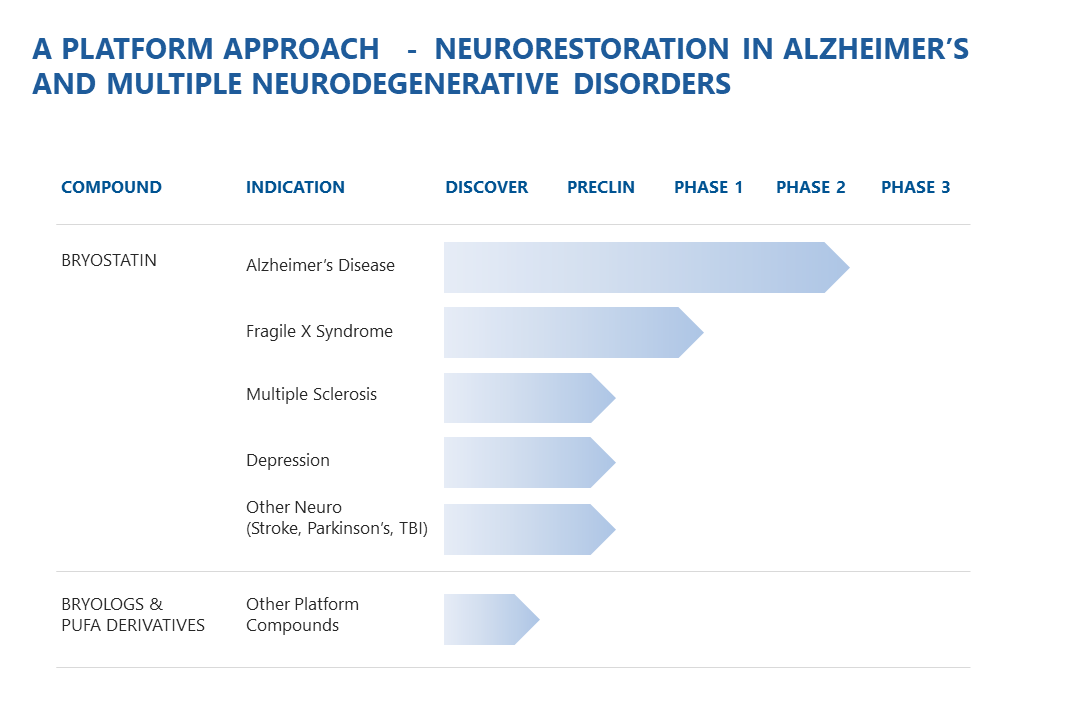 | | |
| --- | --- |
| | Go to reply# or date (mm/dd/yy): |
| | |
| --- | --- |
| | Go to reply# or date (mm/dd/yy): |