An SI Board Since July 2016
| Posts | SubjectMarks | Bans | Symbol |
| --- | --- | --- | --- |
| 3 | 2 | 0 | XPL |
ceo.ca@pamplonatrader/solitario-amaze-zinc-value

SUMMARY
Thanks to improving fundamentals, zinc prices are on the verge of a strong, sustainable run;

Solitario Exploration and Royalty ("Solitario") has a 30% carried interest in the Bongara project, a high-grade zinc deposit in Peru;

Solitario also has a robust portfolio of royalties and other assets; and

Solitario's enterprise value of just US$11 million presents a compelling opportunity.



COMPANY OVERVIEW

Management Team

Christopher E. Herald, Chief Executive Officer, received a M.S. in Geology from the hallowed Colorado School of Mines. Mr. Herald also serves as Chairman for the Denver Gold Group, a not-for-profit industry organization recognized for coordinating the preeminent North American and European gold conferences for institutional investors.

Walter H. Hunt, Chief Operating Officer and Qualified Person, also earned a M.S. in Geology from the Colorado School of Mines and has over 30 years of exploration, development and operational experience with Anaconda Minerals, Noranda and Echo Bay Mines where he served as Superintendent, Technical Services and Chief Geologist at Echo Bay's Kettle River operations.

Share Structure


Issued and Outstanding Shares: 38,995,189*

Options and Warrants: 1,664,748**

Fully Diluted Share Count: 40,659,937

Insider Holdings: ~8%

*On October 28th, 2015, the Company announced a share repurchase program authorizing the purchase of up to two million shares of outstanding common stock through December 31st, 2016. As of March 31st, 2016, the Company has repurchased and cancelled 319,000 shares for an aggregate purchase price of US$150,000 (US$0.47 per share).
**1,624,748 "RMB Warrants" with exercise price US$1.5387 expire on August 21st, 2016.

The company has been around for 20 years and has never rolled back shares. Insiders own ~8% of the company with just 40,000 options currently outstanding.

Working Capital

Working Capital as at March 31st, 2016 = US$17,390,000

Market Capitalization and Enterprise Value


Market Capitalization: US$27.3 million

Fully Diluted Market Capitalization: US$28.5 million

Enterprise Value: US$11 million

Assets

Liquid Assets


Cash

US Treasuries

Certificates of Deposit

100,000 shares of Kinross Gold Corp.

7,240,000 shares (9.97%) of Vendetta Mining Corp.

Royalties


2.0%-4.75% sliding scale NSR on Yanacocha copper-gold properties (Peru)

1.5% NSR on Atna gold properties (Montana)

1.5% NSR on Norcan copper-gold properties (Mexico)

1.5%-2.0% sliding scale NSR on Mercurio (Surubim) gold properties (Brazil)

1.0% NSR on Pedra Branca PGM properties (Brazil)

Exploration Properties


La Promesa Zinc-Lead-Silver Property (Peru)

Pachuca Silver-Gold Property (Mexico)

Bongara Zinc Project Joint Venture

Solitario (30%) carried to production by Compania Minera Milpo ("Milpo") with no participation in any funding costs until cash flow is achieved (Solitario's portion of CapEx paid back from 50% of attributable revenues). All funds expended by Milpo through to the completion of a feasibility study are 100% Milpo's obligation, with no repayment required by Solitario.

3-Year Stock Chart



ZINC OUTLOOK

Demand Driven by China's Infrastructure Sector

According to the National Bureau of Statistics, China's infrastructure spending rose 19% at the beginning of 2016. The International Lead and Zinc Study Group ("ILZSG") forecasts zinc demand from China's infrastructure sector to surge 4.5% in 2016. China is the world's largest zinc consumer with infrastructure spending accounting for roughly 25% of global zinc consumption. As a consequence, global refined zinc demand is expected to grow by 3.5%.


Source: ILZSG

Concentrate and Metal Stocks Expected to Tighten

London Metal Exchange ("LME") warehouse inventories have slid 24% since mid-February to 379,875 tonnes, the lowest since July 2009.


Source: Kitco

Mine Supply and Mine Capacity Expected to Contract

Two of the three largest zinc mines in the world (Century Mine 500 ktpa; Lisheen Mine 175 ktpa) are being closed due to reserve depletion. Glencore is also cutting output at the Mt. Isa and McArthur River mines in Australia. In aggregate, closures and cutbacks will remove at least 1,160,000 tonnes of zinc mine production.


Source: Wood Mackenzie

Source: ILZSG

Source: ILZSG
Zinc Price Going Higher

As a result of increased demand and reduced supply, analysts expect a tight concentrate market to emerge in Q3 2016 and a tight refined market to emerge in 1H 2017. Zinc prices appear to be on the verge of a strong, sustainable run higher.





ZINC MINING IN PERU

Globally, Peru ranks third in zinc production after China and Australia as well as third in reserves after Australia and China.


Source: USGS Annual Zinc Summary
According to The Fraser Institute's 2015 Annual Survey, Peru ranks 36th out of 109 on the global Investment Attractiveness Index and second in Latin America after Chile.


Source: Fraser Institute Annual Survey 2015
Presidential Elections: Positive Catalyst

On July 28th, Pedro Pablo Kuczynski will become Peru's 95th president. He held positions at the World Bank and International Monetary Fund before being designated as general manager of Peru's Central Reserve Bank. He was also involved with investment banks and private equity funds as well as being appointed as President of Halco Mining, an international conglomerate of mining companies headquartered in Pittsburgh, Pennsylvania. Even more relevant to mining in Peru, he has served as Peru's Minister of Energy and Mines. His election to presidency is viewed by the investment community as being very positive for mining in the country.

Provincial Government & Social License at Shipasbamba (Bongara Project Location)

According to SRK Consulting ("SRK"), politically and socially, the development of a mining operation at the Bongara project location is considered low risk as many of the local residents are already employed or seeking employment with Milpo/Votorantim.

BONGARA ZINC PROJECTHistory

Prior to the discovery of mineral occurrences by Solitario in 1994, no mineral prospecting had been done on the Bongara property and no concessions had been historically recorded. In 1995 and later, Solitario staked the current mineral concessions in the Bongara project area.

In 1996, Cominco Ltd. formed a joint venture partnership ("JV") with Solitario. Between 1997 and 1999, Cominco completed geologic mapping, geophysical surveys, surface sampling, and 82 diamond drill holes. The partnership was terminated in 2000 and Solitario retained ownership of the property.

In 2006, Votorantim and Solitario formed a JV for the exploration and possible development of the property. As the operator of the JV company, Votorantim has initiated surface diamond core drilling, geologic mapping, surface outcrop sampling, underground exploration drifting and underground drill programs. As of August 15, 2013, Votorantim completed 404 diamond drillholes which, when combined with the previous drilling of Cominco, totals 117,260 m. This was the basis for the initial resource estimate prepared by SRK in 2014.

NI 43-101 Maiden Resource Estimate

The high-grade Bongara deposit contains 3.4 billion pounds of zinc equivalent across all categories. Solitario's 30% share is 1.02 billion pounds.



Source: Bongara NI 43-101

Source: Bongara NI 43-101
High-grade in situ zinc mineralization is stratabound in carbonates with low impurities in sulfide, which should generate a premium concentrate and a highly saleable product in a market where strong future demand is forecasted.

SRK acknowledges, after examination of the Bongara project data set, that there have been a significant number of technical studies completed by Votorantim, many of which are beyond scoping level (preliminary economic assessment or PEA), and some of which would satisfy Feasibility Study criteria.

Exploration Upside

Per SRK, there is low risk to the Bongara project if no additional exploration is completed. However, additional drilling for resource definition has strong potential to expand the known resource extent and upgrade Inferred resources to Measured and Indicated.

The discovery of the high-angle, high-grade San Jorge zone has prompted more emphasis on angled drilling. These "break-through" structures have been mapped on surface in several locations, but due to logistical constraints, have not been adequately drill tested for their down-dip continuity. Similarly, there appear to be additional drill targets at the intersection of the high-angle structures and the flat manto zones, wherein grades are locally enhanced. These concentrations may be present within the existing drilling footprint, but require additional drilling to delineate. The high grades and potential tonnage of such targets provide an incentive to locate and further define resources of this geometry.


Source: Bongara NI 43-101

Source: Bongara NI 43-101
In SRK's opinion, there is immediate potential to upgrade the resource with step-out drilling beyond the radius of the current Votorantim footprint and into the areas containing only lower-confidence Cominco drilling.

The deposit is open laterally to the north and south as well as to the west and east on the downthrown sides of the graven, which defines the limit of exploration to date. Gaps in the drill pattern within the footprint of the existing drilling provide potential increase resources where drill spacing limits the continuity of stratigraphically controlled mineralization.

Too, Solitario has noted the existence of zinc indication several kilometers away, indicating the potential for district-scale opportunities.

Votorantim Assigns 70% Interest to Milpo

Votorantim and Milpo entered into an agreement for Milpo to buy Votorantim's interest in in the Bongara project and Milpo's Board of Directors approved the purchase in the fourth quarter of 2014. Milpo is 51% owned by Votorantim with the remaining 49% of Milpo publicly owned.

As of last year, Milpo became the largest zinc miner in Peru. The firm has three mining units in Peru: El Porvenir and Atacocha in Pasco region and Cerro Lindo in Ica region. All three are underground operations. Milpo also operates the Ivan mine and refinery in northern Chile's Antofagasta region. Milpo is well capitalized with over US$420 million in cash.

Next Steps

Milpo has completed a 26 km access road to the site, which is seen as a key component for the projects development. In a June 1st interview, CEO Victor Gobtiz noted that construction of 10 km of drill roads should be completed in July. Drill roads to the project site will accelerate exploration and development at Bongara. A pre-feasibility study is underway and may be completed by the end of 2016.

Again, to reiterate a note by SRK, there have been a significant number of technical studies completed by Votorantim, many of which are beyond scoping level, and some of which would satisfy Feasibility Study criteria.

Currently at Bongara, Milpo is working towards completing a community agreement with the locals to do additional work on the project. They are also seeking permits for a new drill program as the project is open in all directions.

Potential Challenges

High-relief terrain and high annual rainfall are significant factors, especially for infrastructure construction and containment and stability of process materials and tailings.

Rugged Terrain

A constraint on effective exploration and delineation drilling in these areas is the access to drilling stations due to the rugged terrain. The completion of drill roads into the area will help to expedite future drilling and development programs by providing increased access and lowering costs.


Source: Bongara NI 43-101
Annual Rainfall

The climate at the project location is classified as high altitude tropical jungle in the upper regions of the Amazon basin. The annual rainfall average exceeds 1 m with up to 2 m in the cloud forest at higher elevations.

Limited Energy Infrastructure

The towns within 30 km of the Bongara project have electrical service sufficient to support local usage only.

The Olmos Hydroelectric Project located 250 km west of the Bongara property in the Lambayeque Region of Peru is under construction. When operational, Olmos will supply 100 MW of power through the Bagua/Jaen power stations. This is planned for eventual expansion to 650 MW. A high tension power line from the site will parallel the highway and pass within 12 km of the Property.

Three sites along the Utcubamba River are under study by the Peruvian government for installation of a hydroelectric facility. The most prospective of these possible locations (Tingo I) is 8 km from the project and has a potential capacity of over 200 MW. In the absence of the construction of this plant a smaller microhydroelectric plant could be installed for local and project use. Such small hydroelectric projects are often supported by national government grants to promote electrification of rural areas. If no hydroelectric power is available, then diesel generated power is the only other practical power option for the site.

OTHER ASSETS9.97% Strategic Investment in Vendetta Mining

Vendetta has an option to acquire a 100% interest in the Pegmont lead-zinc-silver deposit located in the Mt. Isa region, Australia, one of the world's greatest lead-zinc-silver mining areas. Vendetta reported a NI-43-101 compliant mineral resource for Pegmont in February 2014, the sulfide portion of which is presented below (Zones 1-4).


Source: Pegmont NI 43-101

Additionally, 6,505 meters of drilling conducted by Vendetta in 2014, and not included in the aforementioned NI-43-101 resource, resulted in identifying two important new resource extension areas, the Burke Hinge Zone and Zone 5, both of which exhibit higher grade zinc mineralization. The Burke Hinge Zone is shallow and easily accessible for mining, while Zone 5 is slightly deeper and open in two directions. Vendetta's 2016-2017 drilling program is focused on Zone 5 and the Burke Hinge Zone. Vendetta's 2014 drilling highlights for these two new higher grade zinc zones are provided below:


Source: Pegmont NI 43-101

Yanacocha Copper-Gold Royalties (Peru)

Solitario owns NSR royalties covering 61,000 hectare (approximately 150,000 acres or 200 square miles) property located immediately north of Newmont Mining-Buenaventura's Minera Yanacocha Mine, the largest gold mine in South America.


Source: Solitario
Royalty Schedule: The royalty structure is classified into several categories, depending on the type of process used to recover each metal, gold and copper prices, as well as any government royalty burden imposed by Peru on the project ores (1%-3% sliding scale royalty). The following summarizes the royalty structure:


Heap leach ores: For gold recovered by heap leach processing, a royalty such that the royalty to Solitario plus any government royalty required to be paid in Peru is no more than 5.75% NSR.

Dore end-product, non-flotation mill ores: For gold recovered as dore in a non-flotation mill, a royalty such that the royalty to Solitario plus any government royalty required to be paid in Peru is no more than 5% NSR.

Concentrate-producing, Cu-Au flotation mill ores: For gold and copper recovered in a concentrate producing, copper-gold flotation mill, a royalty such that the royalty to Solitario plus any government royalty required to be paid in Peru is no more than 4% NSR.

Silver: For silver, a royalty such that the royalty to Solitario plus any government royalty required to be paid Peru is no more than 5% NSR.

Montana Gold Royalties (USA)

On June 6th, 2016, Solitario announced that it had purchased a 1.5% Net Smelter Return ("NSR") royalty on 15,831 acres of highly prospective mineral properties in Montana. The royalties were purchased from Atna Resources Inc. ("Atna") as part of its Chapter 11 bankruptcy auction process.

In 2012, Atna evaluated the mineral potential on approximately 830,000 acres of mineral rights that it held in western Montana to create a portfolio of NSR royalty properties. Atna's criteria for creating royalty properties from this vast mineral holding were the presence of surface mineralization, historical mining and favorable geology defined by exploration programs conducted by Anaconda Copper, Phelps Dodge and several other companies. Atna identified 11 properties with the highest mineral potential and created a 1.5% NSR royalty on these parcels. With this purchase, Solitario now owns the royalty on these 11 properties

The royalties cover privately deeded properties and are thus perpetually titled. Solitario's US$2.50 per acre bid won the royalty rights on these 15,831 acres. The purchase price (US$39,577.50) is the only investment Solitario will ever have to make to retain these royalties in perpetuity. Voluminous technical information suggests excellent potential for Cu, Cu-Au, Cu-Ag and polymetallic mineralization on these properties that is consistent with the largest mineral deposits located in western Montana.

Norcan and Aconchi Copper-Gold Royalties (Mexico)

Minera Cuicuilco S.A. de C.V., a Mexican subsidiary of Freeport-McMoRan Inc. (NYSE: FCX), is drilling on Solitario's Norcan copper project located in Mexico along the prolific copper producing Sonora-Arizona Copper Belt. The Norcan project consists of three properties totaling 19,453 hectares (48,048 acres) that are strategically located just north of and along trend with the world class Cananea copper mine.

Terms of the Agreement with Cuicuilco provide for exploration expenditures of US$5,000,000 to earn a 100% interest in the properties of which a firm commitment of US$750,000 is required during the first year. If Cuicuilco completes its earn-in then Solitario retains a 1.5% net smelter return royalty which may be purchased for US$20,000,000.

Mercurio (Surubim) Gold Property (Brazil)

The Mercurio gold property is located in Para State in Northern Brazil, approximately 250 km south of the town of Itaituba. It consists of three exploration concessions totaling 8,476 hectares. In November 2013, Solitario agreed to transfer its rights to the property to Brazil Resources Inc. ("BRI") subject to a NSR Royalty due us of 1.5% on the first 2 million ounces of gold produced at Mercurio and 2.0% on all ounces of gold produced over 2 million ounces of gold, providing that BRI make certain payments and complete certain exploration commitments. BRI is responsible for all payments to keep the Mercurio claims in good standing during the period of the agreement. With exception of small scale artisanal mining for gold by gravity methods that has been conducted on the property for the past 15 years, there are no mining operations on the property. BRI issued a news release during 2013 that estimated resources on the property. BRI refers to the project as the Surubim project.


Source: Surubim NI 43-101

Pedra Branca Platinum Group Metal Royalties (Brazil)

During the second quarter of 2015, Solitario terminated its joint venture with Anglo Platinum Ltd., "(Anglo") on Pedra Branca Mineracao, Ltd. (PBM), the owner of the Pedra Branca project in Brazil and transferred its interest in the project to Garrison Capital Partners Limited. Solitario retained a 1% royalty on the Pedra Branca project.

La Promesa Zinc-Lead-Silver Properties (Peru)

The La Promesa property, acquired in 2008, consists of three concessions totaling 2,600 hectares. No payments are due to third parties so the only holding costs for the mineral rights are annual payments of three dollars per hectare to the Peruvian government during the first six years that the claims are held.

At least five high-grade polymetallic veins have been identified and sampled at surface. Although sampling on the project is limited to date, it is encouraging. Two of the veins, about 300 meters apart, have been traced for at least 400 meters along strike. There appears to be a systematic trend towards greater vein thickness with depth, as the widest observed vein in outcrop occurs at the lowest elevation sampled to date. Channel sampling along 300 meters of strike length from the best exposed vein yielded the following high-grade results:


Source: Solitario

Pachuca Silver-Gold Properties (Mexico)

The Pachuca Real silver-gold property in central Mexico was acquired by staking in late 2005 and early 2006.

Solitario's Pachuca Norte project area surrounds the famed Pachuca-Real del Monte silver-gold mining district in central Mexico. Historically, the district produced about 1.4 billion ounces of silver and over 7.0 million ounces of gold, making it one of the largest historic silver-gold districts in the world.

In June 2013 Solitario signed a definitive Pachuca Norte joint venture agreement with Hochschild Mining. The joint venture terms include progressively accelerating work commitments by Hochschild totaling $10 million over 60 months, with a firm initial work commitment of $2.0 million over the first 18 months to earn a 51% interest in the project. Hochschild will have the right to earn an additional 19% interest (total 70%) by completing a positive Feasibility Study on the project. Upon completion of the Feasibility Study, both companies will fund their respective participating interests. Hochschild is the project manager and can terminate its funding obligations at any time after completing its firm initial $2.0 million work commitment.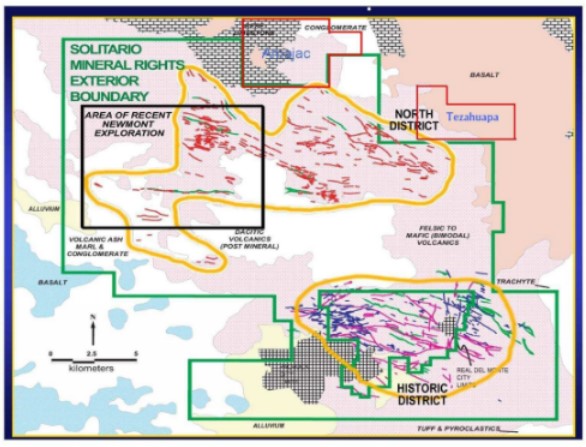 Source: Solitario

CONCLUSIONZinc prices are starting to firm and the bullishness is beginning to manifest in the prices of select zinc stocks. Below are the charts of three zinc stocks at various phases of the mining - $TV Trevali Mining Corp. (Producer), $CZN Canadian Zinc Corp. (Developer), and $GPM GPM Metals Inc. (Explorer):

Zinc Stocks CandleGlance




The high-grade Bongara deposit contains 3.4 billion pounds of zinc equivalent across all categories. Solitario's 30% share is 1.02 billion pounds. At current spot price of zinc at US$1.02, the in situ metal value of Solitario's 30% share is US$1.04 billion. Other than annual concession payments of ~US$100,000 Solitario does not have any spending commitment for the project. Mine construction costs will be funded by a loan from Milpo, to be repaid from 50% of the net proceeds from production attributable to Solitario's 30% interest. Close to US$70 million in exploration work has been spent to date at the Bongara project by the various partners.

Per CEO Christopher Herald's guidance at the John Tumazos Metals & Natural Resources Conference, a potential mine could have the following profile:


Throughput between 4,000 tpd and 5,000 tpd;
Mine Life of 10+ years;
CapEx anticipated in the US$250 million - US$350 million range

OpEx <0.50/lbs (Milpo's three underground mines avg cash cost is $0.38/lbs)

Using the above assumptions, roughly 90.5 million lbs - 113 million lbs. of zinc equivalent are attributable to Solitario (30%) on an annual basis. Given US$1/lbs Zinc, Solitario's annual EBITDA could be in the range of US$22.7 million - US$28.3 million until CapEx is paid back, and in the US$45.3 million - US$56.5 million range thereafter.

Management also indicated that the company was working towards acquiring or partnering on an advanced gold project (and possibly multiple gold projects). This is a team that has a track record of success - exploring, permitting and selling the Buckhorn Project to Kinross in 2006 and the Mt. Hamilton Project to Waterton in 2015. A timely gold project acquisition could be a very positive near term catalyst for the company.

Solitario is cashed up, has a robust portfolio of royalties, and is partnered with a world-class miner on a world-class zinc project with zero funding commitment. When zinc was $1.50/lbs several years ago, Solitario was given a valuation of $150 million from the market for Bongara, alone.

It is the author's opinion that Solitario, with a market cap of US$27.3 million and an enterprise value of just US$11 million, presents an attractive asymmetric risk/reward opportunity.

DISCLOSURE & DISCLAIMER

The author is long XPL.

The author is not a registered investment advisor and the article expresses their own opinions. The author is not receiving compensation for the article and has no business relationship with any company whose stock is mentioned in this article.

For more information, please visit www.solitarioresources.com. This article is provided for information purposes only, and is not intended to be investment advice. All readers are encouraged to perform their own due diligence and consult with a licensed investment advisor before making any investment decisions.