An SI Board Since February 2016
The TRUMP TRUTH THREAD



A President who inspires racist terrorism is still a racist terrorist even if he doesn't pick up a gun and shoot up a walmart himself.



Why I don't like Trumpers. - They're disloyal, dishonest, immoral.

Conservatism is supposed to support traditional values, the free market, the defense of America, law and order, and the Constitution.

Trumpers always support vices over virtues and say virtue doesn't matter. Only "winning" matters and vice is necesary to "win."

They believe in rigged (not free) markets and tariffs.instead of taxes.

They despise American allies and champion our enemies.

They despise the law and Constitutional rules and limits.

They are ANTI-conservatives in every single respect.

They replaced conservatism with populism, white nationalism, and service to the EGO of the Supreme Leader. Those things are NOT conservatism.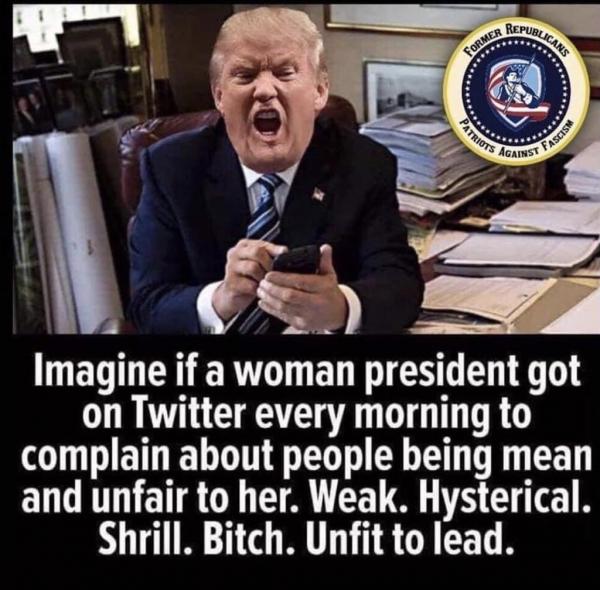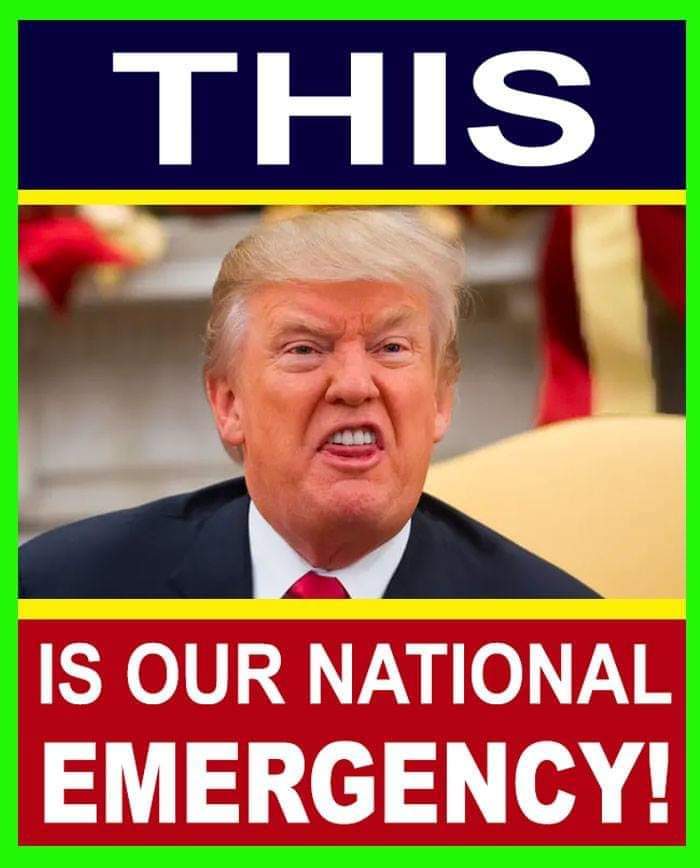 Every Trumphumper agrees that "not to love Der TrumpenFuhrer is a great disgrace:"

youtube.com


The Founders didn't know Trump's name but knew he was coming:
A person "whose character is thus marked by every act which may define a Tyrant, is unfit to be the ruler of a free people." -- Declaration of Independence, July 4, 1776

"He's the head of a country. And I mean, he is the strong head. Don't let anyone think anything different. He speaks and his people sit up at attention. I want my people to do the same," Trump said of Kim Jong Un..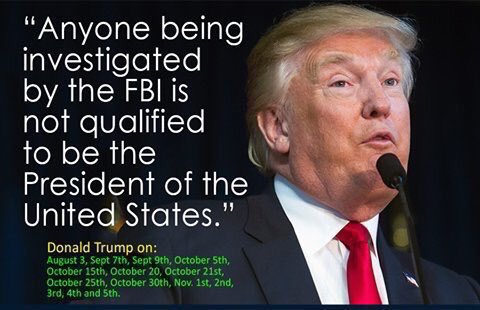 Don't judge his behavior, they say: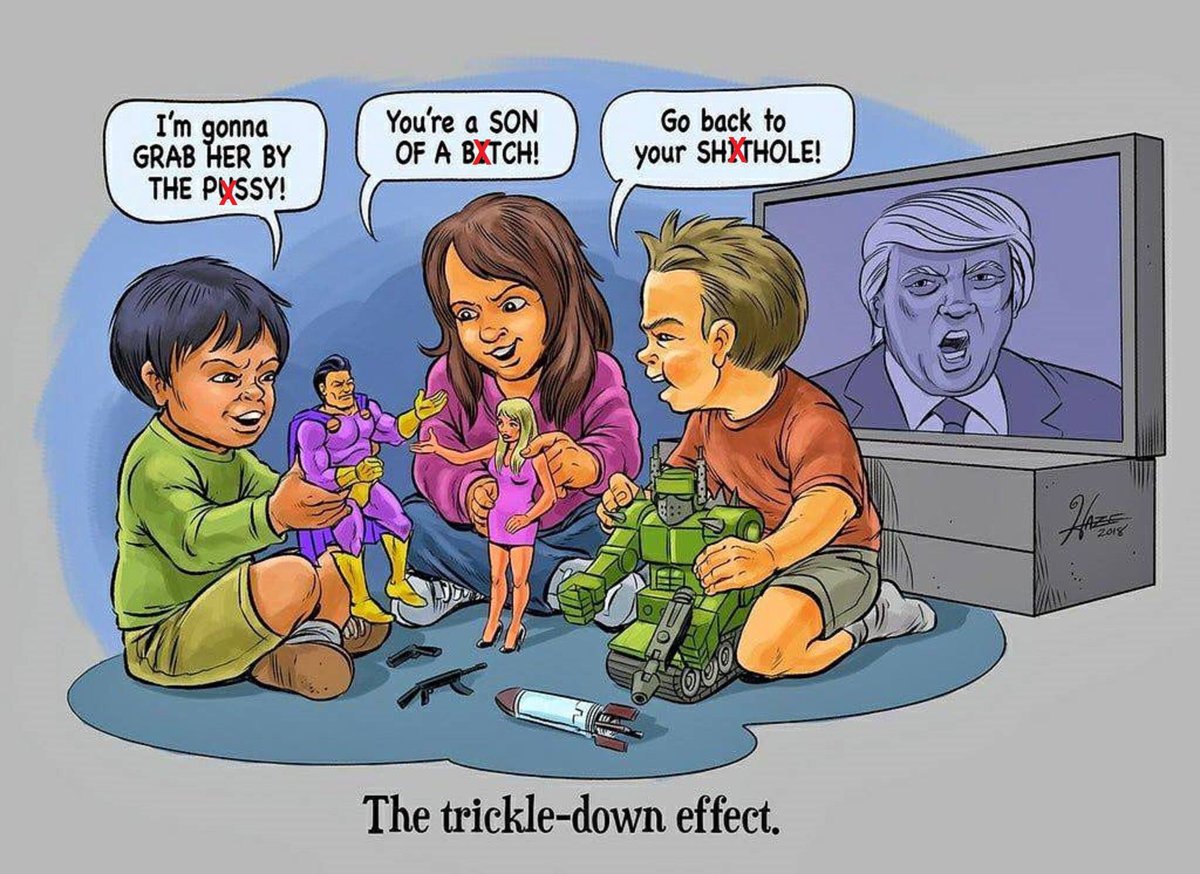 "Emin just called and asked me to contact you with something very interesting.
The Crown prosecutor of Russia met with his father Aras this morning and in their meeting offered to provide the Trump campaign with some official documents and information that would incriminate Hillary and her dealings with Russia and would be very useful to your father.
This is obviously very high level and sensitive information but is part of Russia and its government's support for Mr. Trump - helped along by Aras and Emin."

That his top campaign people took this meeting without contacting the FBI tells you the campaign was willing to commit treason to win.
-------------------------------------------------
That should read "Der Trumperor:"

"Yeah, he does that." 15 yo Ivanka's comment when Miss Teen USA competitors told her her father had barged into their dressing room to leer at them when they were changing clothes.

How would a 15 yo girl know that about her father?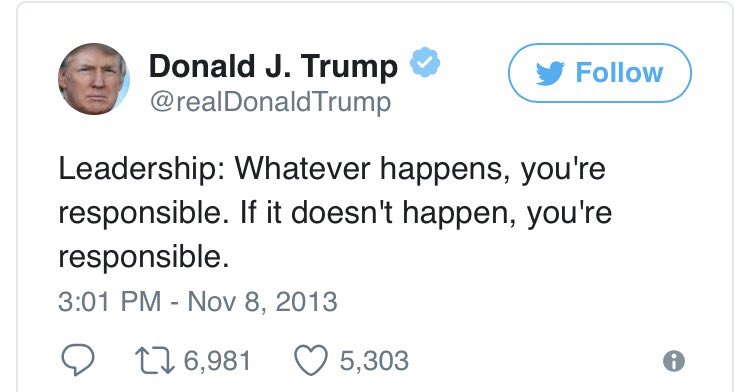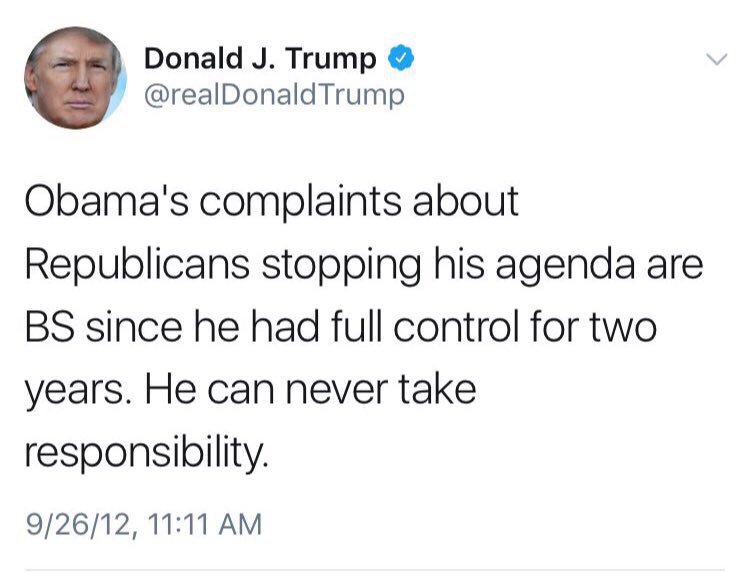 Trump on Hillary: "We owe her a major debt of gratitude for her service to our country." That was AFTER the election.

Chant of "lock her up!" from the crowd, Trump replies: "That plays great before the election – now we don't care"


http://www.redstate.com/sweetie15/2016/12/10/watch-trump-blows-off-chants-of-lock-her-up-with-we-dont-care-about-that/



Post 6648: Trump: Obama "really cares about the country." .. he loves our country. And he wants what's good for our country.

Trump's Russian Kompramat coming out in the open #7156, 7159 (DANG!)
s3.documentcloud.org
British ex-spy source #7224

List of Trump defenses of Russian hacking of DNC. #7066
Incomplete list of posts on Trump's Russian ties: # 3836, 3837, 3861, 3900, 3906, 3909, 3926, 3949, 3953, 3954, 3980, 4090, 6160 (Russian Foreign Ministry confirms they were in contact with Trump campaign, met with the campaign, & "of course we know most of .. his entourage" and stayed in touch with them. Boasting.), 7069.

What a pathetic choice Mike Flynn was - 8597.
----------------------------------
Trump Airlines
Trump Network
Trump Vodka
Go Trump
Trump Magazine
Trump University
Trump Steaks
Trump Ice
Trump Mortgage
Trumpcare


----------------------------------------------------------

Trump picks Mitt's niece to be the new RNC Chair. Ronna Romney McDaniel.

'I appreciate his genius more and more!' – Trump praises Paul Ryan as he's BOOED by audience

If you don't know The Donald absolutely loves and admires the Clinton's, let him tell you so himself on the video here:


http://theresurgent.com/in-a-just-discovered-video-trump-talks-about-hillary-clinton-and-it-is-brutal-to-watch/



-------------------------------------
A deep enough to be shallow leader who embraces his shallowness and narcissism:

"I try to step back and remember my first shallow reaction. The day I realized it can be smart to be shallow was, for me, a deep experience." In the same book, he wrote that narcissism "can be a useful quality. .?.?. A narcissist does not hear the naysayers."

----------------------------------------------------------------

"It's not the conservative party." "I'm confidant I can unite much of it, some of it I don't want."
Donald Trump (not the conservative party candidate).
---------------------------------------------------------------



https://www.facebook.com/photo.php?fbid=327306250980463&set=gm.1787263364862109&type=3&theater



"I know Hillary and I think she'd make a great president or vice-president.," Trump wrote. "Hillary is smart, tough and a very nice person, so is her husband. Bill Clinton was a great president. They are fine people. Hillary was roughed up by the media, and it was a tough campaign for her, but she's a great trooper. Her history is far from being over," he said.

cbsnews.com

AFTER the Benghazi lies had been busted, Liberal Democrat Donald praised Hillary as a GOOD Sec. of State:

In an interview with Greta Van Susteren on Fox News Trump predicted on Wednesday night that Hillary Clinton, a former presidential candidate, will take one more shot at winning the White House in 2016. Trump went on to say he declined to rule out the possibility of throwing his support behind Clinton for president in 2016.Trump commented "Hillary Clinton, I think, is a terrific woman. I am biased because I have known her for years. I live in New York, she lives in New York, and I've known her and her husband for years and I really like them both a lot." Trump went on to offer praise for Clinton for being a hard worker and for having done a "good job" as Secretary of State in the Obama administration. He said he expects her to run for president in 2016.



http://time.com/3962799/donald-trump-hillary-clinton/


http://www.examiner.com/article/trump-says-he-might-support-clinton-for-president-2016


Donald demonstrating his "Grab em by the p...." technique to golfing buddy.





https://www.facebook.com/AmericansAgainstTheRepublicanAndDemocraticParties/photos/a.102080743333490.1073741828.102067420001489/583287971879429/?type=3&theater



-------------------------------------------------------------------------

J
---------------------------------------------------------

"You ought to see this guy" The essense of Trumpism:

Trump's mockery of the disabled reporter is really the essence of Trumpism. This illustrates why Trump is "good tv." And it shows why most people will never respect Donald Trump. But for the minority who are "Trump Lovers" as one of them put it here, this is WHY they love him. When I saw the picture of Serge Kovaleski it reminded me of a girl in my hometown who has post polio syndrome (not the same condition Kovaleski has). But she had a hand that looks like his, she had spastic movements, she walked awkwardly. And the Donnie Trump's made her life hell in high school. Looking back, I suspect most of those kids who mocked her have matured away from that by now. But liberals like Donnie Trump, especially spoiled rotten rich ones, they don't mature. They still do at 69 what they did at 14.

BTW Trump was not "punching back" at Kovaleski. His beef was about something Kovaleski wrote 14 years before that had nothing to do with Trump. And it's another lie that he didn't know what Kovaleski looked like. They knew one another:


"Now the poor guy, you ought to see this guy", Mr. Trump said, before jerking his arms around and holding his right hand at an angle. "'Ah, I don't know what I said! I don't remember!'" [5]The remarks became controversial over the question of whether Trump was mocking Kovalesky's physical condition, as Kovalesky has arthrogryposis, a congenital condition that involves contracture of the joints in his body and gives him a distinctive appearance. Trump later said that he could not have been mocking Kovalesky's disability [5] because he didn't know what Kovalesky looked like. However, to point out that Trump was lying, in subsequent interviews, Kovalesky said that he had been on a first-name basis with Trump, and had had perhaps a dozen face-to-face encounters with him, including interviews and press conferences, while reporting on Trump's career in the late 1980s.



https://en.wikipedia.org/wiki/Serge_F._Kovaleski
--------------------------------------------------------------------------

A lying swindler who took suckers for $40 million. He wanted to monetize the fame his reality show gave him. I dare any Trump supporters to say they'd recommend Trump's get rich quick and easy scam for a child or other loved one. Not a single Trumper will say they would. But why not? If he's truthful, this would be a great course, well worth $35K. But even Trump supporters know inside he's a swindler:


Said he could make people millionaires in a year. Produced not one millionaire out of all the thousands who were suckered into giving the program he owned tens of thousands of their hard earned money. Paid $25 million to settle weeks before trial. Guilty as charged!



Collusion - who do we know colluded? 12672