An SI Board Since February 2016
To vote absentee: vote.org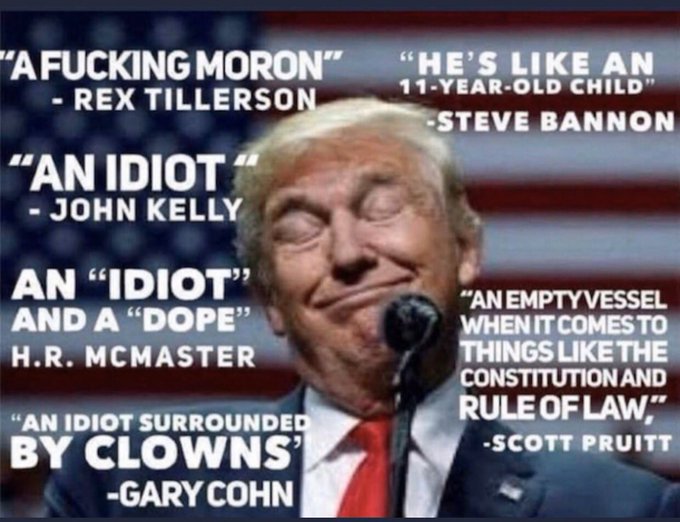 pbs.twimg.com


A President who inspires racist terrorism is still a racist terrorist even if he doesn't pick up a gun and shoot up a walmart himself.



"Yeah, he does that." 15 yo Ivanka's comment when Miss Teen USA competitors told her her father had barged into their dressing room to leer at them when they were changing clothes.



How would a 15 yo girl know that about her father?


Coming:


qph.fs.quoracdn.net

i.pinimg.com


Trump on Hillary: "We owe her a major debt of gratitude for her service to our country." That was AFTER the election.

Chant of "lock her up!" from the crowd, Trump replies: "That plays great before the election – now we don't care"


http://www.redstate.com/sweetie15/2016/12/10/watch-trump-blows-off-chants-of-lock-her-up-with-we-dont-care-about-that/



Post 6648: Trump: Obama "really cares about the country." .. he loves our country. And he wants what's good for our country.

--------------------------------------------------------

"I try to step back and remember my first shallow reaction. The day I realized it can be smart to be shallow was, for me, a deep experience." In the same book, he wrote that narcissism "can be a useful quality. .?.?. A narcissist does not hear the naysayers."

----------------------------------------------------------------



https://www.facebook.com/photo.php?fbid=327306250980463&set=gm.1787263364862109&type=3&theater



"I know Hillary and I think she'd make a great president or vice-president.," Trump wrote. "Hillary is smart, tough and a very nice person, so is her husband. Bill Clinton was a great president. They are fine people. Hillary was roughed up by the media, and it was a tough campaign for her, but she's a great trooper. Her history is far from being over," he said.

cbsnews.com

In an interview with Greta Van Susteren on Fox News Trump predicted on Wednesday night that Hillary Clinton, a former presidential candidate, will take one more shot at winning the White House in 2016. Trump went on to say he declined to rule out the possibility of throwing his support behind Clinton for president in 2016.Trump commented "Hillary Clinton, I think, is a terrific woman. I am biased because I have known her for years. I live in New York, she lives in New York, and I've known her and her husband for years and I really like them both a lot." Trump went on to offer praise for Clinton for being a hard worker and for having done a "good job" as Secretary of State in the Obama administration. He said he expects her to run for president in 2016.



http://time.com/3962799/donald-trump-hillary-clinton/


http://www.examiner.com/article/trump-says-he-might-support-clinton-for-president-2016

-------------------------------------------------------------------------

"You ought to see this guy" The essense of Trumpism:

Trump's mockery of the disabled reporter is really the essence of Trumpism. This illustrates why Trump is "good tv." And it shows why most people will never respect Donald Trump. But for the minority who are "Trump Lovers" as one of them put it here, this is WHY they love him. When I saw the picture of Serge Kovaleski it reminded me of a girl in my hometown who has post polio syndrome (not the same condition Kovaleski has). But she had a hand that looks like his, she had spastic movements, she walked awkwardly. And the Donnie Trump's made her life hell in high school. Looking back, I suspect most of those kids who mocked her have matured away from that by now. But liberals like Donnie Trump, especially spoiled rotten rich ones, they don't mature. They still do at 69 what they did at 14.

BTW Trump was not "punching back" at Kovaleski. His beef was about something Kovaleski wrote 14 years before that had nothing to do with Trump. And it's another lie that he didn't know what Kovaleski looked like. They knew one another:


"Now the poor guy, you ought to see this guy", Mr. Trump said, before jerking his arms around and holding his right hand at an angle. "'Ah, I don't know what I said! I don't remember!'" [5]The remarks became controversial over the question of whether Trump was mocking Kovalesky's physical condition, as Kovalesky has arthrogryposis, a congenital condition that involves contracture of the joints in his body and gives him a distinctive appearance. Trump later said that he could not have been mocking Kovalesky's disability [5] because he didn't know what Kovalesky looked like. However, to point out that Trump was lying, in subsequent interviews, Kovalesky said that he had been on a first-name basis with Trump, and had had perhaps a dozen face-to-face encounters with him, including interviews and press conferences, while reporting on Trump's career in the late 1980s.



https://en.wikipedia.org/wiki/Serge_F._Kovaleski
--------------------------------------------------------------------------

A lying swindler who took suckers for $40 million. He wanted to monetize the fame his reality show gave him. I dare any Trump supporters to say they'd recommend Trump's get rich quick and easy scam for a child or other loved one. Not a single Trumper will say they would. But why not? If he's truthful, this would be a great course, well worth $35K. But even Trump supporters know inside he's a swindler:

https://proxy.duckduckgo.com/iu/?u=http%3A%2F%2Fstatic03.mediaite.com%2Fln%2Fup%2F2016%2F11%2FTrump-University-newspaper-ad.jpg&f=1




| | |
| --- | --- |
| | Go to reply# or date (mm/dd/yy): |
| | |
| --- | --- |
| | Go to reply# or date (mm/dd/yy): |