volvo?

caranddriver.com

Volvo Patents a Head-Up Display That's on the Roof
There's more data to relate than there is instrument-panel real estate, so Volvo came up with a solution . . .

By MIHIR MADDIREDDY

SEP 6, 2019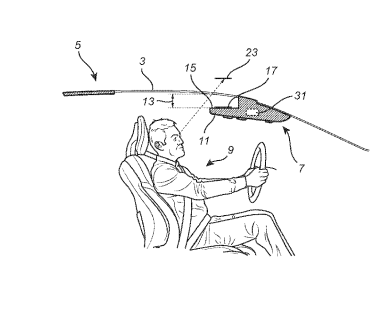 Volvo via USPTO

As instrument panels and infotainment screens get ever more cluttered, Volvo has a plan to relocate its head-up display (HUD) to a higher plane, according to a new patent application.The new HUD is likely to be projected onto an auto-dimming or electrochromic glass surface for visibility.It also has potential uses for autonomous vehicles, since the driver's eyeballs will be spending less time glued to the road.Volvo is taking head-up displays to a whole new level, according to this application the automaker has filed with the U.S. Patent and Trademark Office. And when we say whole new level, we mean both literally and figuratively, because this patent involves a head-up display that's not on the windshield, but on the roof of the car.

The patent application, which has a filing date of August 13, 2019, is assigned to Volvo Car Corporation, erasing all doubts as to which branch of Volvo the system could be applied to. Most HUDs use a series of mirrors in conjunction with a projector to display an image in front of the driver on the windshield; Volvo's patent is no different, except for the location of the system.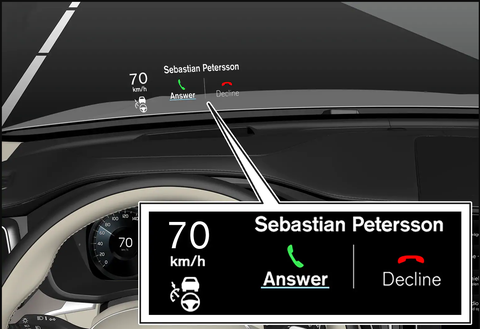 Windshield head-up display in current Volvo.
Volvo

The patent illustrations show a projector system right above the driver that displays information about the car on an "optically transmissive roof window." We believe the reason that Volvo doesn't just call it "glass" is probably that the company will modify the glass to allow for better projection in all light conditions. If you've ever driven a vehicle with the HUD active while wearing sunglasses, you would have noticed that it can be hard to see the image being displayed. Perhaps Volvo is trying to tackle the issue through the use of an auto-dimming glass or variable-opacity electrochromic glass, which we recently experienced on the 2019 McLaren 720S Spider. As far as the projection system goes, Volvo says it will most likely be LED based, with options for brightness and position customization based on driver preference.

Advertisement - Continue Reading Below

We can only guess what would be displayed up there. It would most likely be nonessential info, given that it's not a great idea to take your eyes off the road while driving. Volvo states that the reason for the invention is to declutter the front display systems and reduce the number of pages that need to be dug through to find certain information. As cars get more complex, there is more and more information available to drivers, but the space in which it can be displayed has stayed the same for the past 60 years.

One cool feature that Volvo mentions in the patent is the ability to check the vehicle's status without actually having to go back outside and into the vehicle. The company claims that when the system is on, anyone could look down at the roof from a vantage point above the car (like the second floor of a home or buildling) and know if the car is locked or, in the case of an EV, the battery life and charge status.

Another possibility for a roof HUD system might be for autonomous driving. Drivers who decide to sit back and and let the car drive itself could look up for information about their speed, distance, and time of arrival. This patent does precede Volvo's plan for Level 4 autonomy by 2021, so there is a strong likelihood of this roof HUD system debuting soon on a concept car.

We're curious to see what the final product looks like, and how it works, and just how much our necks will hurt to look at it.