SpaceX gets OK for landing zone on Space Coast

Aug 30, 2017, 4:46pm EDT

Industries & Tags
Technology

Private commercial rocket company SpaceX got approval for additional space for its Dragon spacecraft and Falcon Heavy rocket at Cape Canaveral.

The Hawthorne, Calif.-based company got the OK on Aug. 21 to build a stormwater system at Landing Zone 1, formerly known as Launch Complex 13. Price Civil Design LLC is the civil engineer team behind the project.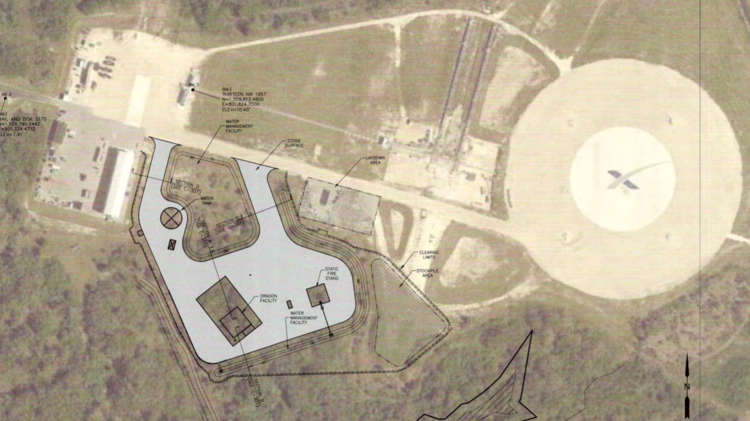 VIEW SLIDESHOW
10 photos










Landing Zone one is being called a temporary dragon hangar facility.

Sources say SpaceX is building a temporary Dragon processing facility at Cape Canaveral until a long-term Dragon processing and refurbishment operations can be established at a location yet to be determined. The landing zone also will be a key location for SpaceX's Falcon Heavy — its largest rocket, which is equipped with three boosters. The company plans to build two more landing pads to land two rocket boosters simultaneously and one on a drone ship in the sea.

Orlando Business Journal first reported in January about the SpaceX landing pads. SpaceX signed a five-year deal for launch complex 13 to land rockets in 2015, however, the complex was equipped with only one landing pad.

Located on two patches of land — each a little more than 11 acres, according to Cape Canaveral Air Force Station — SpaceX hopes to have the additional pads ready by November when it launches its Falcon Heavy.

The new pads would need to be built in a way to handle the force of the returning boosters. Each concrete pad would cover more than 11 acres, with an approximate diameter of 282 feet surrounded by an area of 50-foot-wide, hard-packed soil. The pads would be 18 inches thick and designed to support the weight and thrust of the Falcon booster vehicle, according to documents.

While SpaceX does not have its main manufacturing facility in Central Florida, the company does launches at least twice a month and has a refurbishment center in Port Canaveral — all activity that supports dozens, if not hundreds of jobs locally. Right now, the company has nearly 20 job openings posted on its website.

bizjournals.com