Jack Ma Woos Mom and Pop Shops in U.S. Jobs Push

Detroit conference aims to fulfill pledge to Trump to create one million jobs in America

by Selina Wang
Bloomberg
June 19, 2017

Sam Wolf moved his family's health and wellness business online more than a decade ago. The Conshohocken, Pennsylvania-based company runs its own warehouse and sells thousands of nutrition products in dozens of countries through its own website as well as on Amazon.com Inc. and EBay Inc. But all that know-how didn't quite prepare Wolf for the experience of selling into China through Alibaba Group Holding Ltd.'s online stores.

Most small U.S. companies don't have the brand awareness in China to stand out among the millions of goods on Alibaba's websites, let alone the expertise that's required to take a product from a U.S. warehouse to a Chinese consumer's doorstep, cutting through the red tape to gain access to an otherwise inaccessible market. Alibaba is the virtual mall that houses the brands, but sellers are in charge of production and distribution with little clarity on the demand for their wares.

"If you want to get rich quick selling into China, this is not the way to do it,' said Wolf, who started LuckyVitamin's online store in 2005. ``There's investment up front and inherent risk. This is not just like selling products on Amazon and EBay where you just sign up and list."

Still, entrepreneurs like Wolf are the sellers Alibaba Chairman Jack Ma wants to woo when he arrives in Detroit this week for his company's Gateway conference. The two-day event is drawing thousands of U.S. business owners, from farmers to managers of more established brands, to learn how to succeed in China through Alibaba. For Ma, it's following through on a promise he made to U.S. President Donald Trump earlier this year to create one million jobs in the U.S.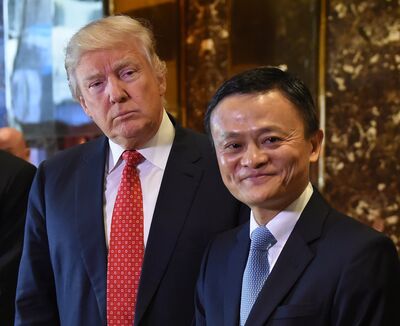 Jack Ma and Donald Trump on Jan. 9, 2017.
Photographer: Timothy A. Clary/AFP/Getty Images
________________________________

While Ma's offer was seen as good diplomacy after Trump's tough campaign talk on trade and tariffs with China, it wasn't purely altruistic. Ma has big ambitions. He sees Alibaba turning itself into one of the world's most powerful economies by serving 2 billion people and helping 10 million small businesses trade on the web. By his own calculation, Ma says China will only be able to provide 40 percent of that market. The rest will have to be found overseas.

That's what brings China's richest man to America's heartland. The event will feature speeches from Ma himself and his executive team, as well as United Parcel Service Inc. Chief Executive Officer David Abney, Martha Stewart, and panels with small U.S. businesses like Wolf's that are already selling on one of Alibaba's virtual malls. Alibaba offers sellers the opportunity to reach the almost half-a-billion shoppers on its sites, but the path to those consumers is full of hurdles, from the language barrier to differences in understanding the Chinese buyer.

Alibaba already has hundreds of thousands of U.S.-based companies registered on Alibaba.com, a business-to-business platform primarily used for sourcing, and more than 7,000 brands across its online stores including Tmall Global, where companies sell directly to consumers. Taobao Global is another Alibaba virtual store, where more niche international brands can list online. LuckyVitamin started offering its products on Tmall during Alibaba's annual one-day shopping blow-out, called Singles' Day, last November. LuckyVitamin got just one order that day.

Since then, LuckyVitamin's sales from China have grown in line with some of its other newer markets, though China is still a small portion of overall sales. Wolf describes working with Alibaba as starting a whole new business, rather than just tacking on a new sales channel. The company has had to enlist the help of various third parties to deal with translation, regulation, logistics. In addition to paying those partners, there's significant setup work and transaction fees that LuckyVitamin has to pay, according to Wolf.

The Gateway conference, the first that Alibaba says it plans to host annually, is meant to make the daunting task of selling through Alibaba easier for small businesses. The event will walk sellers through the process and connect them with partners like international trade specialists and logistics experts.

Persuading companies like LuckyVitamin to sign on could help Ma fulfill his employment pledge to Trump. On a conference call with journalists last month, Ma noted that Alibaba has created more than 33 million direct and indirect jobs for China, so he's confident he can create 1 million positions in the U.S. over the next five years.

Wolf says that LuckyVitamin, which currently has about 200 employees, has added about half a dozen workers since starting to sell on Tmall. It's impossible to say how much of that growth is attributed to Alibaba, Wolf says, since as overall sales have been increasing domestically and in more than 30 countries, it's unavoidable that the company would hire more people for customer service and in its distribution centers to pack and ship inventory.

"Would I say that this has created more jobs?" Wolf asks. "We've definitely created jobs but I can't exactly say because of what.' Still, Wolf does concede that selling in China is ``absolutely driving the business and sales."

Baozun Inc. is one of the many companies that help international brands like Burberry and Calvin Klein sell online to Chinese consumers. Backed by Alibaba, Baozun takes care of the process for companies from start to finish, including website design, customer service, technology infrastructure, warehousing and delivery, and marketing. Though publicly traded Baozun mostly works with large multinational brands, it's hoping to attract more boutique sellers as a result of Alibaba's push in the U.S.

"The obstacle here is complexity; It's very hard to understand" the process of selling into China through Alibaba, said Baozun CEO Vincent Qiu. "It's very challenging for a small-, medium-sized enterprise to do it themselves. There's a lot of knowledge and experience that's lacking."

Qiu says that the trickiest part about working with smaller companies is developing brand awareness among Chinese shoppers. Niche brands on Tmall won't get much traffic unless Baozun does heavy content marketing on their behalf, he said.

Christopher Tang, a professor at University of California at Los Angeles's Anderson School of Management, is skeptical that there is even enough demand for small U.S. brands in China. Aside from fresh produce that Chinese consumers are increasingly buying overseas for more variety and higher quality -- like Pacific Northwest cherries, Washington State apples, and Alaskan seafood -- Tang says shoppers have access to enough products online.

"The market for goods is already saturated,' Tang said. ``If you try to introduce brands in China from America that aren't well-known, I don't think Chinese consumers are going to be excited about it.'



bloomberg.com