Singapore's Temasek Mulls Investing in Magic Leap

By Ian King, Lizette Chapman, and Mark Bergen
Bloomberg
September 13, 2017

-- Wearable computing startup closes in on $6 billion valuation

-- Device set to ship in six months, be priced more than $1,500



Magic Leap Inc.

, a Florida-based startup that's raised more than $1.3 billion to build a wearable computing device, is trying to raise even more cash as it readies a long-awaited debut product.



Temasek Holdings Pte.

, an investment company owned by Singapore, is considering taking part in a new financing round of more than $500 million, valuing Magic Leap close to $6 billion, according to people familiar with the situation.

Magic Leap has already attracted high-profile investments from companies including Alibaba Group Holding Ltd., Qualcomm Inc. and Alphabet Inc.'s Google, which invested directly in the firm and put Chief Executive Officer Sundar Pichai on the board. Magic Leap's last financing round, led by Alibaba,

valued the company at $4.5 billion

.

The latest round has not closed. Magic Leap hopes to ship its first device to a small group of users within six months, according to three people familiar with its plans. A spokeswoman from Magic Leap declined to comment. Temasek declined to comment.

Magic Leap has wowed investors with a promise to perfect a futuristic field, augmented reality, that all the leading consumer technology companies are actively chasing. But it has never given a launch date for its device and offered few details on how it would work.

According to people familiar with the company's plans, the headset device will cost between $1,500 and $2,000, although that could change. It would be bigger than a pair of glasses, but smaller than virtual reality headsets such as Facebook Inc.'s Oculus Rift. Magic Leap's device would require users to carry a puck-shaped device, around the size of a smartphone, that would wirelessly provide processing and information to the glasses, said the people who were not authorized to speak publicly.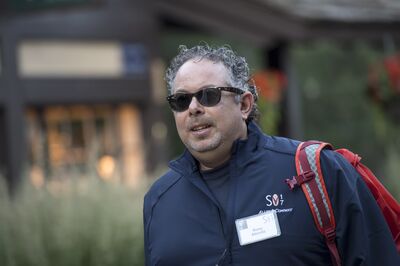 Rony Abovitz
Photographer: David Paul Morris/Bloomberg
__________________________________

Magic Leap's large financing needs and the long gestation of its product are due, in part, to its ambitious goal: Developing its own hardware and software along with costly electronic components required for the device. Those factors have raised questions about whether Magic Leap can succeed in the nascent AR market.

The company is promising to create a headset that would use a type of light-field technology to simulate 3-D images superimposed on the real world, providing what the company calls "mixed reality." The proprietary system would project patterns of light into the eye, letting people perceive virtual objects similarly to the way they naturally see real things, without the nausea of some existing VR experiences, Chief Executive Officer Rony Abovitz has said.

— With assistance by Alex Webb, and Yoolim Lee

bloomberg.com