Investor's Corner
The Tesla Model 3 is replacing BMW as the US' 'Ultimate Driving Machine'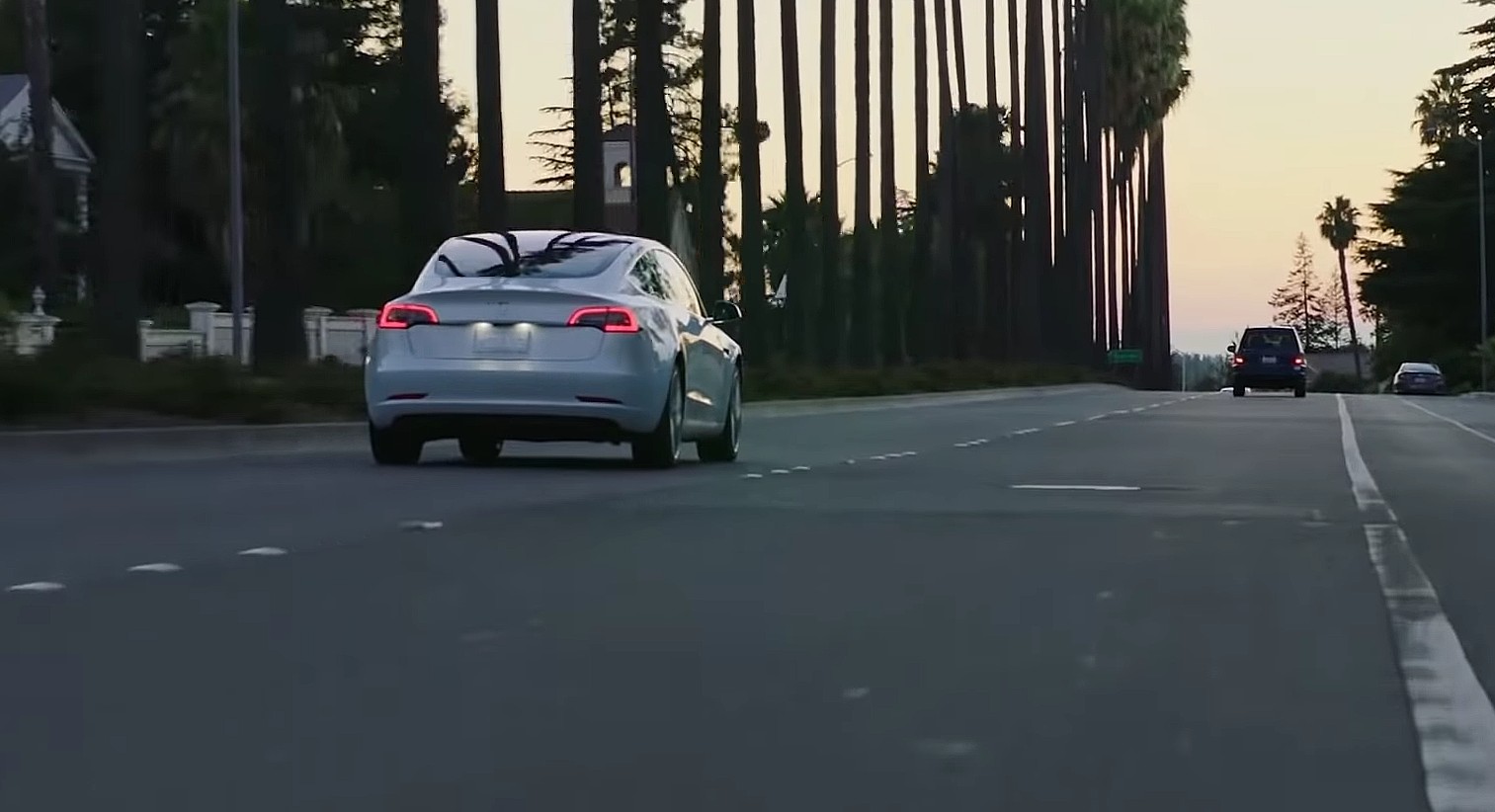 (Credit: Tesla)





By Simon Alvarez
Posted on November 12, 2019


German-made automobiles have established their reputation for their excellence in selected segments. While Mercedes-Benz prides itself on building its vehicles for comfort and class, BMW prides itself on its cars' driving performance. This is the reason behind BMW and its "Ultimate Driving Machine" moniker. Yet, in the electric age, there seems to be a single car that is steadily hacking into BMW since it was unveiled — the Tesla Model 3.

Bloomberg recently released the fourth part of its Model 3 survey, which aggregated data from 5,000 Tesla owners about their experiences and insights about the all-electric sedan. This time around, the publication focused on the Model 3's effect on the market. And based on the results of its study, it appears that the Model 3 is now taking away customers from legacy automakers, including those who previously only had more affordable vehicles, as well as those that prioritize performance above all else.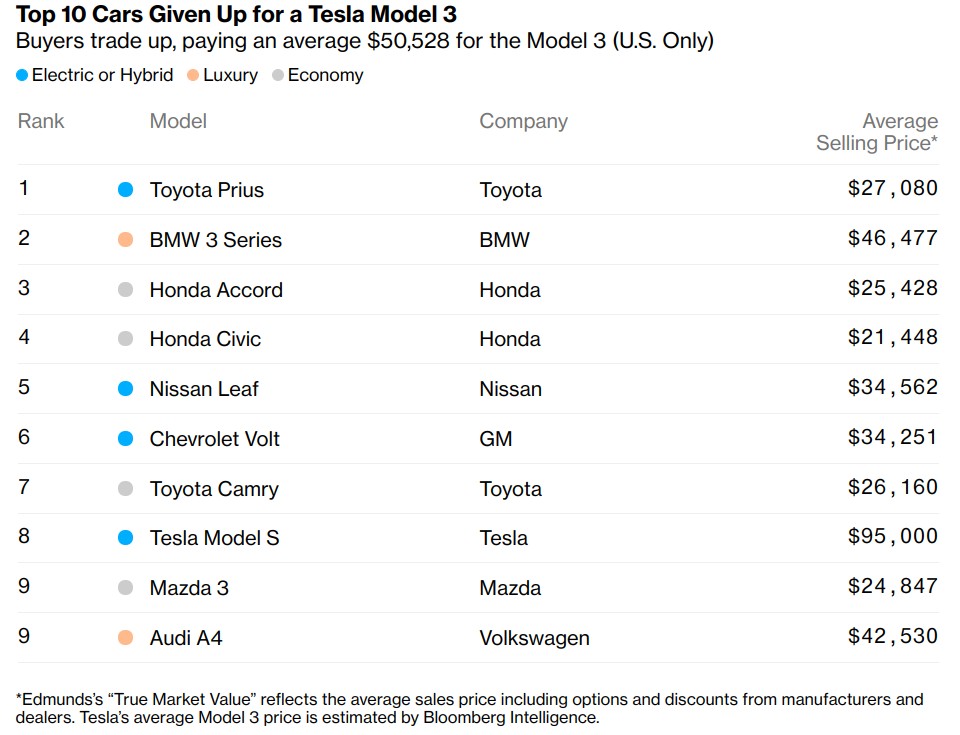 (Credit: Bloomberg)

Data gathered by the publication showed that the BMW 3 Series was among the most popular cars that were traded in by owners who bought a Model 3. The BMW 3 Series joins other, more affordable vehicles like the Toyota Prius, the Honda Accord, and the Toyota Camry, as some of the top vehicles that have been traded-in for the all-electric vehicle. This means that customers are making a stretch to acquire the Model 3, and BMW 3 Series owners are likely coming over to Tesla due to driving performance.

This was mentioned by some respondents in Bloomberg's study. "I've owned three BMW 3 Series and was a diehard BMW fan. The Tesla blows those cars away," one respondent noted.

It could be said that BMW is the veteran carmaker that is most vulnerable to the assault of the Tesla Model 3. Other carmakers whose vehicles are being traded-in frequently for Tesla's midsize sedan such as Toyota have an extremely large presence in the United States. Thus, even if the Prius and the Corolla and the Camry take hits due to the Model 3, the company still has a healthy market share in America. This is not the case with BMW.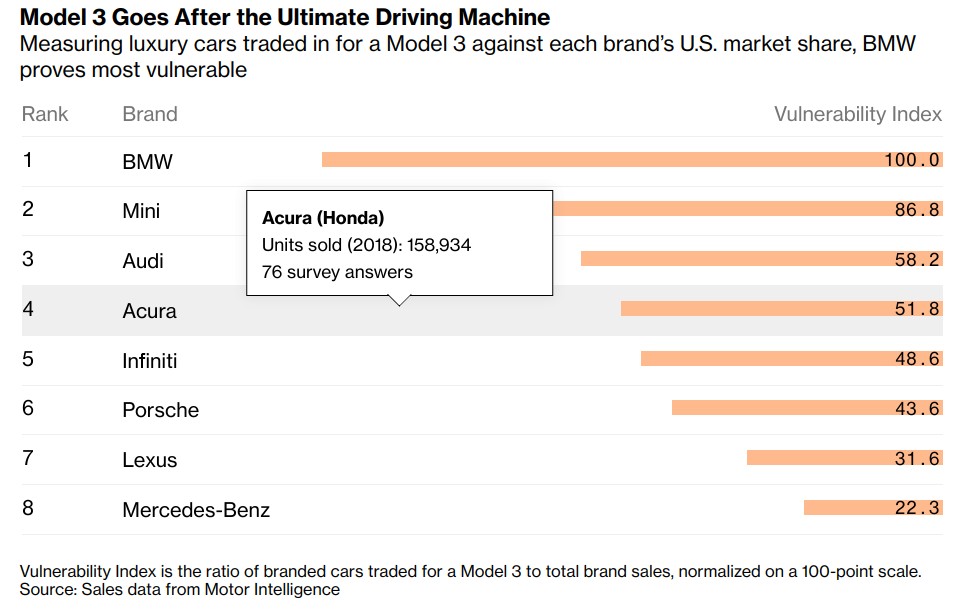 (Credit: Bloomberg)

With this in mind, BMW stands to lose far more than automakers like Toyota due to the Model 3's advance. Couple this with benchmarking tests against the Model 3 such as those conducted by BBC's Top Gear, which concluded that "Electric Beats Petrol! Tesla Model 3 Outguns BMW M3" after the EV beat the petrol-powered car by 2 seconds at the Thunderhill Raceway Park in California, and the German automaker might very well find itself on dire straits soon. This was reflected in Bloomberg's study, which listed BMW as the most vulnerable brand against Tesla.

There are many things about the Model 3 that its owners love, but one former BMW X5 owner provided some deeper insight to the publication. According to the former BMW owner, Tesla's consistent software updates make her vehicle feel brand new all the time, and it is simply something that is not matched by any other carmaker today.

"One of the things I absolutely adore about the Model 3 is that I feel like I get a new car about every 12 weeks. I have so many features now that I didn't have when I bought the car a year ago. Normally, at about a year, year-and-a-half of ownership I'm already scouting out the freeways for what looks good, and I find that I don't do that with the Model 3," the Model 3 owner said.

The fourth part of Bloomberg's Model 3 survey could be accessed here.

teslarati.com