Nvidia sell-off is 'good entry point' ahead of Q2 results: Morgan Stanley

Aug. 14, 2023 8:20 AM ET
NVIDIA Corporation (NVDA)
By: Chris Ciaccia, SA News Editor
11 Comments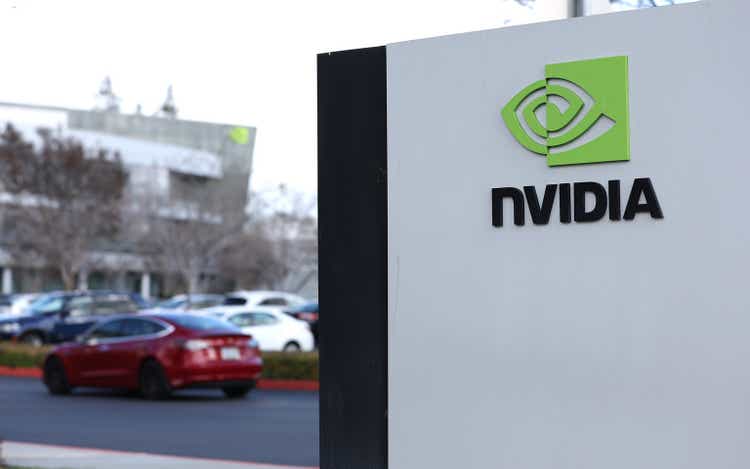 Justin Sullivan

The recent decline in Nvidia (NASDAQ: NVDA) shares is a "good entry point" for investors, Morgan Stanley said on Monday, ahead of the company's second-quarter results, slated to be released on August 24.

"We think the recent selloff is a good entry point, as despite supply constraints, we still expect a meaningful beat and raise quarter - and, more importantly, strong visibility over the next 3-4 quarters," analyst Joseph Moore wrote in an investor note, adding that Nvidia ( NVDA) is the firm's top pick in the semiconductor space.

Moore has an overweight rating and $500 price target on Nvidia ( NVDA).

In addition, Moore noted that Nvidia ( NVDA) is likely to see data center revenue trend to $15B or more over the next few quarters, driving by the "massive shift" in spending towards artificial intelligence.

"We would expect durable steady growth beyond that as well, though the current supply chain shortage will likely be less of a factor by [second-half of 2024] given that overall industry conditions are oversupplied, with the exception of narrow specialty technologies to support the existing ramps," Moore added.

Looking at the company's constrained supply, Moore said October shipments are "clearly gated" by supply and while there is the expectation for sequential growth, it's tricky right now to get to the exact spot, given that a "material" amount of July quarter shipments came out of inventory, mostly legacy A100 units.

The recent sell-off, which has seen the stock drop 9% over the past five trading sessions and 10% over the past month, "materially derisks" the print, with expectations for a "substantial" beat and raise, Moore explained.

Moore is expecting roughly $500M to $1B of revenue upside to the guidance provided for the coming quarter, mostly from the data center.

In May, Nvidia ( NVDA) said it expects second-quarter revenue to be $11B, plus or minus 2%, well above the $7.18B that analysts were expecting.

A consensus of analysts estimate that Nvidia ( NVDA) will earn $2.08 per share on $11.06B in revenue during the second-quarter.

Looking ahead to the October quarter, revenue guidance could be around $12.5B to $13B, above the current consensus of $12B, Moore added.