Off Topic But memories galore…. musicradar.com

Abbey Road track-by-track - Beatles engineer Geoff Emerick: "For the first time, John and Paul knew that George had risen to their level"

published about 16 hours ago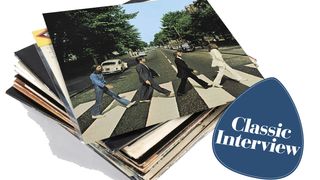 (Image credit: Apple)
Abbey Road was released today, 26 September, in 1969. In 2014, we were lucky enough to speak to engineer Geoff Emerick about the making of this bonafide classic.

It's one of the most iconic album covers of all time: John Lennon, Paul McCartney, George Harrison and Ringo Starr strolling across a zebra-striped street called Abbey Road in St John's Wood, north London.

It is an image as memorable as the moon landing - and one copied by tourists on a daily basis. (Even a few bands have paid homage, most notably Booker T & The MGs.)

Ironically, the shot was a last-minute decision.