AMC's CEO Turned His $9 Billion Company Into a Meme Machine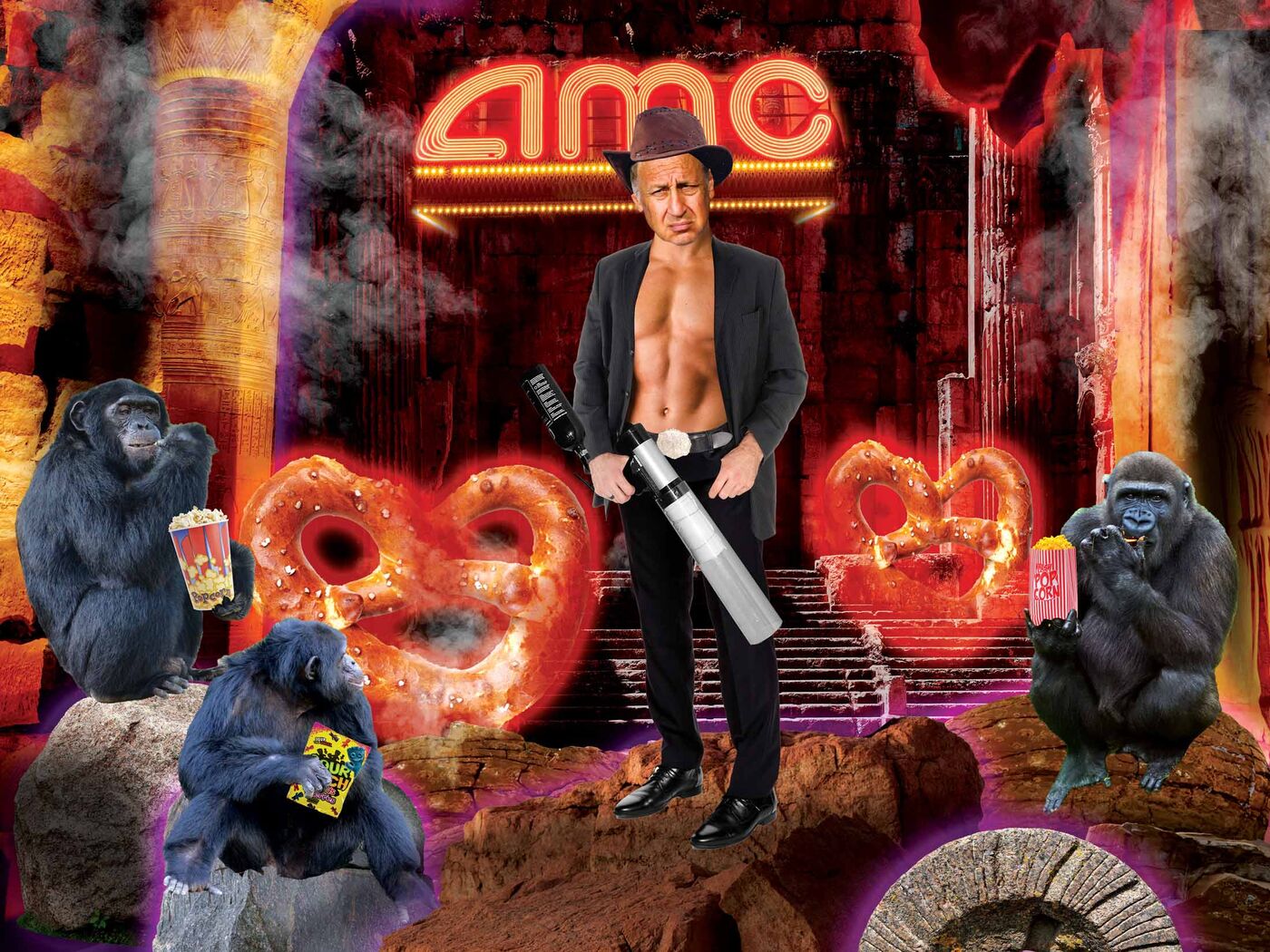 How Adam Aron, a 67-year-old executive with a background in loyalty programs, transformed himself into a Twitter-obsessed, gold mine-buying, populist folk hero for retail investors.

For most movie fans, their dream selfie with a Hollywood star never quite materializes. But on a Friday night in June, Bruce and Deborah Cooke spotted one of their favorite movie heroes, just feet away. They moved in and asked for a photo.

Adam Aron, the chairman and chief executive officer of AMC Entertainment Holdings Inc., greeted the couple warmly, making small talk as they arranged themselves for the camera. Bruce was dressed in slacks and a button-down. Deborah wore a striking green dress. "I put my arm around you, I go to jail," Aron, who's 67, playfully said to Deborah, who's 55. Everyone laughed.

Three days earlier, Aron had announced on Twitter that he would personally be hosting a screening of Pixar's new movie, Lightyear, at an AMC theater in Olathe, Kan. The Cookes, who together own a small mortgage company in Sacramento, had vowed on the spot to make the pilgrimage to Kansas.





Featured in Bloomberg Businessweek, Aug. 22, 2022. Subscribe now.
Photos: Alamy; Getty Images

The entire AMC saga meant so much to them. During the onset of the pandemic, when movie theaters were hastily shuttered, they bought their first batch of AMC stock. Moviegoing, they believed, would eventually bounce back. Plus, they thought it was cruel that a subset of investors were trying to force the company into bankruptcy. So the Cookes joined a legion of outsider traders, loosely organized on the Reddit forum r/wallstreetbets, who were swarming to AMC's down-and-out stock, driving up its share price and sticking it to the skeptical short sellers and hedge funds betting big on the company's failure. The Cookes recruited their loved ones to join them. "We got a lot of friends involved," Deborah says.

On social media, people started calling their pugnacious tribe the AMC Apes, as in Planet of the Apes, the movie about a primate uprising. By Wall Street standards, they might be primitive, but they possessed power in numbers.

Better yet, they had a fearless leader atop AMC, an alpha CEO who grunted and roared on Twitter, throwing feces, so to speak, at their enemies (recurring hashtag: #LetThemEatCrow) and beating his chest every time a movie performed well at the box office (#CHOKEonTHAT). Aron hired Nicole Kidman to star in several AMC promotions and bellowed tirelessly about her bravura performance, dubbing the glamorous actor "the first lady of AMC." The whole thing had a King-Kong-palming-a-fair-maiden vibe. The Apes were ecstatic.

Now, after a flight to Dallas, a four-hour drive to Tulsa, a break for the night, several more hours on the road, and another respite at a crummy hotel, the Cookes were right where they wanted to be, standing loyally at the Silverback's side. After capturing their trophy shot, the California couple took their seats. With a few minutes left before the start of the previews, the place was far from full—a slightly ominous development, which the Cookes would later chalk up to "the bad guys," aka the hedge funds, who they suspected had snapped up tickets and let them go unused to make AMC look bad. Anything to drive down the company's share price. "There's no telling what [they] will do," Deborah says.

At the front of the theater, Aron got up, gave a shoutout to the Apes, and acknowledged that the pandemic had been difficult. But the vaccines were working. Movies were storming back. "Our investors are passionate," he said. "They like AMC as a company. They don't think I'm that bad either. But most of all, they really want to see movie theaters survive."

At first glance, Aron, who became CEO of AMC in 2016, might not seem like a natural candidate to lead a successful investor insurgency. For much of his career he worked as a well-compensated turnaround artist, the kind of mercenary operator with the right pedigree (Harvard Business School) and right demeanor (bombastically self-assured) who gets hired to fix up a faltering company and maybe sell it off at a nice markup. If anything, Aron seemed like a well-sharpened tool of the Wall Street establishment, not of the internet masses.

But the pandemic shook up the entertainment cosmos and exposed a surprising lack of leadership in Hollywood. Amid all the halted productions and scrambled release schedules, everyone looked around for somebody to rally the American people behind the movie industry. When no compelling candidates emerged from the studios or the streaming services, Aron charged headlong into the void.

He's spent his entire career perfecting the art of stunt marketing and the science of customer loyalty programs. Ideal training, in other words, for this weird new zeitgeist in the business world, one that favors combative, incautious, performative CEOs (see: Musk, Elon) who can draw loyal swarms of fans online and compel them to buy their products, pump up their stock price, and troll their critics. "He has an almost Pied Piper-ish ability to attract people," says Darryl Hartley-Leonard, former CEO of Hyatt Hotels Corp., who hired Aron at Hyatt in the 1980s. "He creates a sound, a song, a whistle from his pipe that will cause people to gravitate preferentially to whatever business in the sector that he is running."

With AMC, that whistle has taken the form of meme-y membership schemes, free-for-all earnings calls, a comical stock ticker (APE), and the bizarre acquisition of a 72,000-acre gold mine. Having narrowly navigated the company through the dark days of the early pandemic and taken his followers with him on a Hollywood blockbuster-worthy ride, Aron is now facing a much more fundamental challenge: holding the entire rickety, debt-laden enterprise together during a time of rising inflation, falling stocks, accelerating economic pressure, and a troop of Apes that might finally be questioning its alpha.

AMC Share Price

Source: Bloomberg

Mission control for Aron isn't Los Angeles or New York or even Las Vegas. AMC's headquarters is in Kansas. The offices are housed in a sleek, glass-clad structure in Leawood, a prosperous suburb of Kansas City. The heart of the building is an open, spacious "test seating area" that doubles as a gathering spot. Throughout the workday, staffers can grab a snack and watch whatever is playing on its jumbo screen, from the latest Hollywood trailers to an afternoon Royals game.

Beginning in 2016, employees would occasionally glance up and see cable news channels airing live interviews with their new CEO, who'd arrived right after fixing up and selling off Starwood Hotels & Resorts Worldwide.

Aron typically shows up at a company looking as thoroughly distressed as the properties he's swooping in to save. The strands of his comb-over meander across his head, sometimes losing a few stragglers en route. His wardrobe, friends and former colleagues note, is remarkably beaten up for a multimillionaire executive. Even on a sunny day, he can look like a man who just parachuted in through a tempest: suit wrinkled, tie stained, shirttail flapping in the wind.

When Aron took over AMC, the entire theater business was facing mounting pressure. Shopping malls, which had long enjoyed a rich, symbiotic relationship with AMC multiplexes, were losing customers to online retail, jeopardizing foot traffic to ticket booths. Meanwhile, American viewers were growing increasingly enchanted with streaming networks such as Netflix.

Not long after joining the company, Aron met with Wang Jianlin, head of the Dalian Wanda Group, a Chinese conglomerate, then the majority owner of AMC. He proceeded to show Wang a list he'd drawn up of 10 things to better position AMC for the future. One idea was to revamp its customer loyalty program, AMC Stubs. Another was to expand the company through acquisitions. Wang particularly liked the notion of supersizing AMC.

Aron soon embarked on a $3 billion buying spree, snapping up three major theater chains in the US and Europe. By the spring of 2017 he'd made AMC into a colossus, with more than 10,000 screens in 15 countries. Aron—who has a professional wrestling promoter's penchant for speaking in grandiose, history-in-the-making superlatives—could now brag about AMC on a planetary scale. "The largest in the US, the largest in Europe, and the largest globally," he says.

He threw himself into every aspect of the operations, spiffing up the company's pre-movie promos; stiff-arming a startup, MoviePass Inc., that was elbowing into the loyalty rewards market for moviegoers; and flavor-jamming AMC's food menu with the kind of flamboyance that Guy Fieri might relish. Before long, Aron was touting AMC's giant new pretzel, a salty 1.5-pound behemoth dubbed the Bavarian Legend.





Aron at AMC's headquarters in Leawood, Kan.
Photographer: Shawn Brackbill for Bloomberg Businessweek

Although he was a relative newbie to the film industry, Aron had popcorn in his blood. In the 1930s his grandfather, a convivial, politically connected businessman, co-founded a successful company called Berlo Vending. Among other things, Berlo sold all the popcorn in all the movie theaters of eastern Pennsylvania. "By the time I came around, whatever family fortune there was had pretty much been squandered," says Aron, who grew up in a middle-class Philadelphia suburb.

Like his father, an ad man who regularly acted in an amateur theater troupe, Aron gravitated to the spotlight. By high school he was a math whiz, hockey goalie, and hammy stage performer. His comedic speeches playing up the life-altering sacrifices he'd made on behalf of his classmates won him the office of class treasurer twice. Once, as president of his high school's Key Club, he organized a fundraiser basketball game that went on for 100 straight hours—which, according to Aron, set a Guinness World Record. When he discovered a catalog that sold slightly aged Hollywood film reels by mail, he rallied friends to construct a plywood screen in their school's auditorium, where they charged for showings of Butch Cassidy and the Sundance Kid, Cool Hand Luke, and, of course, Planet of the Apes. The money poured into the coffers of the senior class. "What he was like then is what he is like now," says Aron's high school buddy Ashton Carter, who decades later would serve as secretary of defense under Barack Obama. "He could always convince a diverse group of people to get behind his vision."

After graduating from Harvard in three years, Aron stayed to get his MBA. He studied marketing, was elected co-president of the school's transportation club, and was captain of the hockey team. While many of his peers beelined for the riches of Wall Street, he took a job with the airline Pan Am, which by 1979 was well past its glory years. A top executive, Stephen Wolf, was looking for someone who could create more loyalty among the airline's dwindling customers. "The problem is that anybody who was semi-young and had half a brain had sensibly and correctly left Pan Am long ago," recalls Wolf, who went on to become CEO of United Airlines. "I found Adam in the bowels of the organization somewhere."

Aron concocted Pan Am's first frequent-flyers club and suddenly found himself on the fast track. He'd go on to create or reengineer loyalty programs for Western Airlines (TravelPass); Hyatt Hotels (Gold Passport); United Airlines (MileagePlus); Norwegian Cruise Line (NCL Latitudes); Vail Resorts (Peaks); the Philadelphia 76ers (the Franklin Club)—and, eventually, AMC (Stubs). "Adam is a pioneer of loyalty management," says high school pal Jeffrey Sonnenfeld, now a professor at the Yale School of Management.

In the late '80s, Hyatt Hotels CEO Hartley-Leonard hired Aron to serve as a top marketing executive. "When he came in, he really was the most disheveled human being that you'd ever seen," Hartley-Leonard says. "The problem with Adam is that his body is deformed such that his shirt doesn't stay in his trousers." Aron proved to be an unusually crafty marketer who generated ideas nonstop for winning over customers from rivals and for garnering free publicity, says his former boss. He also periodically mesmerized his colleagues with stunts, like the time he floated into an executive meeting on a custom-made dirigible. "Jay Pritzker [whose family owned Hyatt] turned to me and said, 'What the f--- did this cost?'?" Hartley-Leonard recalls. "I said, 'Leave Adam alone. That's who he is.'?"

In 1996, Apollo Global Management Inc. was in the market for someone to turn around Vail Resorts, the ski resort operator. By the time Aron left that job 10 years later, he'd diversified the company's business model and more than quintupled revenue. "Vail was transformative," says Marc Rowan, Apollo's billionaire CEO. "He did an unbelievable job."

So much so that when Rowan's partner, billionaire Apollo co-founder Joshua Harris, led a group of investors to acquire middling NBA team the 76ers in 2011, they installed Aron, a minority owner, to usher in a franchise turnaround. Of course, his first order of business was a barrage of promotional schemes. He made the team's dance squad larger. He added Julius Erving as a consultant. He showered fans in confetti. And even though he'd step aside as CEO only two years later following another lousy season, he still left an Aron-shaped imprint on the franchise: "Big Bella," the world's largest T-shirt launcher, a cartoonishly massive, 600 pound, multibarrel leviathan that looks like something Mad Max might have mounted on a battle tank.





The 2011 press conference to announce Apollo Global Management's acquisition of the NBA's Philadelphia 76ers. For two years, Aron was the team's CEO.
Photo: Getty Images

As the world locked down in 2020, Aron's acquisition binge looked disastrous. AMC, saddled with $5 billion in debt, was forced to hastily shut down 1,000 theaters worldwide. He furloughed most of roughly 26,000 workers. "You know what they don't teach in Harvard Business School?" he says. "The zero-revenue case."

AMC warned in a filing that it was weeks away from running out of cash. Bankruptcy seemed imminent. But Aron harbored a deep, abiding dislike for what he calls "Bankruptcy Inc." In his 30s he'd spent months fighting off the vulturous bankruptcy professionals hungrily circling Norwegian Cruise Line. At one point, he recalls indignantly, the CEO of rival Carnival Corp. predicted publicly that Norwegian would file for bankruptcy within months—but it never happened. "I'm very pleased to have proven him wrong," Aron says.

Seven months into the pandemic, there were whispers on Wall Street and in the press that AMC could be filing for Chapter 11 any day. Aron scrambled to buy more time, renegotiating AMC's rent payments with its landlords and looking for some way to ride out the pandemic disruptions.

Eventually he found a lifeline in Jason Mudrick, a lantern-jawed, poker-playing graduate of Harvard Law School, who runs Mudrick Capital Management LP, a $3.4 billion hedge fund specializing in distressed businesses. Unlike financial advisers and lawyers who make money on fees when a bankruptcy is filed, Mudrick's firm loans money to companies facing near-death circumstances. If the company recovers, the capital is repaid handsomely. If not, the fund can seize collateral or control. In December 2020, Mudrick loaned AMC $100 million, receiving an equity stake in return. Other lenders followed.

News of the loans reached retail investors just as a strange new energy began coursing through Wall Street. Thanks to some combustible mix of pandemic-induced boredom, intemperance, and ingenuity, the meme-stock phenomenon was taking off. Day traders on Reddit were identifying downtrodden, heavily shorted stocks, then piling in collectively, pushing up the share price, and hyping the frenzy on social media to rope in more buyers. It had already happened with GameStop Corp.

Then it was AMC's turn. From January to early June it soared from $2 to more than $62. Along the way, Aron seized on the freakish moment by issuing new equity at the heightened prices, replenishing AMC's coffers.

By June 2021, 4 million retail investors had bought up more than 80% of the company's shares. Aron knew from his years optimizing stunts and membership schemes that first you capture their attention, then you get them hooked. "It was just as true with our shareholders in the year 2021 as it was with airline passengers in 1981," he says. So he designed a program that bridged the meme world with the real one: Buying AMC's stock would get you movie-related perks.

With AMC Investor Connect, after purchasing the company's shares and signing up for its existing Stubs rewards program, you'd be given access to discounts at theaters, invitations to movie screenings with Aron, and a free tub of popcorn. The new program may have seemed gauche to the traditional Wall Street crowd, but it gave an air of exclusivity to everyman investors, even if the benefits were fairly silly. By 2022 the program would swell to more than 700,000 members.





Aron with Kidman, whom he describes as "the first lady of AMC."
Source: Adam Aron

Meanwhile, Aron began doubling down on his new AMC persona. Dating back to his time with the 76ers, he'd been an active social media user, albeit with fewer followers and more mishaps. At an investor roundtable last year, he was briefly caught on Zoom untrousered, according to a participant. In June 2021 he was doing a remote interview with a YouTube market influencer when he accidentally bumped his webcam, which swiveled downward to reveal that, once again, he wasn't wearing pants. Some AMC fans speculated that the YouTube incident was another one of Aron's public-relations stunts. When asked about it, Aron declined to comment. "I would be the first to admit that I can be iconoclastic," he says.

As his audience grew, he'd spend an hour a day on Twitter, reading feedback from the Apes and crafting truculent messages. He'd quote Winston Churchill on an earnings call—"We shall fight on the beaches, we shall fight on the landing grounds"—or retweet a depiction of himself wearing a chef's hat, holding a cleaver, and standing over a dead crow. By lacing his act with combative emotion, Aron infused AMC fandom with the kind of fervent personal identification once reserved for political parties and sports teams. Any analyst who'd dare question AMC's prospects could expect to receive a torrent of online vitriol, even death threats, from his more than 268,000 Twitter followers.

While the Apes ate up his bellicose energy, continuing to buy up shares and vowing to hold them long-term, Aron and AMC's other major investors began looking to cash out. With the stock riding high, everyone from the Dalian Wanda Group to Mudrick Capital to other top AMC executives were either selling off the bulk of their shares or eyeing the exits.

Aron wasn't going to let the opportunity pass. He enjoyed the perks of swank living as much as the next scorekeeping CEO, buying and selling over the years a portfolio of luxury properties from Beaver Creek, Colo., to Miami Beach. On Nov. 10, 2021, he revealed that for "estate planning" purposes he was unloading 625,000 AMC shares worth $25 million. The following month, he sold an additional chunk for $9.65 million. The family popcorn fortune, once squandered, was now restored. "Many of his friends went off into consulting and investment banking," says high school friend Sonnenfeld. "Those people made more money initially. But he's closed the gap a lot."





Aron with Mudrick at the Hycroft gold and silver mine in Nevada.

Around midnight on Sunday, March 13, after landing at a tiny two-runway airport in rural Nevada, Aron headed to a nearby Best Western to catch a few hours of sleep. Several days earlier he'd gotten a call from Mudrick, who pitched him on an opportunity for AMC that had nothing to do with the movie business. Mudrick's hedge fund owned a stake in Hycroft Mining Holding Corp., a struggling operation in northwestern Nevada. To remain solvent, the company needed a quick cash infusion to appease its lenders. He wanted to know if AMC wanted in on a literal gold mine.

Although Aron was familiar with a long list of industries, mining wasn't one of them. But he was an expert at financial engineering, not to mention the strange metallurgy of transforming a business crisis into a windfall—and a spectacle. In recent months he'd been toying with diversifying AMC beyond theaters. There were plans to sell movie-themed merchandise, AMC-branded nonfungible tokens (NFTs), and, maybe someday, a branded credit card and cryptocurrency. Already in the works was AMC Perfectly Popcorn, which will be sold in supermarkets across the US next year. "Watch out, Orville Redenbacher," he said on an earnings call on March 1.

Aron told Mudrick he was interested. The hedge fund executive explained that they'd have to move fast: They had five days before the cost of the deal would significantly increase. Hycroft's share price was rising, and Nasdaq rules required Aron to buy his stake at a share price that averaged the previous five days' trading levels.

So Mudrick corralled a jet in Teterboro, N.J., flew to Miami, picked up AMC Lead Director Philip Lader, then fetched Aron and AMC's general counsel, Kevin Connor, who were on a work trip in Dallas. While in the air to Nevada, Mudrick and Aron batted around the numbers and dug into dinner. Mudrick ate a steak. Aron put away a seafood medley.

Now, at 6 a.m., they arose in the dark at the hotel and set off for the mine. They drove past Winnemucca, a long-in-the-tooth railroad town where Butch Cassidy had once robbed a bank and the cellphone service was abysmal. The sun rose over the Black Rock Desert, a Martian landscape of dry playas and craggy, arid mountains. After two hours they arrived at the Hycroft Mine, a dusty archipelago of geological debris, jumbo trucks, and gaping holes in the ground—a toddler's idea of heaven. They squeezed into a temporary office, the only place in the vicinity with Wi-Fi. For the next several hours, Aron and Mudrick took turns persuading lenders and board members to approve the sale. They inked the deal with a few minutes to spare.

On March 15, when Aron announced that AMC was acquiring 22% of the largely dormant mine for $28 million, he got roughly the same reaction he'd triggered years earlier with his dirigible. Jaws dropped. Minds reeled. Somehow a recently distressed movie theater chain, saved by a hedge fund specializing in distressed lending, pumped up by retail investors profiting on distressed stocks, was now part owner of a distressed gold and silver mine, in a water-distressed pocket of the country, on a pandemic-distressed planet. The whole thing felt like a national parable. In America in 2022, distress was the new gold—or maybe fool's gold. It was hard to say for certain.

Much of the press and most analysts derided the move as just another gimmick, while others opined that the money should've been used to pay down the company's exorbitant debt. But on Twitter, Aron was busy retweeting memes of himself draped in gold chains. His rationale for the investment, he said: Only two years earlier, AMC was in free fall; now it could deploy everything it learned to another underdog business.

The loyal Apes followed him into the mineshaft, sending the penny stock sailing and netting AMC a $30 million profit. With the share price soaring, Hycroft took a page from the AMC playbook and offered more equity. Mudrick had initially hoped to raise $20 million. Thanks to the AMC bump, they wound up raising $200 million. Says Mudrick of Aron: "He could convince an Eskimo to buy ice."

Last year, in a magnanimous gesture to the Apes, Aron tweaked the format of AMC's quarterly earnings calls, allowing consumers to pose questions directly to the company's brass. The inquiries of amateurs, he says, are often better than the ones from the professionals. "Not to be disrespectful to security analysts, but they often use earnings calls to build their financial models," he says, segueing into an imitation of a squeaky-voiced analyst posing a tediously small-bore question.

The stroke of populism has annoyed some of the pros. "These are the most painful calls for me to listen to of any in my career," says Hunter Martin, an analyst at Creditsights Inc., a research shop. "The rhetoric is?…?very us vs. them, retail investor and common man. That's their narrative. To their credit, they're talking about the things that are important to those people. But it comes at a cost to more traditional investors who want to hear the numbers."

There may be good reason to create some distractions. In a recent report, Bloomberg Intelligence projected that the 2022 domestic box-office numbers will come in at $7.5 billion, a significant boost from 2021's $4.5 billion—but still just 66% of pre-pandemic levels. Meanwhile, 2022 has been a brutal environment for media companies, whose stock prices have tumbled across the board. The studios that supply AMC with its primary product are all facing potentially severe cutbacks of their own. Keeping the Apes amped won't be easy. "Regardless of a brighter outlook, we fear that the 4 million-plus retail investors who have driven a 2,000%-plus surge in the stock may flip and eventually cash out, prompting more volatility," Bloomberg Intelligence noted late last year.

For much of the summer, AMC's share price was hovering in the $12 to $17 range. On AMC fan boards, many Apes were itching for a new rally. For months there'd been chatter about the coming Mother of All Short Squeezes—a moment, it was foretold, when the Silverback would once again rear up and smite AMC's enemies and somehow send the share price back up. As to the timing, everyone dug through the mud of Aron's tweets looking for buried clues.

Without any clear signs of action, frustration was evident. At AMC's annual meeting in June, shareholders rejected the company's executive pay plan, which in 2021 rewarded Aron with $18.9 million in total compensation. "I don't think any of them need more money yet," says Deborah Cooke, the AMC superfan from the Kansas screening.

Aron shook off the intra-simian setback. During the same annual meeting in June, he told shareholders that AMC would be creating a $100 million fund to invest in other businesses. First came the gold mine; who knows what could be next. "There are a number of things that we looked at that we rejected, either because it wasn't interesting enough, or there was too much risk, or the financial returns weren't attractive enough," he says. "But I'm sure we'll find other opportunities as we turn over every rock."

AMC's early gains on its Hycroft shares have already all but disappeared as the miner's stock rally faded, though Aron has said he sees Hycroft as a longer-term investment, to net profits as the mine expands operations.

So what exactly is AMC at this point? A legacy theater chain with a penchant for shiny objects? A precious-metals multiplex exhibitor venture fund? Or, as Bloomberg Opinion columnist Matt Levine described it this spring, "a merchant bank that helps small companies do meme-driven at-the-market offerings and takes equity for its fee"? Aron sticks with the most anodyne of explanations: "We are a movie theater company that is looking to diversify," he says.

In early August, with signs of Ape dissatisfaction still smoldering online, AMC reported second-quarter results that topped analysts' estimates and revealed a plan to create a new class of preferred AMC equity, which will begin trading on the New York Stock Exchange on Aug. 22 under the new ticker "APE." Aron promptly uncorked a tweetstorm, explaining the "game-changing" strategy, which he compared to playing "3-D chess."

For each share of AMC Class A common stock, shareholders would be given a preferred equity unit as a dividend. Once the trading commenced, investors would be able to buy and sell them normally. In the future, at Aron's discretion, the company would be able to issue new APE shares to raise additional money for potential moves such as paying down debt or making acquisitions. Such issuance could, of course, reduce the value of the outstanding shares that Apes cling to. Using the all-caps style often seen in the Ape vernacular, Aron summed up the slightly byzantine proceedings in terms everyone in the community could easily understand. "TODAY?…?WE?…?POUNCE," he wrote.

While the reaction from professional analysts was mixed, the Reddit crowd went wild. By the following day, AMC gained 19%, to close at $22.18, a four-month high.

In spite of all the grim news in the broader market, things were looking up. Historically, Aron says, movie theaters have weathered economic downturns better than more expensive forms of entertainment. "I've been selling tickets all my life," he says. "I've sold cruise tickets, lift tickets, game tickets. I'm still selling tickets."

Over the summer he began selling something else— commemorative Thor hammers to promote Marvel's Thor: Love and Thunder. For $39.99, fans could buy their very own version of the powerful god's favorite weapon, reimagined in a handy new form: a warlike popcorn container. Aron appears almost as excited about the popcorn hammer as the gold mine. "We've sold 40,000 of them already."



(Updates credits in meme images.)

See missing graphics at
bloomberg.com