Where Will Nvidia Stock Be In 10 Years?

Jul. 26, 2022

Comment From Frank Sully: Long-term growth for NVIDIA will come from Autonomous Vehicles chips and AI software models and the Omniverse (aka Metaverse) innovations of Digital Twins and Digital Avatars, including AI chips for the Omniverse and Conversational AI software models for Digital Avatars. Short-term, while gaming GPU chips growth may slow the data center AI chip segment will provide considerable growth while the Automotive and Omniverse segments gain momentum. The stock price will grow several-fold in ten years as earnings continue to grow at a double-digit rate.

Summary

The automotive and professional visualization markets, which each only contribute a single-digit percentage of NVDA's revenue now, are expected to be major long-term growth drivers for the company.
A more favorable revenue mix for NVIDIA going forward with an increased contribution from high-margin software businesses will be supportive of higher profit margins for NVDA in the next decade.
NVIDIA stock is a Buy now, because its current valuations are appealing and the company should boast superior profitability and a more balanced revenue mix in 10 years' time.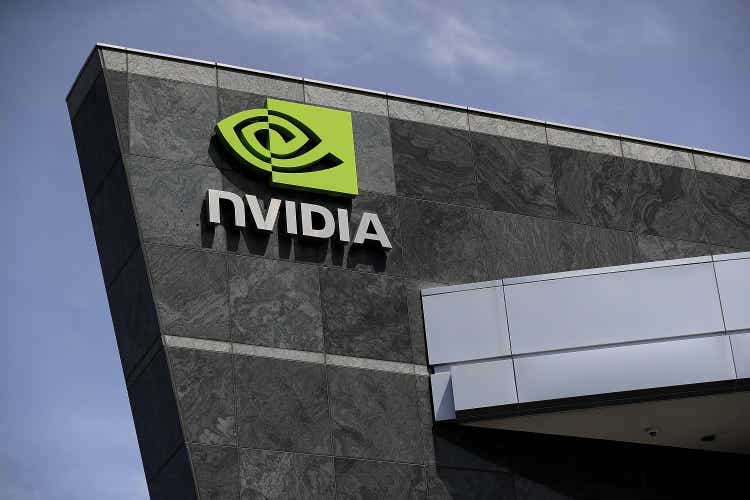 Justin Sullivan

Elevator PitchI Upgrade my rating for NVIDIA Corporation's (NASDAQ: NVDA) stock from a Hold to a Buy.

In my prior update for NVDA written on March 28, 2022, I touched on NVIDIA's growth prospects in the intermediate-term or the next five years, by making reference to metrics disclosed by NVDA at the March 2022 Investor Day and the sell-side's consensus financial projections for the company.

Given that no one knows how long the current bear market will last and that a recession seems to be the base case scenario for most investors, it is critical to extend one's investment time horizon. As such, I choose to focus on NVIDIA's long-term outlook (as opposed to its medium-term prospects), or more specifically where the company will be in the next decade, in my current article.

NVIDIA will be a more profitable company with a more balanced sales mix by market in 10 years' time based on my analysis. In terms of valuations, NVDA's forward P/E multiple has also more than halved from its peak. The good long-term outlook and reasonable valuations make NVDA stock a Buy in my view.

Is Nvidia A Good Long Term Investment?

NVIDIA is a good investment for the long term, because of the company's market leadership.

As per the chart below, NVDA's share of the GPU (Graphics Processing Units) AIB (Add-in Board) market (as represented by the GeForce graphic cards or the green line in the chart) has consistently remained above 50% since the third quarter of 2005. Nvidia's GPU AIB market share has grown to approximately 75% in the first quarter of this year.

GPU AIB Market Share For The Period Between Q4 2002 And Q1 2022





3D Center Website Which Collated Data From Mercury Research And Jon Peddie Research

NVIDIA has been able to maintain and even extend its market leadership over Advanced Micro Devices ( AMD), as indicated by the red line in the chart and the Radeon brand, in the past 15-16 years in the GPU AIB segment. This is a clear indication that NVDA has a competitive edge as compared to its rivals.

NVDA had the ability to stay as the market leader in GPUs for a very long time or more than a decade in the past. While history isn't a perfect indicator, it is probably the best indicator of the future. NVIDIA is a good long-term investment based on a reasonable assumption that the company will continue to dominate the GPU market for the next 10 years as it did in the past.

Can Nvidia Stock Continue To Grow?

NVDA can continue to grow in the future, but the key growth drivers for NVIDIA in the next decade will be very different from the factors responsible for NVDA's growth in the prior 10 years.

NVDA derived 46% and 40% of its fiscal 2022 (YE January) revenue from its gaming and data center markets, respectively as per its 10-K filing. In comparison, the professional visualization, OEM & other, and automotive markets contributed 8%, 4% and 2% of the company's FY 2022 top line, respectively.

In 10 years' time, NVIDIA should have a more balanced revenue mix, with its automotive and professional visualization markets growing faster than its core data center and gaming markets.

With respect to the automotive market, 2030 is the year that technology research firm Omdia expects "vehicles with Level 3+ autonomous systems" will have "wider adoption in mature markets" according to its September 17, 2022 research report. In other words, it will probably take close to 10 years for the inflection point for NVDA's automotive market revenue to arrive. Notably, NVIDA's automotive revenue was less than 5% of the sales contributed by the gaming market in FY 2021, but the company estimates that the automotive TAM (Total Addressable Market) is three times that of the TAM for the gaming market. Furthermore, NVDA has already gained a strong foothold in the automotive market, with the company disclosing at its 2022 Investor Day that it "won designs in 20 of the top 30 EV car OEMs."

For the professional visualization market, the Omniverse enterprise software should be the major growth driver in the next decade. The company described Omniverse as "a simulation engine for physically accurate virtual worlds and digital twins" at its 2022 Investor Day. Currently, only "10% of the world's top 100 companies" are users of NVDA's Omniverse enterprise software as highlighted at NVIDIA's Q1 FY 2023 earnings call on May 25, 2022. This points to lots of room for growth in the adoption rate of the Omniverse enterprise software among corporations in the long run. As revealed at the company's Q1 FY 2023 investor briefing, Amazon ( AMZN), PepsiCo ( PEP), and Kroger ( KR) are among the companies that have used NVDA's Omniverse enterprise software in the area of digital twins. A recent March 2022 market research report published by Grandview Research forecasted that the worldwide digital twin market will grow by an impressive +39.1% CAGR for the 2022-2030 period.

In a nutshell, NVIDIA should maintain positive growth momentum in the next 10 years, with the professional visualization and automotive markets being critical drivers of NVDA's growth in the long run.

Where Will Nvidia Stock Be In 10 Years?

Apart from having a more balanced revenue mix by market as discussed in the preceding section, a key change for NVIDIA will be the structural improvement in the company's profitability in 10 years' time. More specifically, I think that NVDA's profit margins could expand substantially in the long term thanks to higher revenue contribution from high-margin software revenue.

NVDA mentioned at its 2022 Investor Day that its "recurring software and services revenue are currently at an annual run rate in the low hundreds of millions." This implies that NVIDIA's current software revenue is less than 2% of its overall top line. In comparison, software accounts for more than half of NVDA's total $1 trillion TAM, comprising of $150 billion for NVIDIA AI enterprise products, $150 billion for Omniverse enterprise software and $300 billion for automotive (of which the bulk comes from software).

In my view, the proportion of high-margin software revenue as a percentage of total sales for NVIDIA could potentially rise from the low-single digit percentage level now to the high-teens percentage level in 10 years' time. This will help to drive an increase in NVDA's overall profit margins for the next decade.

NVDA Stock Key Metrics

The key metric for NVDA stock is its valuation multiple.

NVIDIA's consensus forward next twelve months' normalized P/E multiple has already compressed from its 10-year peak of 73.0 times recorded in early-November 2021 to 31.6 times as of July 25, 2022, as per S&P Capital IQ's valuation data.

Considering NVDA's market leadership in the GPU AIB segment and the positive outlook for the company in the long run as detailed earlier, NVDA's current valuation, a forward P/E of slightly above 30 times, represents a good entry point.

Is NVDA Stock A Buy, Sell, or Hold?

I rate NVDA stock as a Buy. NVIDIA is attractively-valued, and the long-term outlook for the company is bright.