Don Surber
All errors should be reported to DonSurber@gmail.com



Wednesday, June 15, 2022



Highlights of the News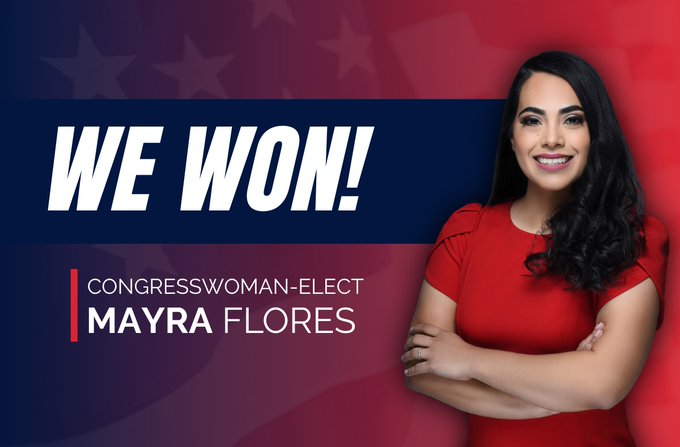 ITEM 1: In a special election on Tuesday, Republicans flipped a congressional district that Democrats have held since its inception 10 years ago. The district is 84% Hispanic.Obama carried it by 23 points and Hillary by 22.

But Trump closed the gap to 4 points in 2020. Now Republican Mayra Flores has beaten Democrat Dan Sanchez by 7 points in an election to replace Democrat Filemon Vela, who quit on March 31 to become a lobbyist.

The district stretches along the Gulf Coast to the Mexican border. Instead of alienating Hispanic voters with his wall, Trump drew them to the Republican Party.

She will be the first Mexican-born woman to serve in Congress.

ITEM 2: The Washington Examiner reported, "Republican Rep. Tom Rice lost his solidly conservative South Carolina House seat Tuesday after nearly a decade in Congress, which included his vote to impeach former President Donald Trump over the January 6 riots."

Riots?

I guess you have to burn down a used car lot to be considered a mostly peaceful protest by the media.

ITEM 3: Reuters reported, "Warner Bros. Discovery Inc. is looking to cut up to 30% or nearly 1,000 jobs in its global advertising sales team, a person familiar with the matter told Reuters.

"The company on Tuesday started offering members of its U.S. advertising sales team an opportunity to voluntarily leave the company, the source said, adding that the global advertising sales team has about 3,000 members.

"The company's finance chief Gunnar Wiedenfels in April reaffirmed its goal of achieving $3 billion in cost savings after a $43 billion merger between Discovery Inc and AT&T's Warner Media.

"Wall Street has questioned the streaming industry's long-term prospects after a surge during the pandemic and analysts have cited rising inflation and lower consumer spending as potential threats to the industry."

When a media company cuts its sales force by 30%, it is in trouble.

I notice it is pushing kiddie porn on its streaming service as boys do drag shows for the perverts.

Someone needs to tell them you cannot out-Disney the House of Mouse.

ITEM 4: The Washington Examiner reported, "Hunter Biden recorded himself boasting that his father will adopt political positions at his command, footage obtained from a copy of his abandoned laptop shows.

"'He'll talk about anything that I want him to, that he believes in,' Biden said in reference to his father, Joe Biden, in the Dec. 3, 2018, recording. 'If I say it's important to me, then he will work a way in which to make it a part of his platform. My dad respects me more than he respects anyone n the world, and I know that to be certain, so it's not going to be about whether it affects his politics.

"'All those fears you think that I have of people not liking me or that I don't love myself … I don't fear that. You know why I don't fear that? Because the man I most admire in the world, that god to me, thinks I'm a god.'"

Our country is run by a coke-addled alcoholic ne'er-do-well who accepts bribes from Ukraine, Red China and anywhere else.

Obama knew.

Most of DC must have known.

They deliberately sabotaged the country.

But hey, no mean tweets.

ITEM 5: NYT is worried that Nevada will flip red.

It reported, "Much has been written about the woes of Senator Catherine Cortez Masto, a Democrat who is up for re-election this year. Whenever her name appears in national news coverage, it's invariably accompanied by some version of the phrase 'one of Democrats' most endangered incumbents.'"

And the story said, "The Cook Political Report rates all three Democrat-held congressional districts as tossups. House Majority PAC, the main outside spending arm of House Democrats, has reserved more dollars in ad spending in Las Vegas than in any other media market in the country."

Republicans last carried the state in the 2004 presidential election.

Biden did this.

ITEM 6: Fox reported, "Washington DC Mayor Bowser adds 51st star to American flags displayed on Pennsylvania Avenue ahead of Flag Day."

People in Washington were never good with numbers.

ITEM 7: Just the News reported, "Todd Myers, director of the Center for the Environment for the free market Washington Policy Center, thinks Gov. Jay Inslee is being coy about his support for breaching four dams on the lower Snake River.

Myers tweeted, "Last week, Gov. Inslee gave implicit support to destroying the Snake River dams and 8% of Washington's electricity generation. Today he sent an email warning about electricity shortages this summer."

Climate change is causing blackouts because when you elect Climate Change politicians, they destroy non-carbon dioxide based electric generation because they really, really want to rule a third world country but are too lazy to move to Africa.

ITEM 8: NBC reported, "Remi Bader, a TikTok star known for her realistic clothing haul videos, claimed that during a recent trip with other influencers, a ranch wouldn't allow her to ride their horses due to her weight.

"Bader, who has more than 2 million followers on TikTok, was in Montauk, New York, with other influencers on a trip organized by the company Hampton Water Wine over the weekend when she said she was turned away."

Maybe she should lose weight.

ITEM 9: Reuters reported, "The U.S. Department of Energy on Tuesday said it was selling up to 45 million barrels of oil from the Strategic Petroleum Reserve as part of the Biden administration's previously announced, largest-ever release from the stockpile.

"Deliveries of crude from the SPR sale would take place from Aug. 16 through Sept. 30, the Energy Department said."

The Democrat Election Plan.

45 million barrels is what the USA uses in 5 days.

Trump had a better plan. He let the oil industry unleash billion of barrels into the market, cutting gasoline prices and giving the Italian Salute to oil dictators.

Prices fell so low, Trump filled up the petroleum reserve.

ITEM 10: The Chicago Tribune reported, "Caterpillar to move headquarters to Texas, marking second major corporate departure from Illinois in 6 weeks."

Boeing was the first.

Greater Peoria Economic Development Council CEO Chris Setti said, "Caterpillar's commitment to our region is still strong. They have over 12,000 employees here, making Peoria the largest employment center for Caterpillar in the world."

Dream on. Those jobs eventually will go to Texas and Mexico to be nearer to corporate headquarters.

ITEM 11: Newsweek reported, "Texas Governor Greg Abbott has a substantial lead over Democrat Beto O'Rourke in the race to lead the state as the nation is still grieving a deadly school shooting in Uvalde, Texas.

"A new poll published on Monday found that Abbott, a Republican, leads O'Rourke by 19 points among likely Texas voters but also found widespread support for new restrictions on gun purchases."

Um, Abbott's lead was only 7 points a month ago in the same poll before the Uvalde massacre.

ITEM 12: The Verge reported, "Ford issued a stop-sale order to its dealers for the Mustang Mach-E electric crossover over concerns that a safety defect may render the vehicle immobile, CNBC reports."

That dashed my hope of owning a coal-powered Mustang.

ITEM 13: Just the News reported, "The Democrat-led House on Tuesday passed a measure to expand security for Supreme Court justices and their family members.

"The bill passed by a 396-27, with only Democrats voting no.

"The Senate last month unanimously passed the bill, which would extend the same 24 hour security to Supreme Court justices and their families that other top government officials receive."

Increasingly, our public servants live behind walls. DC is looking more like Pyongyang.

The reason is the government is too large and too powerful.

Republicans must begin eliminating agencies. The time has come to stop asking the government to solve our problems because as Reagan said, "Government is not the solution to our problem, government is the problem."

ITEM 14: It is not news, but it is a very good video.

Science explains how God did it.

ITEM 15: Breitbart reported, "Michelle Obama's Get Out the Vote Event in L.A. 'Sparsely Attended' Despite Selena Gomez Appearance."

When gasoline is $7 a gallon, you don't make many unnecessary drives.

ITEM 16: Politico said, "The Federal Reserve is poised to send a message to the American people that it has the worst inflation in 40 years under control."

Hahaha.

No.

The Fed is a year late and 200 basis points late to do anything.

FINALLY, AP reported, "A Cuban man charged in a $4.2 million Medicare fraud scheme is being held as a flight risk after officials said he tried to flee the U.S. on a Jet Ski.

"A federal judge in Miami ordered Ernesto Cruz Graveran, 54, of Hialeah, to be detained pending trial Monday, according to court records. He has been charged with health care fraud.

"According to a criminal complaint, Cruz Graveran's company, Xiko Enterprises Inc., submitted approximately $4.2 million in fraudulent health care claims to Medicare from February to April this year for medical equipment that Xiko never provided and that Medicare beneficiaries never requested. Medicare paid Xiko over $2.1 million."

$2.1 million buys a lot of Jet Skis.