Nvidia Is On Track To Join The Trillion Dollar Club

Jun. 09, 2022

Wright's Research

Summary

Nvidia's valuation has plummeted from over US$810BN last November to US$473BN today.
The graphics card market is destined to grow at an astonishing rate, with revenue growth forecast of 10x before 2030 and a vast 33%+ CAGR.
We anticipate that Nvidia could offer significant alpha relative to the S&P 500, somewhere between 11.4% CAGR to 16.5% CAGR, if Nvidia remains dominant and the market forecasts are correct.
The company has made some incredible advances in terms of EBITDA growth, outpacing its already boisterous revenue growth, with no signs of it stopping any time soon.
The impact and growth of concepts such as AI, Deep Learning and Machine Learning might be underestimated and understated according to earlier predictions.

Nvidia (NASDAQ: NVDA) has been in for a wild ride over the past few months, just like most other tech stocks that trade at elevated multiples and suffer from severe multiple compression due to an adverseand uncertain macroeconomic environment.

In this article, we look at why Nvidia could be a trillion-dollar buy for long-term investors who are optimistic about the company's growth, and why short-term investors might consider perhaps investing in some of its competitors.

In this article, we look at why Nvidia could be a trillion-dollar buy for long-term investors who are optimistic about the company's growth, and why short-term investors might consider perhaps investing in some of its competitors.

Nvidia's Wild RollercoasterHowever, Nvidia only recently gained widespread recognition in the investment scene, as its market capitalization rose from less than US$10BN in 2013 to more than US$830BN in November last year. Currently, Nvidia's market capitalization is down to almost half of what it was in November last year, currently at US$473BN.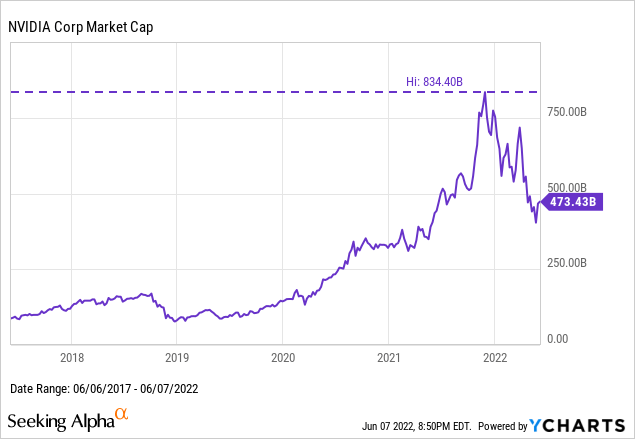 Data by YCharts

Essentially, the company is not unfamiliar with adverse market conditions, as in the past, it was able to absorb 2 major blowsthat other GPU manufacturers could not: the dotcom crash and then the financial crash of 2008. In fact, around 2006, Nvidia was the only independent graphics chip manufacturer left in business after AMD ( AMD) decided to acquire their only major direct competitor, ATI.

Since then, it has been mostly an upward trajectory with the boom of gaming, the need for AI/Machine Learning applications, cryptocurrency mining, and just pure graphics applications themselves such as image and video processing in addition to other recent introductions of VR, AR and more.

Cost Declines & Predictions

Naturally, we at Wright's Research love to incorporate Wright's Law into our research and evaluate how cost decline curves can impact companies, as they are far too often overlooked.

Forecasters in the past have been hugely surprised by how quickly computing power would improve compared to its cost. Metaculus, one of the largest stimulated prediction websites, launched a prediction back in 2018 asking when " one TeraFlOPS will cost <$1." TeraFLOPS generally represent the performance capabilities of computers such as CPUs, GPUs and Supercomputers. In 2018, the NVIDIA TITAN V GPU had the lowest theoretical cost at $27.27 per TeraFLOP, although studies showed discrepancies between theoretical and actual performance usually within a factor of 10, making the price per TFLOP around $272.70.

When this forecast was launched in 2018, it was widely expected to reach this point by 2040. Fast-forward 4 years and forecasters expect this point to be reached in March 2029, expecting a TeraFLOP to cost less than $1 about 10 years earlier. Today, an Nvidia RTX 3080 could already bring that cost down to $29 per TeraFLOP.





Metaculus

Deep Learning may be something that people can consider "buzzwords" these days, because it's talked about so much. But even given its popularity, forecasters over the past 2 years were too gloomy about how quickly it would develop as well. With technologies such as Deep Learning, one of the most important things is the amount of parameters that the models use. Parameters are typically used to indicate how well a model performs. A popular Deep Learning model, such as GPT-3, uses about 175 billion parameters.

Metaculus forecasters asked how likely it was that there would be a Deep Learning model with 100 trillion parameters before 2026. When the forecast was launched, about 66% of the forecasters believed that this could be achieved before 2026. Now, just 2 years later, that figure has risen to 94%.





Metaculus

Artificial General Intelligence (AGI) is also a topic of much debate. The premise of AGI is that it is capable of performing any intellectual task that a human can perform and understand or learn. True AGI, where there would be 0% difference between humans and AGI is probably still a long way off. Although, a weaker AGI that would still perform comparably to humans could be around the corner.

When Metaculus asked what date a weaker AI would become publicly known, users in 2020 replied that this weaker AGI would not be around until 2055 approximately. Today, forecasters predict that it will come by July 2029, a massive drop in the time frame!





Metaculus

Yet, despite all the positive data and events that have taken place that have lured forecasters into much more positive territory, the stock is down almost 50%. Perhaps this also means that the already positive market forecasts are too conservative and that our forecast for Nvidia may even be more upwardly revised already.

The Nvidia & Market Growth Story

Overall, it is estimated that the GPU market size was US$25.41BN in 2020 and is expected to grow to US$246.51BN by 2028. That is almost a 10x increase in market size in 8 years, and thus is expected to be one of the fastest and most disruptive technologies in the future. Other independent market research estimates that the GPU market could grow to US$477.37BN by 2030.

Revenue has grown tremendously, especially in recent years while gross margins have even grown from 52% in fiscal 2013 steadily to nearly 65% last year. Nvidia has also managed to grow its operating margin, which grew from around 15% in fiscal 2013 to a staggering 37.31% last year.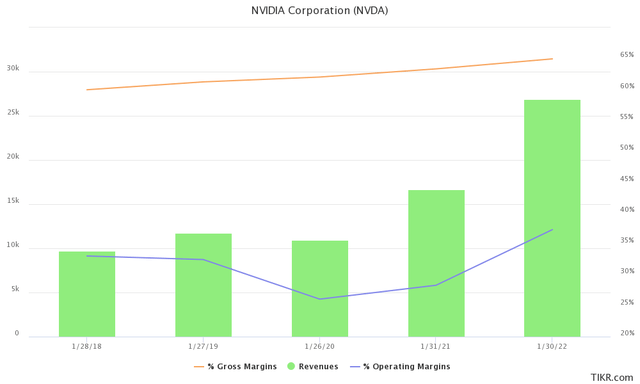 TIKR Terminal

The Cryptocurrency Revolution

Another big question that is far overlooked by investors looking at graphics card manufacturers is whether cryptocurrency is here to stay, and if so, how it would benefit Nvidia.

Instead of discussing what cryptocurrency prices will look like, we like to stick to data-driven and look at the adoption rate of the aforementioned technology. In certain countries, such as Nigeria, 42% of the population reportedly owns or uses technology, which gives us confidence that there are already very solid use cases in society that provide value in people's daily lives.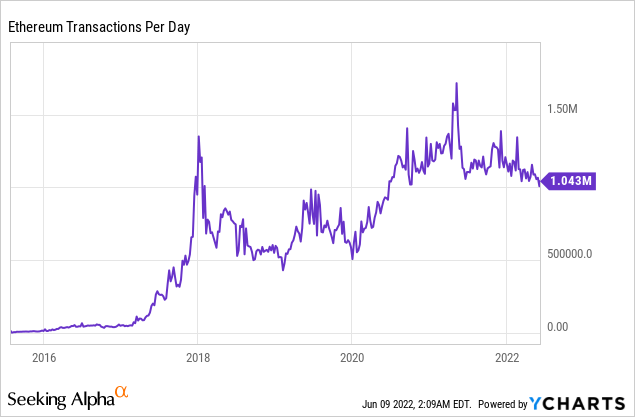 Data by YCharts

In those same developing countries, 79% of investors found cryptocurrency trustworthy, compared to only 62% in more developed financial markets. That perhaps also raises the question whether people will actually trust cryptocurrency more after they have actually used it and actively adopted it. In the United States, the adoption rate has increased from 6% in 2020 to 13% in 2021 of people who own or use the technology.

It also seems to us that the global user base of all cryptocurrencies increased by almost 190 percent between 2018 and 2020 alone. Other adoption in the real world was seen when Visa said that customers made US$2.5BN in payment volume in the first quarter with its cryptocurrency credit cards. Even JPMorgan, whose CEO Jamie Dimon had been completely opposed to the idea of cryptocurrency, began using the blockchain to settle collateral earlier this week.

In both 2017 and late 2020 to early 2022, the GPU market experienced frenzied demand as rising Ethereum prices and Bitcoin prices were held at bay. Currently, demand for GPUs is cooling as supply finally catches up, cryptocurrency markets have taken a tumble, and because Ethereum announced it was phasing out GPU-based mining.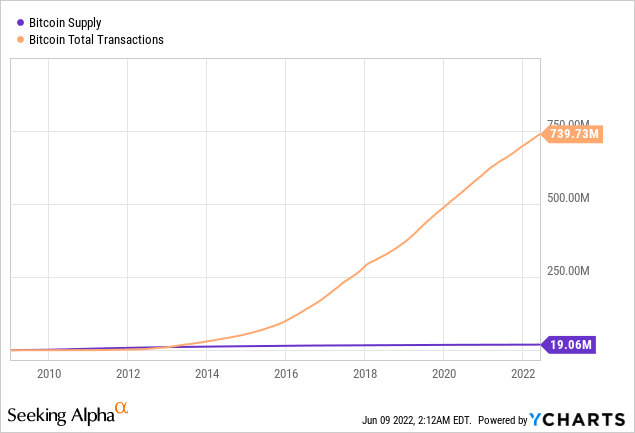 Data by YCharts

However, if the cryptocurrency continues to grow, it could also have a major impact on graphics card manufacturers. Since Bitcoin is still dependent on miners, using the proof-of-work concept, GPU manufacturers could face another round of strong demand if the price of Bitcoin were to rise again. Nvidia itself released a GPU specifically for miningcryptocurrency not too long ago, on September 1, 2021.

Some investors, such as Cathie Wood of Ark Invest, are calling for a market capitalization of US$20T by 2030, which would be a drastic increase from the high of about US$2.9T late last year. We believe cryptocurrency can live up to that potential and are currently closely monitoring its adoption and use cases. Numerous forecasters are predicting that Bitcoin's peak price will be somewhere around US$150K per BTC before 2030, bringing the currency alone to a market capitalization of US$2.5T.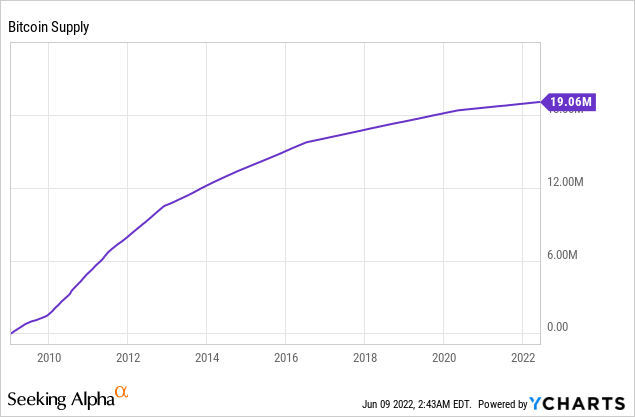 Data by YCharts

Since BTC currently makes up less than half of the cryptocurrency market, we think it is likely that the cryptocurrency market will exceed at least US$5T by 2030, giving Nvidia additional exposure in terms of revenue growth and an opportunity to be at the forefront of a disruption taking place in the financial market. Currently, crypto mining processors only account for 0.2% of total revenue in 2021, accounting for US$550M in revenue. However, note that normal gaming GPUs are also used for mining.

Fundamentals and Valuation

The first thing to note about Nvidia is its revenue growth. From fiscal year 2013 to fiscal year 2022, the company managed to grow revenue from $4.28 billion to a staggering $26.91 billion, representing a CAGR of 22.67%. However, if we take the revenue growth from 2016 to 2022, it amounts to a CAGR of 32.34%, which means that most of this growth occurred in the last few years.

This CAGR of 32.34% over the last 6 years is also in line with the market growth forecast by independent researchers previously mentioned. To put that in perspective, if Nvidia was able to continue to grow revenue at a 32% CAGR, they would generate US$327.40BN in revenue. That's only if Nvidia was able to maintain its market share and not lose too much to the competition, which we'll talk about in a moment. On the contrary, of course, it is also possible that the company could gain even more market share.

If we use a more conservative but still strong revenue CAGR of 27%, Nvidia would bring in US$231.32BN in revenue by 2030 (fiscal year 2031). However, the main question and driver behind Nvidia is its high gross margins and low OpEx/CapEx thanks to its outsourced manufacturing. In 2022, for example, they spent only US$976M on capital expenditures despite a 61.4% revenue growth in 2022 to US$26.91BN.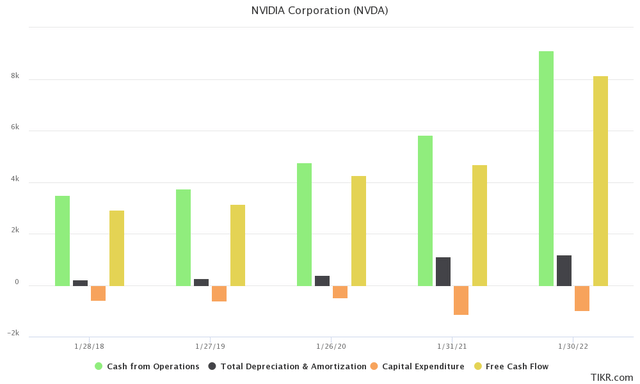 TIKR Terminal

For instance, EBITDA has grown at a CAGR of 32.72% between 2013 and 2022, compared to the aforementioned revenue growth of 22.67%, which is an extremely positive sign because EBITDA growth is outpacing the already tremendous revenue growth. Again, most of this growth occurred in the last few years, with EBITDA growth over the last 6 years actually at 47.82% CAGR.

We expect Nvidia to continue to outpace its EBITDA growth compared to its revenue growth, but at a much slower pace to keep our estimates a bit more conservative, as we are already placing a lot of faith in market growth and market dominance. At a CAGR of 28%, we would be at an EBITDA of US$103.44BN by 2030 (FY2031). That would mean Nvidia maintains an EBITDA margin of 44.72%, compared to its current margin of 41.67%.

In terms of its balance sheet, Nvidia has been able to sustain this growth by taking on almost no debt compared to its cash reserve, or diluting current shareholders. This also has to do with its immense profitability in terms of margins and their ability to scale revenues with CapEx only about 3.63% of total revenues in 2022. According to NYU Stern, the average EV/EBITDA multiple for the semiconductor industry earlier this year was 21.27.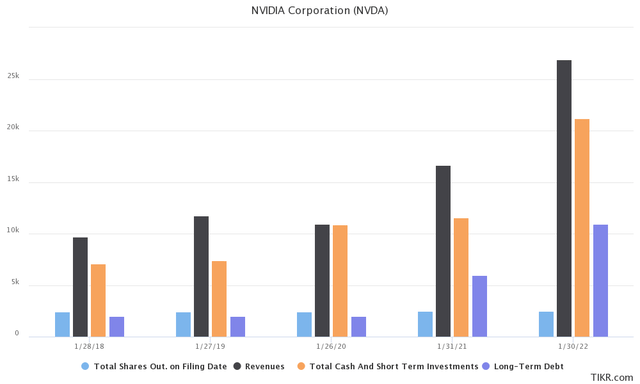 TIKR Terminal

We estimate that at a much more conservative EBITDA and even discounting all cash from its EV, Nvidia would trade at a market capitalization of US$1.24T with an EBITDA multiple of 12x. That would equate to US$496.51 per share, or a CAGR of 11.4%. However, if you are even more optimistic about Nvidia's growth story and think that growth will continue beyond 2030, Nvidia could be worth US$1.86 at an 18x EBITDA multiple, or $744.77 per share at a CAGR of 16.54%.

Competition

What is notable about Nvidia's competition is that there is not really a concrete direct competitor, with the size of Nvidia producing only graphics cards. This is likely to change in the future, as Nvidia recently announced that it will be developing ARM-based processors. These are the same processors that brands like Apple ( AAPL) use in their iPhones and recently in the new M1/M2 lineup of Macs.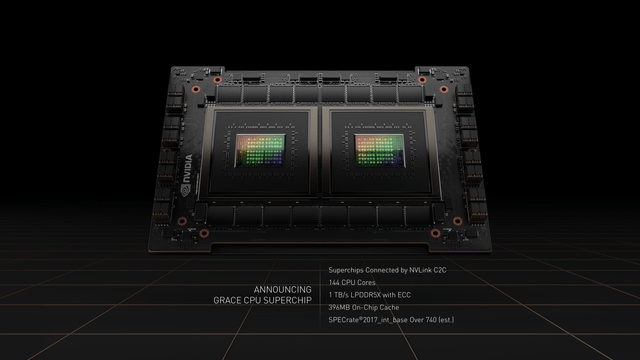 Nvidia IR

Intel ( INTC) also doesn't really make standalone graphics cards like Nvidia and mostly makes processors that have lagged behind AMD's lineup of processors in recent years. For example, Intel launched its 10 nanometer lineup of 12th Gen Core processors while AMD has been producing 7 nanometer processors since 2018. Intel announced that it plans to launch its 7 nanometer processors sometime in 2023.

Looking at the fundamental numbers, Nvidia comes quite close to AMD when looking at the fundamental valuation in terms of EV/EBITDA, which stands at 36.72 for Nvidia and at 34.56 for AMD. Both companies have superior revenue growth of about 31-32% and EBITDA growth in the double and triple digits. The only thing to note here is that AMD simply has lower net income margins of nearly 18% compared to nearly 42% for Nvidia, plus a lower return on equity.

This also shows a low point in its lower EBITDA margin, but it has risen and is outpacing revenue growth, with EBITDA growth of 121.52% YoY, a very positive sign. We own both AMD and Nvidia and believe both are solid buys. However, we believe Nvidia has an advantage with its already solid margins, especially during periods of economic difficulty and multiple compression.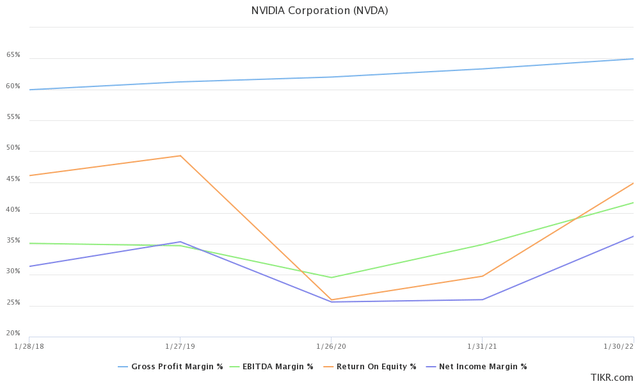 TIKR Terminal

Taiwan Semiconductor ( TSM) also has a lower Forward P/E ratio of 16, which is in line with the historical weighted averageof the S&P 500 while still showing EBITDA growth of 21.5% year-over-year and a revenue CAGR of almost 12% over the last 5 years. They also have a lot of cash on hand and virtually no debt, with total net debt of -US$16.77BN (negative net debt means a company has little debt and more cash).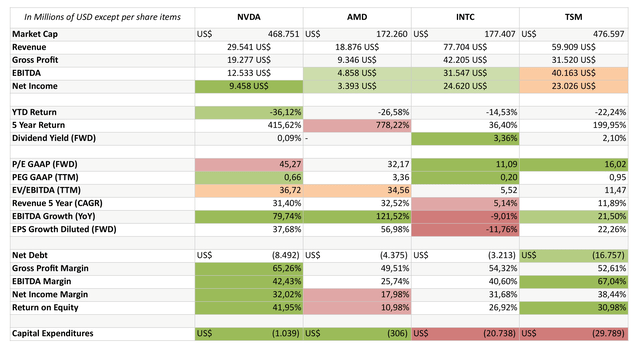 Author's Data

For short-term investors/pure value investors, Intel may be a better choice, as it is only at an 11x Forward P/E. However, the problem with Intel is its lack of innovation and inability to keep up with close competitors like AMD and Nvidia. This can also be seen in their 5-year revenue growth, which is only 5%. Moreover, their capital expenditure is sky-high at over $20.7 billion compared to AMD and Nvidia. Their EPS growth and EBITDA growth also seem to be coming under pressure.

However, they do pay a very nice dividend with a forward-looking yield of 3.36%, which can certainly come in handy for short-term investors looking for safety, as it is also already trading quite cheaply in terms of fundamentals and there should be less downside risk compared to some of these growth names like AMD and Nvidia. It is only in the long run that Intel risks being disrupted by its competitors, and possibly seeing a severe drop in revenue growth/margins.

The Bottom Line

Nvidia certainly has a chance to outperform the S&P 500 and give us investors plenty of Alpha, although a lot has to continue to go right for the company to grow at this rate. We strongly believe in the market growth of GPUs and think Nvidia should be considered a buy at this time, now that it is trading nearly 50% lower due to an unfavorable macroeconomic backdrop and multiple compression.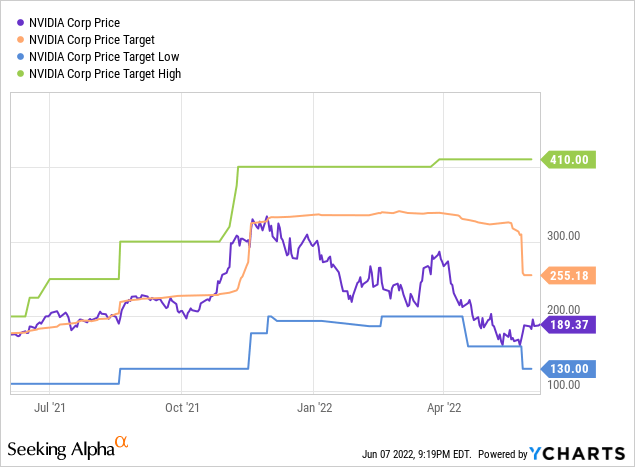 Data by YCharts

With the economy looking for semiconductors and graphics cards, Nvidia is poised for tremendous growth. Therefore, we think it remains a solid buy, even at what pure value investors would call high levels. We expect Nvidia to join the trillion-dollar club this decade with a market capitalization of Apple, Microsoft ( MSFT), Google ( GOOG) ( GOOGL), Amazon ( AMZN) and perhaps other companies such as AMD, Tesla ( TSLA) and Meta ( FB).

seekingalpha.com