Don Surber
All errors should be reported to DonSurber@gmail.com



Tuesday, May 24, 2022



Highlights of the News




ITEM 1: State Farm financed and partnered with Gender Cool to put more LGBT material in elementary schools starting in kindergarten. "Like a good groomer, State Farm is there."

But State Farm was not alone in this grooming.

Also partnering were All State ("You're in pedo hands with All State"), General Mills ("The big G stands for groomer"), Dell ("Dude, you're getting a dress"), Capital One ("What's in your undies?"), the USDA (Uncle Sam's Deviant Agency) and 17 other companies.

Change LGBT to Christian values and watch the media rise in anger.

But the backlash against State Farm from parents and grandparents when this story broke on Monday sent the company scrambling.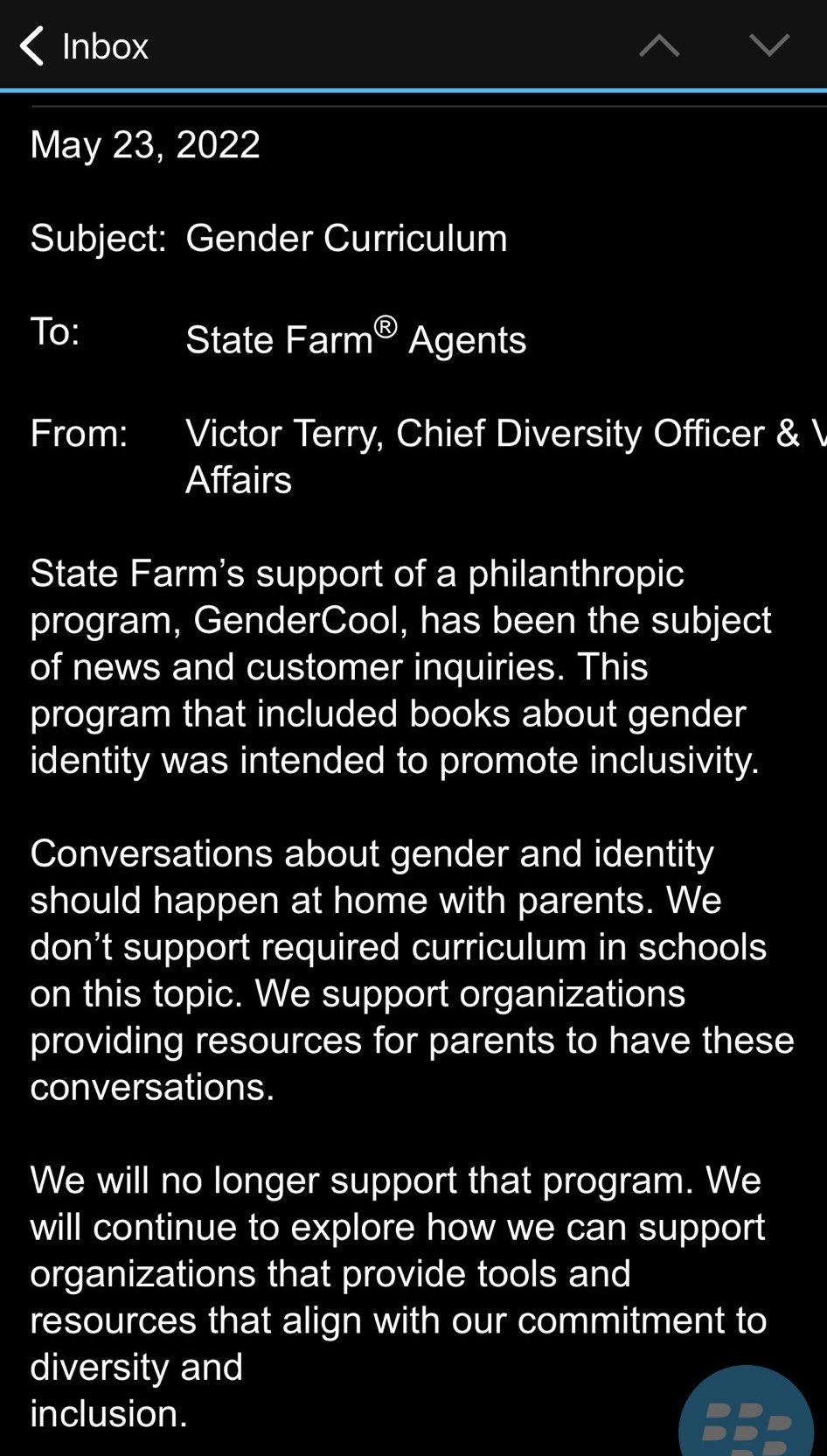 I suggest the USDA and those 21 companies follow State Farm's lead and dump Gender Cool. CEOs need to wake up to the fact that the days of Woke are over.

ITEM 2: The Institute for Energy Research reported, "Petroleum product shortages may be ahead as motorists, truck drivers, farmers and airlines are grappling with increasing demand for gasoline, diesel and jet fuel. Despite refiners focusing on diesel in lieu of gasoline this spring, a global diesel shortage is looming.

"Refiners are planning to spend the summer increasing jet fuel and diesel production instead of gasoline because refining oil into diesel or jet fuel is currently more profitable than making gasoline despite those fuels historically being the least profitable parts of the barrel. Currently, the profit margin on distillates is nearly $60 a barrel, while the margin to make gasoline is $34. As a result, it is unclear what the availability or price of gasoline will be this summer as Americans increase gasoline demand by taking vacations as school lets out."

Looks like $10 a gallon gasoline by Independence Day.

And now, please rise, as Jackson Browne sings our new national anthem.

ITEM 3: Washington Post reported, "Southern Baptist leaders covered up sex abuse, kept secret database, report says."

As have public schools, Hollywood and Congress.

ITEM 4: The Atlanta Journal-Constitution reported, "GOP jumps on Stacey Abrams' comment calling Georgia 'worst state to live in.'"

That the newspaper sees nothing wrong with calling Georgia the worst state tells you all you need to know about the paper.

ITEM 5: Columbia Journalism Review reported, "A few weeks ago, the person behind the New York Times Pitchbot—not a bot at all, but a Twitter account whose posts satirize New York Times headlines and articles."

The story said, "He is a 52-year-old math professor and father of two who describes himself as a 'committed Democrat' of the 'slightly hardcore left.' He is anonymous on Twitter, and asked to remain so for this story, citing personal and professional concerns. (CJR contacted him via email and spoke with him on the phone, verifying his association with the Twitter account over direct message. He shared his real identity with CJR, which we verified with two other sources.)"

If he were a conservative, they would have named him. Of course, how many 52-year-old math professors are there in Rochester?

Outing critics on Twitter is what journalists do now.

I read these stories and hear the sound of dinosaurs as the meteor hits.

TWEET OF THE DAY:

Their hypocrisy is so thick it is nearly impossible to parody them.

ITEM 6: i24 News reported, "Sale by Prince Al-Waleed bin Talal of 625 million shares of Kingdom Holding Company worth $1.5 billion

"A Saudi billionaire detained in a 2017 anti-graft crackdown is to sell a 16.87-percent stake of his company to a sovereign wealth fund run by the kingdom's crown prince, a statement said Sunday.

"The sale by Prince Al-Waleed bin Talal of 625 million shares of the Riyadh-headquartered Kingdom Holding Company is worth roughly $1.5 billion, according to a regulatory filing published by the Saudi stock exchange, or Tadawul."

Pay up or go back to jail.

CAR OF THE DAY:



A reader called it the Batmobile, as if Bruce Wayne could afford one.

ITEM 7: Yahoo reported, "Arby's launches its first-ever burger made with premium American Wagyu beef."

Waygu sells for $15 a pound.

Or what you will be paying for regular ground beef this fall.

ITEM 8: Life News reported, "A Pensacola, Florida, abortion facility that allegedly botched three abortions so badly that one woman had to be resuscitated and another had an emergency hysterectomy had its license suspended Saturday.

"The AP reports the Florida Agency for Health Care Administration issued the emergency order late last week, noting numerous problems at the American Family Planning of Pensacola that are 'endangering the health, safety and welfare' of its patients."

Roe didn't end back-alley abortions.

It legalized them.

ITEM 9: CNN lost $300 million on a streaming service that lasted less than a month.

Meanwhile, podcasters rake in the loot because they know what they are doing.

Podcast killed the cable-o star...

ITEM 10: The Free Press reported, "The National School Boards Association (NSBA) considered urging the Biden administration to deploy the military to school board meetings to monitor threats against board members in September 2021, according to an independent review conducted by attorneys.

"The NSBA sent a letter to the Biden administration Sept. 29, 2021, calling for the federal government to use anti-terrorism laws, including the Patriot Act, to treat violence and threats of violence against school board members as 'the equivalent to a form of domestic terrorism and hate crimes.'

"However, in an earlier draft the NSBA called for the deployment of the national guard and the military police to monitor school board meetings before removing the language, according to the independent review of its decision to request federal authorities to monitor school board activities."

School boards love the public's money, but hate the public.

ITEM 11: Post Millennial reported, "Airlines struggling to find pilots to fill cockpits in planes across the country are considering lowering the bar for qualified fliers, including halving the number of hours required to become a pilot.

"The drop in requirements looks different across airlines. Delta airlines removed the 4-year college degree requirement in January, saying qualified fliers don't need a bachelor's degree if they have relevant flight experience.

"Representatives from companies like Delta, American, and United have submitted requests to the Federal Aviation Administration to hire pilots with 750 flight hours instead of the customary 1,500."

But without a college degree how will they get their SJW indoctrination?

AD OF THE DAY:

She would be in jail not for this, but for sending emails with state secrets to foreign governments who donated to her fake charity.

That was the scandal the Obama administration refused to prosecute.

ITEM 12: CNN reported, "President Joe Biden said Monday that the United States would intervene militarily if China attempts to take Taiwan by force, a warning that appeared to deviate from the deliberate ambiguity traditionally held by Washington.

"The White House quickly downplayed the comments, saying they don't reflect a change in US policy. It's the third time in recent months – including during a CNN town hall in October – that Biden has said the US would protect Taiwan from a Chinese attack, only to have the White House walk back those remarks."

Remember, Joe Biden does not speak for the president.

ITEM 13: The House Ethics Committee announced, "In accordance with House Rule XI, clause 3, and Committee Rules 10(a)(2) and 18, the Committee unanimously voted on May 11, 2022, to establish an Investigative Subcommittee. Pursuant to the Committee's action, the Investigative Subcommittee shall have jurisdiction to determine whether Representative Madison Cawthorn may have: improperly promoted a cryptocurrency in which he may have had an undisclosed financial interest, and engaged in an improper relationship with an individual employed on his congressional staff."

Harrumph, harrumph.

Decades of insider deals by Nancy Pelosi's hubby go unchallenged, but a rookie congressman who was primaried will be expelled from Congress.

President Trump or DeSantis should name Cawthorn SEC chairman.

ITEM 14: NYT bragged, "A diplomat in Russia's mission to the United Nations in Geneva quit his post on Monday, expressing shame over Russia's invasion of Ukraine and describing it as a crime against both countries."

One of the amazing things is that after a century of backing Russia, liberals have become anti-Russian these past few years.

Not that I care. Putin is a pig as is Zelensky. I am just fascinated that the same people who sneered to Romney, "The 1980s called. It wants its foreign policy back" are waving the flag against Russia.

Of course, the flag they wave is Ukrainian, not American.

ITEM 15: The Washington Post bleated, "Again: There's no evidence Hillary Clinton triggered the Russia probe."

"There's no evidence" is a non-denial denial.

The real news is the number of wagons circling to protect Her Hillaryness is down to NYT, NPR and WaPo.

READER UPDATE: The fellow who needs corn starch to keep his grandchildren alive, "Corn starch can be stored for only two months and the it quickly loses its potency for GSD. Otherwise we would have a year supply. It just decays and becomes useless. Doctors tell us to get rid of it if we have it past two months.

"We would have a ten year supply if it was still good."

He is responding the commenter yesterday who asked why he didn't keep a year's supply.

ITEM 16: He sent a follow up email, "Nine years ago when Jimmy was born. The procedure was cornstarch and to prick his finger and take a blood sample every two hours around the clock. Though highly regulated -- there are always bad batches of corn starch that get through. The blood test was for back-up. But we do know people who fell asleep and missed the blood text and unbeknownst to them it was a bad batch with little potency.

"Taking two hours tests on a regular basis is monotonous and easy to fall asleep. So this could lead to a tragic situation. But boy has it improved and is a lot easier now. You see those commercials on TV where people with diabetes now where a patch. It gives you an instant reading. This can be of further use for GDS kids -- you can tie it into your I-phones -- so if his or her sugar collapses - buzzers go off through the whole house by an alarm system on the phones. As you can expect - the life expectancy of these kids have risen - I notice there are more of them now. And the parents can sleep at night - so can grand parents. I mean this has all occurred in nine years.

"My grandson Jimmy was used as a guinea pig by the doctors and they learnt from dealing with him. Two improvements due to him. He was basically the first GSD at the Hospital -- they now treat nine -- they live longer."

One of those nine is Jimmy's 5-year-old sister.

What can readers do? Pray. That works.

ITEM 17: Life News reported, "Gov. Ron DeSantis Has Appointed Three Conservative State Supreme Court Justices, 4th Coming Soon."

I am not going to say I want him to appoint a Supreme Court justice.

I am not going to say I want him to appoint a Supreme Court justice.

I am not going to say I want him to appoint a Supreme Court justice.

But I do.

ITEM 18: The Miami Standard reported, "America LAST: US Senate REJECTS $48 Billion Aid Package For Small Businesses and Restaurants Just Hours After Approving ANOTHER $40 Billion for Ukraine – 34 RINOs Voted Yes for Ukraine and No for Americans."

The longer Republicans stay in DC, the more Democrat they become.