McEwen Mining: An Inferior Way To Buy The Dip

May 20, 2022 10:28 AM ET McEwen Mining Inc. (MUX) 6 Comments8 Likes

SummaryMcEwen Mining released its Q1 results last week, reporting an 18% decline in quarterly gold-equivalent ounce production on a year-over-year basis.This was related to a weak start to the year at Gold Bar and the San Jose Mine operated by Hochschild, with Fox not picking up much of the slack.Given the sharp decline in gold sales, costs soared in the period, and with costs above $2,000/oz, McEwen Mining reported another quarter of net losses.At a sub $250 million market cap, McEwen Mining is cheap, but I think there are dozens of better ways to play the sector given its portfolio of marginal operating assets.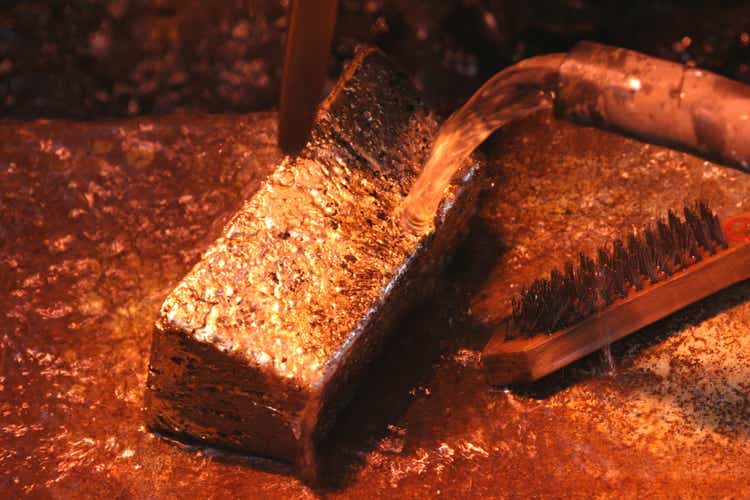 Falcor/E+ via Getty Images

We're more than three-quarters of the way through the Q1 Earnings Season for the Gold Juniors Index ( GDXJ) and one of the most recent companies to report its results is McEwen Mining (NYSE: MUX). Unfortunately, the Q1 results were mediocre at best, with production down 18% year-over-year and all-in sustaining costs soaring above $2,100/oz at its 100% owned operations. This translated to more net losses despite the strength in the gold price. At a sub $250 million market cap, MUX is cheap, but I think there are dozens of better ways to play the sector-wide correction.



Black Fox Operations (Company Website)

Just over two months ago, I wrote on McEwen Mining, noting that the stock had limited downside at current metals prices. This view was based on the fact that at $2,000/oz gold and $26.00/oz silver, the company might be able to turn a profit finally, and its year-over-year comparisons were so easy that it would be difficult for the company to do any worse. Hence, I saw the stock as a Speculative Buy at US$0.74. Perhaps, I should have underlined and bolded "at current metals prices", because, with two poor marginal assets and metals prices pulling back, my view that the downside was limited has been brutally incorrect. Let's take a look at the most recent quarter:

ProductionMcEwen Mining released its Q1 results earlier this month, reporting quarterly production of ~20,800 ounces of gold and ~336,500 ounces of silver, or ~25,100 gold-equivalent ounces [GEOs]. This translated to an 18% decline on a year-over-year basis, with the softness related to a very slow start to the year at its Gold Bar Mine in Nevada. The weaker production was related to mining at the Pick open pit being below target due to mining contractor employee turnover, lower blasting productivity, and the segregation of potentially preg-robbing carbon in mineralized material. The result? A 15% decline in gold production year-over-year and further impacts to be felt in the Q2 results due to the ore losses to carbon.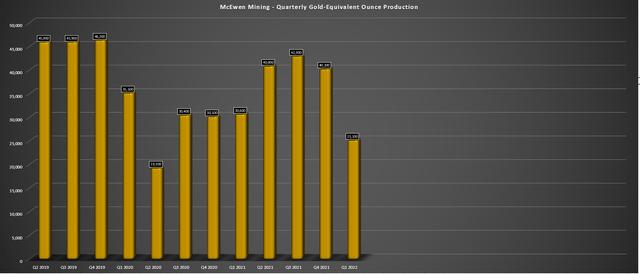 McEwen Mining - Quarterly GEO Production (Company Filings, Author's Chart)

Looking at the chart below, we can see that this was the worst quarter for McEwen Mining since Q2 2020 from a GEO production standpoint and the worst quarter for Gold Bar since Q4 2020, with just 6,300 GEOs produced. Given that the mine is tracking at just 15.4% of its guidance mid-point with another soft Q2 ahead, meeting the guidance mid-point could be difficult, suggesting that production from McEwen's operating assets could come in near the upper end of the guidance range of $1,570/oz to $1,690/oz. In Q1 alone, Gold Bar's costs came in ~$750/oz higher than the gold price at $2,633/oz.