I-80 Gold aka IAU announced more details about the financing aspects of the recent reorganization of its Nevada gold assets, which included selling some deposits and buying others plus a mill complex. Among other details, we learn that the equity portion of the Orion financing will be priced at $2.62 per share. As well, EQX will be enforcing their anti-dilution rights more, details to be announced.

ca.finance.yahoo.com

Fiore Gold aka F announced year end production results from its Pan gold mine in Nevada. (They annoyingly have their year end at Sept. 30.) The PR continues the theme of recovery from a bad period at this notoriously difficult to operate mine. Encouragingly, they managed to set a record with Q4 production and sales, allowing them to meet full year guidance and achieve a cash balance of $22.9M with no debt. The latest heap leach pad expansion at Pan should allow them to maintain or exceed current levels of production.

They also updated their nearby Gold Rock development project, where drilling is ongoing. A PFBS for Gold Rock will be out before year end, and they are aiming at first production by year end 2024. Methinks the devil will be in the details of how they finance the development

So far the market is not impressed.

Message 33526789

Gold remains within its recent trading range awaiting a catalyst that breaks it out in one direction or the other. Saville still thinks the odds are favourable for an upside breakout.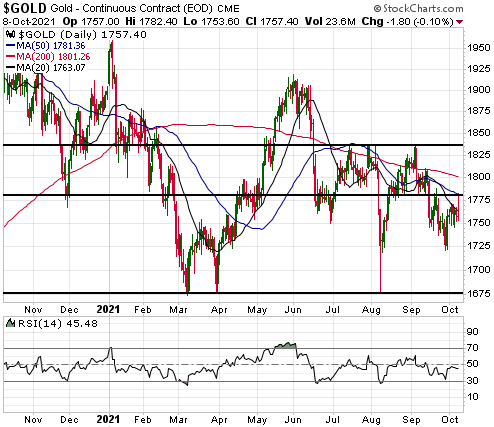 But there remains a substantial risk that HUI will make a new low before the PoG propels it higher.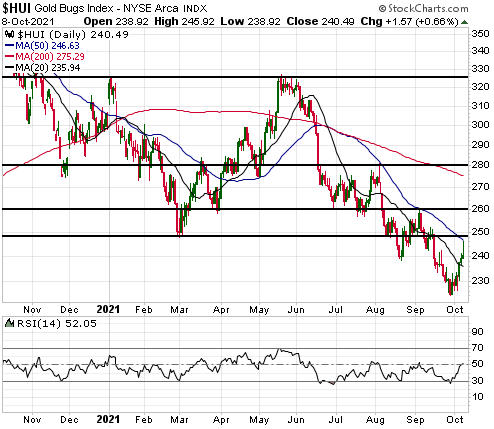 And I will mention in brief a few notes covered in great detail in the latest edition of the IKN newsletter; the new President of Peru is indeed following the time-honoured path of running from the left and then governing toward the centre. Meanwhile, in Ecuador new President Ted, er, I mean Guillermo Lasso's honeymoon is already over after a month, with widespread popular protests against his removal of hydrocarbon subsidies and his appearance in the Pandora Papers tax avoidance scandal., putting in serious jeopardy Lasso's efforts to reform the mining industry.