FanDuel Parlays Fantasy Sports Into a $1.9 Billion Betting Boom

The company has converted a rabid fantasy fan base into a lucrative clientele for its U.S. sports-betting business.


By Christopher Palmen
Bloomberg
September 21, 2021, 5:00 AM CDT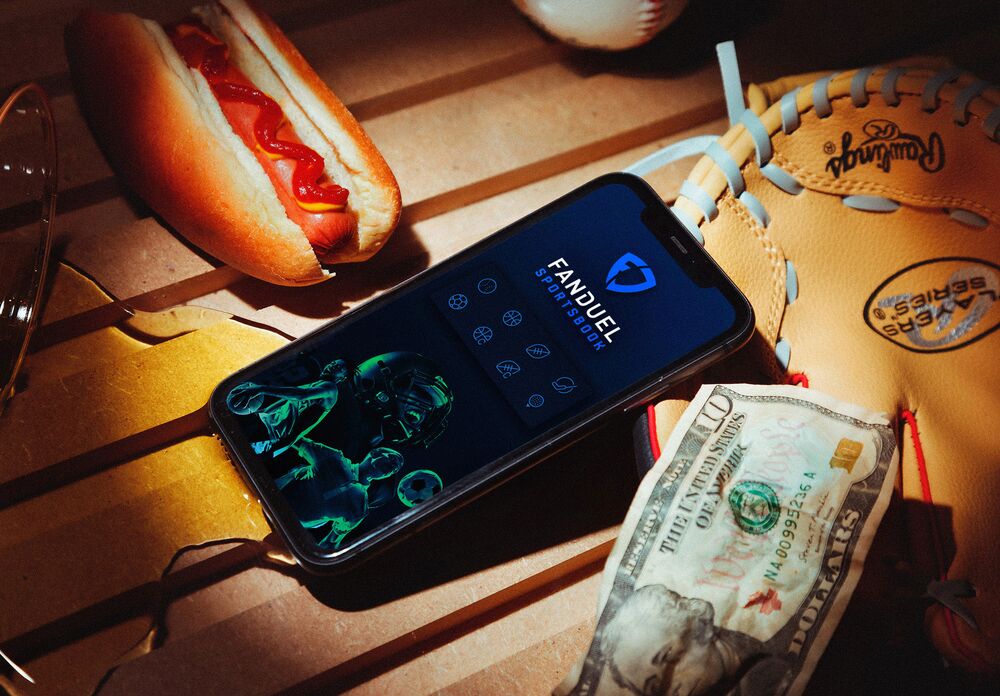 Photographer: Shawn Michael Jones for Bloomberg Businessweek
------------------------

Greg Bunnell has played fantasy football since he was a teenager. So when Indiana legalized sports betting two years ago, the 39-year-old project manager seamlessly switched from plotting his next player transfer to setting himself up to bet—all within the FanDuel app. Bunnell, who says he plans to wager as much as $100 a weekend, is one of a record 45 million Americans expected to legally bet on professional football this season, a 36% increase from last year. Thirty states are set to allow such wagering by the Super Bowl's coin toss in February, following a U.S. Supreme Court decision three years ago to strike down a federal ban on sports betting.

FanDuel Group Inc. has emerged as the top business in this new market, nabbing a 42% share of U.S. sports wagers in June, up from 35% only two months earlier, according to estimates from research company Eilers & Krejcik Gaming LLC. It's a meteoric rise for FanDuel, whose nearest competitor, DraftKings Inc., has a 23% share of the market. The two were neck and neck in the business of daily fantasy sports contests before FanDuel was acquired only a week after the court ruling by an Irish bookmaker in Dublin, now known as Flutter Entertainment Plc.

"We've got momentum, and we have a huge amount of revenue," says Peter Jackson, Flutter's chief executive officer. "A lot of other people are almost in startup mode." Flutter, whose name is British slang for a bet, was formed after the merger of Paddy Power and Betfair, two of the U.K.'s largest betting brands. It owns 600 betting shops in Ireland and the U.K. and offers online wagering in many countries. Jackson, 45, had been CEO for just months when he pounced on FanDuel, spotting an opportunity to grab a piece of the nascent American market. The Cambridge-educated engineer bought a majority stake for $158 million in cash plus the contribution of Flutter's U.S. assets, which included the horse betting business TVG.

Founded in 2009 by five friends who knew next to nothing about American football, FanDuel helped pioneer the business of daily fantasy sports, where contestants pick a dream lineup of real players and compete to win a pot of money based on their team's performance in a single day or week, rather than over an entire season.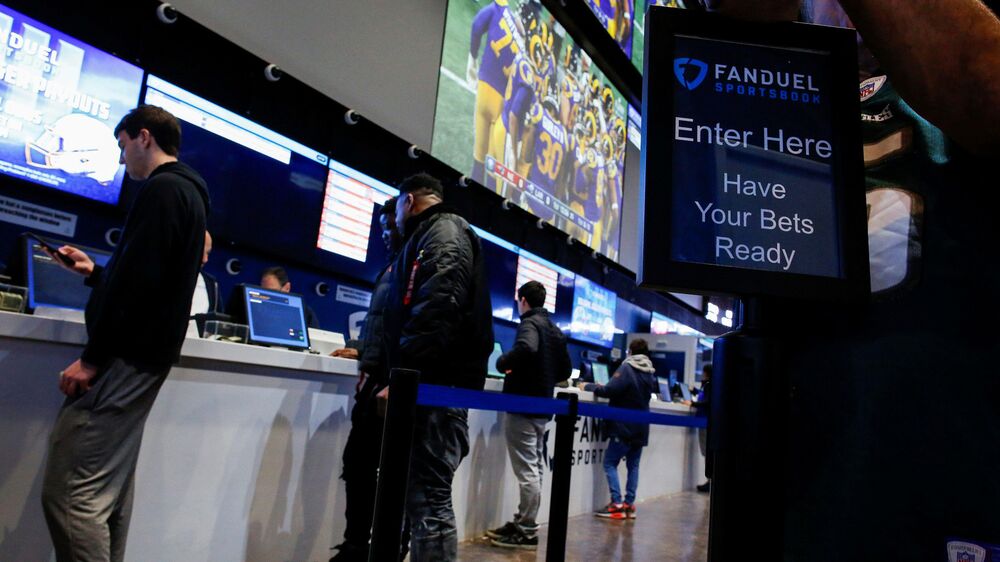 Customers place bets through FanDuel during Super Bowl LIII on Feb. 3, 2019, in East Rutherford, N.J.
Photographer: Eduardo Munoz/Reuters
----------------------------

The company's millions of fantasy sports customers turned into a gold mine after it began offering more traditional sports bets, such as, say, whether the Tampa Bay Buccaneers will beat the Los Angeles Rams on Sunday. About 40% of FanDuel's sports-betting customers come from its daily fantasy business, a database that now includes 13 million names.

Soon after the acquisition and court ruling, Flutter tapped connections in horse racing to open a FanDuel sportsbook at New Jersey's Meadowlands Racetrack in July 2018. That position, in the heavily populated northern part of the state, gave the company a significant advantage, as New Jersey took an early lead fostering the new era of sports wagers.

Flutter's experience with online betting overseas also gave it a leg up. FanDuel was able to introduce products such as same-game parlays, which allow customers to bet on multiple teams or events—whether the Patriots will win the game and if rookie quarterback Mac Jones will score the first touchdown, for example. These wagers proved particularly popular in Australia, where Flutter developed the product, and more than half of FanDuel's customers used the product last football season.

Such bets are harder to win, meaning the company keeps a larger chunk of wagers and can out-earn rivals, says James Kilsby, a vice president at research company Vixio GamblingCompliance. "You're betting on two contingencies," he says. "That's really helped to grow its market share." Customers like these bets because the potential payoff is greater, and rivals are now introducing their own expanded selections of parlays after a slower start. FanDuel and other companies attempt to manage their risk by balancing bets on a certain outcome with bets against that outcome.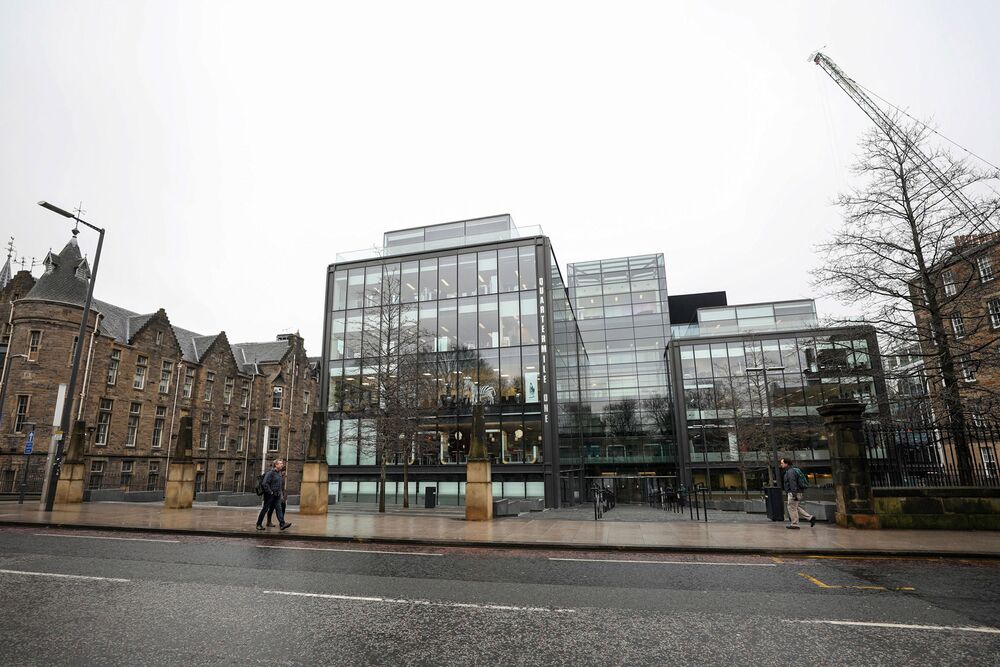 FanDuel's U.K. offices in Edinburgh.
Photographer: Chris Ratcliffe/Bloomberg
------------------------------------

Flutter's U.S. revenue, mostly from FanDuel, is expected to more than double, to $1.9 billion, this year, according to analysts' estimates compiled by Bloomberg. The higher the revenue, the more the company can spend on marketing to acquire customers, Jackson says. He projects that the U.S. business will be profitable by 2023.

The FanDuel brand will be a frequent sight on TV this football season. The company hired Wieden+Kennedy, the ad agency behind Nike Inc.'s "Just Do It" campaign, and has rolled out a series of commercials featuring golfer Jordan Spieth. Flutter spent $300 million marketing the FanDuel brand in the first half of this year, more than in all of 2020.

Still, FanDuel's success has come with some acrimony. The company's founders and some employees have sued FanDuel and several of its early financial backers, claiming they got cheated when those investors sold FanDuel to Flutter. FanDuel says the suit is without merit. Fox Corp. is in arbitration with Flutter about how to fairly value FanDuel, after acquiring an option to buy 18.6% of the business when Flutter bought Fox's betting partner, Stars Group.

In spite of all that, Jackson, who cheers for his hometown Leeds United Football Club, isn't above trash-talking his competitors. "We're operating in a completely different level to anyone else in the U.S.," he says.

BOTTOM LINE - FanDuel has parlayed its fantasy fan base into a lucrative clientele for its sports-betting business, thanks to a canny acquisition by a storied Irish bookmaker.

How FanDuel Gained More Fantasy Sports Gamblers Than DraftKings (DKNG) - Bloomberg