Lying by Omission or It's What They Don't Say that Counts

Susan Quinn
September 19, 2021 (2 Hours Ago)
20 10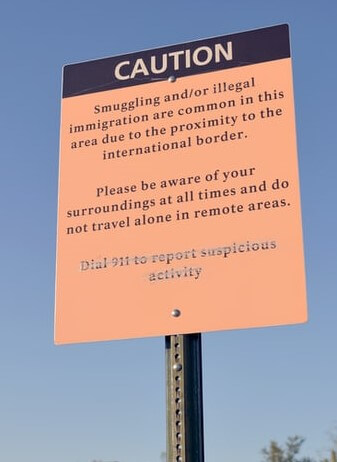 No one will argue that the surge of illegal aliens at the southern border is a disaster. And in the face of Joe Biden's trying to mandate the Covid-19 vaccine to American citizens, he's giving the migrants a pass. Especially interesting to me was\ the presentation of the data (or the lack of transparent data) for assessing whether the influx of illegal aliens (who are not mandated to receive the vaccine) is a problem for the country. The Delta variant in particular is especially contagious. But regarding the unvaccinated migrants, no one seems to care.

So I have been parsing articles that ridicule or understate the spread of Covid-19 by migrants. And as long as we are flooded with migrants, I believe we should be very concerned about the spread of the disease. I'd like to share what I'm learning from those people who prefer to play down the presence of Covid-19 in the illegal alien population, the lack of testing, and the lack of vaccinations. Remember, these people are free to travel wherever they wish or are being sent all over the country without notifying governors in advance.

The illegals are demonstrating "vaccine hesitancy" when offered the vaccine, even though Covid-19 cases are surging in the detention centers:


Public health officials blamed the high number of cases on the vaccine hesitancy shown by the illegal immigrants.

Three medical experts wrote to the Biden administration to urge it to do more to vaccinate illegal immigrants, CNN reported last month.

The trio of doctors wrote the letter this spring, pointing out while the administration has made 'great strides' combating the pandemic across the country by using the vaccine, detention centers 'continue to be a significant source of spread.'

'Yet DHS has still not implemented a comprehensive plan to address the spread of COVID in immigration detention facilities,' the letter said.


Another area of concern is that U.S. Customs and Border Protection reports that 250,000 illegals have gotten away from enforcement officials. We have no way of knowing how many of them have the virus.

But given the information that has been reported, it's fascinating to look at the ways that doctors, government officials, and others are trying to create a picture that suggests that illegals are not responsible for Covid-19 surges. Here is an example of how the influx of illegals is being characterized by Nicole Hallett, a professor and director of the Immigrants' Rights Clinic at the University of Chicago Law School:


'It is simply not true that the border is 'wide open' for 'illegal aliens' to cross,' Hallett said. 'Customs and Border Protection apprehend individuals attempting to cross between border checkpoints. The border is more secure than ever before. Fewer people are able to cross illegally without being apprehended than at any time in the past.' [Italics are mine.]


She credits the rise in numbers to people trying to cross multiple times when they are turned back.

These were comments about illegals and the spread of Covid-19:


Experts told PolitiFact it's fair for people to be concerned about the virus spreading among those living in tight quarters, such as migrant detention centers or prisons. They said some migrants may even be contributing to COVID-19 caseloads.

'But given the extensive transmission already in the U.S., the immigration contribution is akin to pouring a bucket of water into a swimming pool,' William Schaffner, a professor of preventive medicine at Vanderbilt University, told PolitiFact for its check of DeSantis. 'It's hard to measure and pretty trivial.'

Experts say there's no proof that immigrants are responsible for surges in cases across the country. In fact, it's very difficult to track where they go after entering the U.S., said Aaron Reichlin-Melnick, policy counsel at the American Immigration Council. [Italics are mine.]


So… it's hard to measure but it must be a trivial number. And since there's no proof that immigrants are responsible for the surges, it must not be true.

These were the steps for determining if illegals had Covid-19:


Customs and Border Protection told Politifact in April that immigrants are screened for symptoms or risk factors associated with COVID-19. The agency said people presumed to be sick with COVID-19 are sent to local health systems for testing, diagnosis and treatment.


In other words, they aren't tested. And most of us know that many people who have Covid-19 are asymptomatic.

"Experts" also confirmed that the illegals couldn't be causing an increase of cases:


Experts pointed out that, if the theory about immigrants were correct, cities along the southern border would likely have disproportionately higher COVID rates than the rest of the country. But that's not the case.

There's 'no increase in COVID-19 cases in areas (around the) border where migrants cross or where they go after crossing," David Wohl, a physician who studies infectious diseases at UNC, told PolitiFact NC.

'More obvious to (almost) any objective observer is that this is scapegoating and conflation of two different issues that have become very political,' Wohl said.

Arthur Caplan, director of the division of medical ethics at the New York University Grossman School of Medicine, told PolitiFact the same thing in an interview for the recent check of DeSantis.

'The pattern of distribution of coronavirus cases does not correspond in any way to immigrant movement,' Caplan said.


Now this comment is a little more difficult to evaluate. But since we don't know where the immigrants are going, because there is no method tracking where they choose to go or where they are being sent, we have no way of knowing whether they are adding to the number of cases or not. We don't know if they are staying in cities near the border or if they are traveling to other parts of the country. So, in my assessment, these statements are meaningless.

A school board member in Charlotte, NC, stated that he believed that a surge in Covid-19 there was due to migrants. He had no evidence to back up that statement. At the same time, his claim was discounted in this way:


A caveat: the state doesn't have demographic information for every positive COVID case. Sometimes the infected person doesn't disclose their race or ethnicity. But it has ethnicity information for most cases, and the data show that non-Hispanic people have accounted for a majority of cases each week of the calendar year.

Rachel Graham, who teaches in the epidemiology department at UNC's Gillings School of Global Public Health, says it's possible the case numbers disproportionately represent people who have lifestyles that allow them to get tested for COVID-19 and take off work.

Still, Graham said there's 'no evidence" to support Sides' claim, referring to it as political 'flame-throwing.' [Italics are mine.]


I'd gauge that there is "flame-throwing" from all sides.

Finally, don't get your hopes up about Congress dealing with the issue of Covid-19 and illegal aliens:


During a hearing for the Democrats' $3.5 trillion budget reconciliation, Rep. Darrell Issa (R-CA) proposed an amendment that would require the vaccine for foreign nationals in the U.S. who are seeking to adjust their immigration status to remain in the U.S.

Every Democrat on the House Judiciary Committee opposed the vaccine mandate for immigrants while every Republican supported the measure.


Although we don't know when it would have gone into effect since the budget reconciliation bill is stalled, the Democrats made their preference very clear when they refused to require the illegals to be vaccinated.

I guess we just have to live with the fact that illegal aliens have more rights under the Constitution than we have.

Welcome to the United States of Marxism.

Published in Domestic Policy
Tags: Illegal Aliens, Testing, Vaccines