Bloomberg -- Farmers See Sustainable Eggs as the Industry's Next Big Thing ......................

May 27, 2021

Farmers See Sustainable Eggs as the Industry's Next Big Thing

Raising chickens with "regenerative agriculture" could create a new premium category.

By Leslie Patton and Kim Chipman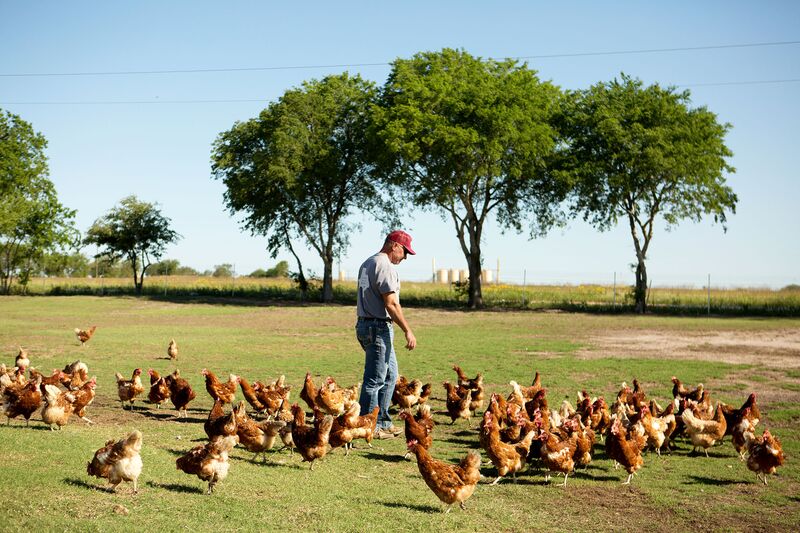 On a recent sunny day, 13,000 chickens roam over Larry Brown's 40 windswept acres in Shiner, Texas. Some rest in the shade of a parked car. Others drink water with the cows. This all seems random, but it's by design, part of what the $6.1 billion U.S. egg industry bets will be its next big thing: climate-friendly eggs.

Over the past decade, producers have skillfully persuaded consumers to pay four times the price for a dozen eggs that are marketed as good for you (organic) or as much as seven times the cost for eggs raised under conditions considered better for the animals that laid them (pasture-raised and hand-harvested). That's no mean feat, given that a carton of conventional eggs can still be had for less than $1. But savvy marketing has resulted in so-called specialty eggs grabbing about a third of the market today, and they're projected to hit 70% in five years. Now, Brown and his peers are betting they can profit further by adding another layer of premiumization: eggs from a special type of sustainable farm that can be trumpeted as being better for the planet.

These eggs, which are making their debut now on shelves for as much as $8 a dozen, are still labeled organic and animal-friendly, but they're also from birds that live on farms using regenerative agriculture -- special techniques to cultivate rich soils that can trap greenhouse gases. Such eggs could be marketed as helping to fight climate change.

"I'm excited about our progress," says Brown, who harvests eggs for Denver-based NestFresh Eggs and is adding more cover crops that draw worms and crickets for the chickens to eat. The birds' waste then fertilizes fields. Such improvements "allow our hens to forage for higher-quality natural feed that will be good for the land, the hens, and the eggs that we supply to our customers."

The egg industry's push is the first major test of whether animal products from regenerative farms can become the next premium offering. In barely more than a decade, organic eggs went from being dismissed as a niche product in natural foods stores to being sold at Walmart. More recently there were similar doubts about probiotics and plant-based meats, but both have exploded into major supermarket categories. If the sustainable-egg rollout is successful, it could open the floodgates for regenerative beef, broccoli, and beyond.

Regenerative products could be a hard sell, because the concept is tough to define quickly, says Julie Stanton, associate professor of agricultural economics at Pennsylvania State University Brandywine. Such farming also brings minimal, if any, improvement to the food products (though some producers say their eggs have more protein).

Proponents say regenerative agriculture increases organic matter in the soil, which is nutritious for plants and keeps carbon dioxide locked up. With healthier soil, crops can grow using less energy and without chemical fertilizers. There are no regulatory definitions, so claims and goals can vary. But several third-party certification groups have emerged.

Back on Brown's farm, about 80 miles southeast of Austin, the hens are scattered across the land, coming and going as they please. The chickens will forage for hours, eating vegetation and bugs. Their waste fertilizes the plants, creating a food cycle that proponents say strengthens farmland and helps with emissions. But it's hard to understand that pedigree just by looking at an egg.

That's why marketing will be so crucial. Egg Innovations, a big producer that's introducing its regenerative eggs at supermarkets nationwide in September, tells a story on its packaging about creating a "sustainable future" with its "helpful hens" being "on a mission to restore soil." And the company isn't shy about describing its lofty mission: "At its core," it says on its website, "regenerative agriculture aims to combat climate change and improve the ecosystem of the planet."

Consider Pastures eggs, a new brand from Pete & Gerry's Organics, which sells for $6.99 a dozen (one buck more than its other specialty eggs). It's packaged in an almost Tiffany-blue container with gold-foil lettering to hold a dozen "speckled beauties" that have "intensely hued amber yolks," according to the company's website. The cartons, now being sold at Whole Foods Markets, open from the center, inspired by egg carton design from the early 20th century. "We just wanted to do something really, really unique," says Jesse Laflamme, founder and director of Pete & Gerry's. "Something that stood out in the egg category."

The industry is betting that the same consumers paying more for premium attributes such as free-range, non-GMO, and pasture-raised eggs will embrace sustainability. Surveys show that younger generations are more concerned about climate change, and some of the success of plant-based meat can be chalked up to shoppers wanting to signal their desire to protect the environment. Young adults "really care about the planet," says John Brunnquell, president of Egg Innovations. "They are absolutely altering the food chain beyond what I think even they understand what they're doing."

Producers keep looking for ways to add more premium eggs, because they're generating the U.S. industry's growth. Cage-free sales volume jumped 12% in the year ended on April 10, while organic eggs rose more than 7%, according to NielsenIQ data. Meanwhile, sales of conventional eggs dropped about 3%. "People were very skeptical when we first began" selling free-range, organic eggs, says Laflamme, who's been in the industry for two decades. "We had a glimmer of hope that approach would resonate with consumers. And as consumers have become savvier about where their food is coming from, it has."

BOTTOM LINE -- Sales of organic and cage-free eggs are growing fast, even as sales of conventional eggs fall. Growers of sustainable varieties hope to join the premium growth trend.

© 2021 Bloomberg L.P.

.
.
.