Delta Air Lines cancels 100 flights due to staff shortages

Delta Air Lines (NYSE: DAL) has canceled 100 flights due to staff shortages.
It also decided to re-open the middle seat earlier than anticipated to carry
more passengers to destinations.Delta announced Wednesday that it would
restart selling middle seats on May 1. This announcement will end the social
distance policy that was put into place more than a year ago.
Delta Air Lines closed last week

+2.45%

and is

+1.70%

in the pre-market.

In the United States, air travel is still recovering since the beginning of the
global pandemic. Although air travel numbers remain low, they have seen
a consistent uptick in volume. In the last twenty days, over 1 million travelers
have gone through U.S. airports each day. Additionally, the TSA announced
that yesterday, they screened over 1.5 million people nationwide on Easter
Sunday.Lisa Farbstein, a spokesperson for the TSA said, "TSA screened
1,543,474 people nationwide yesterday, Sunday, April 4. On the same day
in 2020, TSA screened 122,029 and in 2019, TSA screened 2,462,929 people.
Volume is up significantly from 2020, but there's still a long way to go to return
to pre-pandemic levels."With the vaccine rollout continuing to gain ground,
more and more air travel should be set to pick up in a re-opening and back
to normal economy.

The U.S. Global Jets ETF (NYSEARCA: JETS), which tracks the airline industry,
has been gaining ground month after month since its collapse back in February
of 2020.JETS is

+106.49%

over the past year and is currently

+1.63%

in the
pre-market. Below is a chart of the ETF since the beginning of 2020.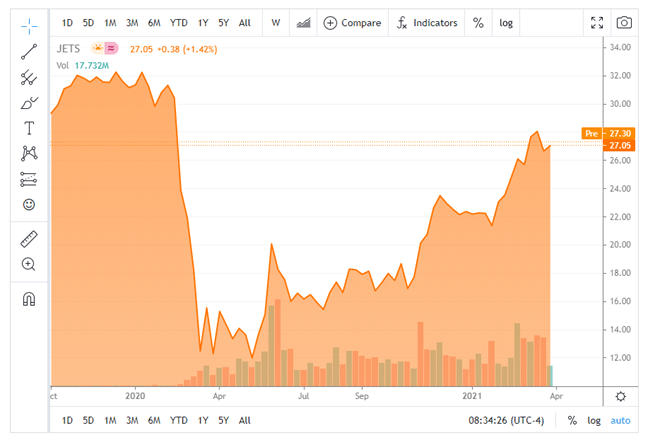 o~~~ O