Rising Popularity Makes Bitcoin An Interesting Marketing Tool
Mar. 31, 2021 12:33 AM ET Bitcoin USD (BTC-USD)AMC, AMZN, BCA-USD... 3 Comments10 Likes

Summary

Bitcoin has seen a surge in popularity, in part due to the crypto being seen as having potential 'mainstream' use in the corporate world.

While TSLA made headlines with its Bitcoin purchase and acceptance of it as a direct payment, many retailers have been indirectly accepting crypto for years.

Following CMG, more companies could hop on the bandwagon and use crypto as a promotional and marketing vessel to drive engagement higher.

Bitcoin-led promotions could provide high levels of engagement in short periods of time at a low cost.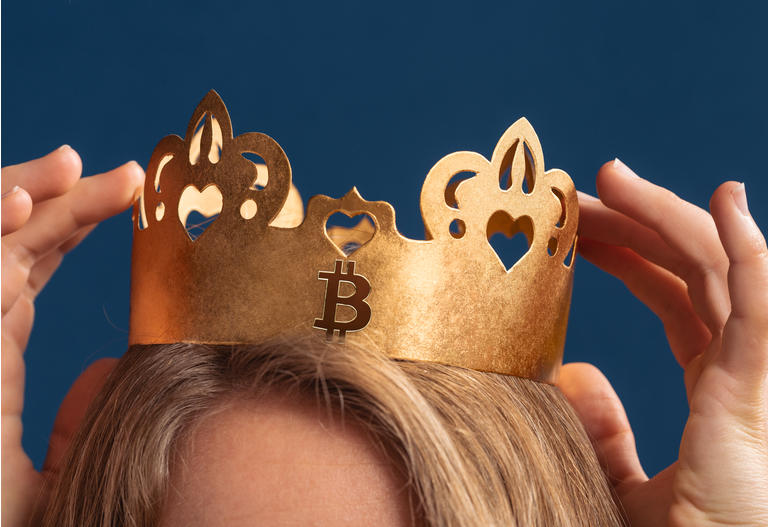 Photo by AlexSava/iStock via Getty ImagesBitcoin ( BTC-USD) has been finding more mainstream uses during the year so far, with more companies aside from traditional payment processors and facilitators starting to 'accept' Bitcoin. Elon Musk and Tesla ( TSLA) have been the headliner for corporate acceptance and usage of bitcoin, with the electric car maker buying $1.5 billion of the volatile crypto asset. However, more companies do indeed offer the ability to pay with Bitcoin and other cryptocurrencies, typically through crypto wallets. With the recent surge in popularity with Bitcoin and other cryptos like Ethereum and NFTs, more companies could hop on the bandwagon and use crypto as a promotional and marketing vessel to drive engagement higher.

Tesla's Love for the Digital GoldTesla revealed that it had bought ~$1.5 billion of Bitcoin in early February in a filing with the SEC, following in the footsteps of MicroStrategy ( MSTR) in a huge purchase of the crypto asset. Tesla noted that the reason behind the purchase was "more flexibility to further diversify and maximize returns on our cash," as rising inflation fears have been a large factor in the market this quarter. Tesla used about 8% of its $19 billion cash and equivalents balance.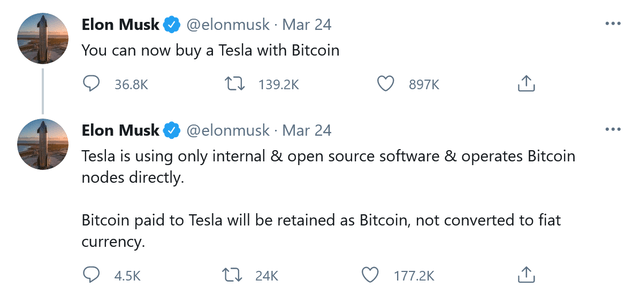 Tweets from Musk's Twitter

In addition, Tesla has decided to allow Bitcoin as a payment for vehicles, which is a questionable practice to say the least. While the company certainly has the liquidity to do so after the purchase (aside from potential future purchases to switch from cash to crypto), the extreme volatility around the price of Bitcoin makes it less suitable for such a transaction. Bitcoin's price surged with the announcement of Tesla's purchase, now sitting just below $60k per BTC.

From a prospective customer standpoint, buying a long-range Model 3 on March 1 would cost ~1.03 BTC, while the current price on March 30 would be just ~0.78 BTC; due to the extreme volatility, the value in BTC of the car could vary dramatically based on the purchase date. The same stands for refunds - Tesla noted that it "can choose to pay them back in U.S. dollars or bitcoin [and] reserves the right to refund the customer in U.S. dollars at the exact price bitcoin was worth at the time of purchase," therefore a customer could receive less while Tesla can benefit. Take the above as an example: the customer pays 1.03 BTC but wants a refund at the end of the month, receiving 0.78 BTC while Tesla can keep the remaining 0.25 BTC.

Adding Bitcoin to the balance sheet to replace cash in an inflationary environment, for liquidity for purchases and refunds, and to drive higher adoption across the corporate world are some of the reasons behind Tesla's jump into the billion-dollar BTC buy. For other companies, such a large purchase of Bitcoin might not be necessary, but using the crypto to enhance engagement could be a smart move.

Crypto Payments Are Already Quite MainstreamAside from Tesla's jolting announcement, C2B cryptocurrency payments are already possible among many prominent retailers and platforms, made possible through crypto wallets/networks like Flexa, Bakkt, and BitPay.

E-commerce platforms like Overstock ( OSTK), which has its own crypto, and Shopify ( SHOP) allow customers to pay with cryptocurrencies (and merchants to accept them). Stores/merchants including Whole Foods ( AMZN), Home Depot ( HD), GameStop ( GME), Starbucks ( SBUX), Microsoft's ( MSFT) Xbox Store, AMC ( AMC), Nordstrom ( JWN), and Expedia ( EXPE) also accept crypto through apps like Flexa, Bakkt and Coinbase ( COIN). Companies like Uber ( UBER) and Spotify ( SPOT) are exploring methods of accepting crypto payments, while BitPay's Bitcoin-prepaid Mastercard ( MA) is accepted at any retail location that accepts [prepaid] Mastercard, or for online bill paying such as with AT&T ( T).

Crypto payments have been in mainstream business for much longer than most know, but the main difference between these merchants accepting crypto and Tesla is the nature of the payment. These merchants have utilized third party wallets and processors to provide payment solutions (indirect), while Tesla will be handling payments itself (direct). This is where Tesla could start to usher in a 'new age' for crypto payments, and while wallets and processors will still carry a bulk of payments to brick-and-mortar and other merchants, larger merchants like Amazon ( AMZN) and Walmart ( WMT), among others, could easily float handling direct payments of crypto/Bitcoin in the future.

Rising Popularity Makes BTC An Interesting Marketing ToolSince accepting crypto directly could require a large outlay to secure sufficient liquidity, other merchants wishing to hop on the crypto train and benefit from the rise in popularity of the asset class could follow in the footsteps of Chipotle Mexican Grill ( CMG) and use Bitcoin for promotions.

Burritos or Bitcoin?For National Burrito Day, which happens to coincide with April Fool's Day on the first of the month, Chipotle is launching its ' Burritos or Bitcoin' game promotion from 9am to 6pm PST. Teaming up with Stefan Thomas, who notably lost ~7,000 BTC by forgetting his passkey, the game gives users 10 attempts to guess a six-number sequence. The odds of winning are shown below.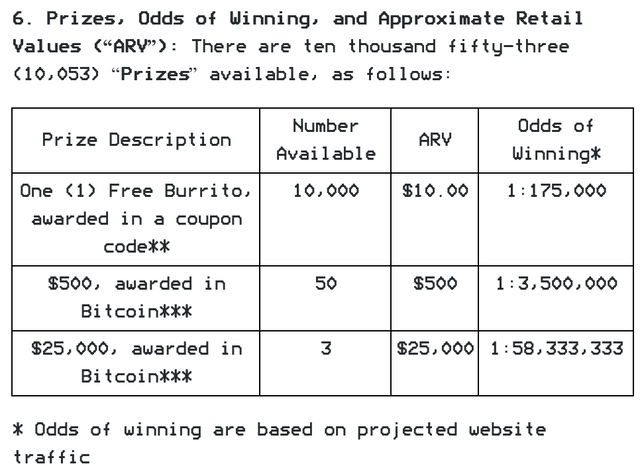 Graphic from Chipotle's Burritos or Bitcoin

Given Chipotle's expected odds of winning, the projected traffic over the 9-hour window is approximately 175 million people; the prizes are simply $100,000 in Bitcoin to 53 winners, and $100,000 ($10.00 coupon code) to 10,000 for a free burrito. Chipotle already offers deals and freebies for the day, but this promotion has a total giveaway of $200,000 and a projected immense amount of traffic to the site to play, with 10,000 coupon redemptions afterwards driving traffic to stores for pickup/delivery.

BTC in Promotions and MarketingBitcoin could find itself in a much more mainstream role within the corporate world as a marketing tool, able to drive millions of people to a site of promotion in a short span of time. For Chipotle, the $200,000 total giveaway amount is practically invisible, as the company has nearly $1 billion in other operating expenses, which includes marketing and promotion expenses.

For retailers like Nike ( NKE), which spent over $3 billion in ' demand creation' expenses, paired Bitcoin and product promotions to the tune of $100,000 to $500,000 (maybe even up to $1 million to $2.5 million for the holiday season) could drive tens to hundreds of millions of people to the site, and likely spur some spillover of engagement after the promotion and boost customer spend. The overall giveaway amount/cost to drive such engagement is very minimal in proportion to the overall annual marketing spend: assuming 100 million people for a $1 million total giveaway, it's just $100 per person engaged.

With brick-and-mortar retailers, namely in apparel and accessories, the pandemic-induced shuttering of malls significantly impacted revenue streams, and forced many companies into cost-saving initiatives, of which, in most cases, impacted marketing and advertising spends to aid the bottom line. Canada Goose ( GOOS) reduced marketing spend as part of its cost-saving plan, although marketing spend has increased in FQ3. With a budget much smaller (total SG&A for FY20 was just $350 million, of which marketing is a proportion), a promotion similar in size to Chipotle's could drive much more traffic to the site while still having a relative small capital outlay.

Other restaurants like McDonald's ( MCD), known for extensive promotions and games like Monopoly, could see a large boost in sales and traffic for a game of a similar style with Bitcoin prizes. While the game-play of the Monopoly game incentives purchases of different menu items to collect pieces, Bitcoin could serve as an alternative prize or a replacement prize for the traditional cash prizes. With more popularity in Bitcoin, a game/promotion of this style could generate a significant amount of sales and engagement.

While it definitely could be an interesting synergy, and one that could get old quick - the odds of winning are extremely small, relative to a large lottery jackpot, which could dissuade people from attempting to win - it could be a viable strategy for companies reliant on traffic and customer engagement (retail/apparel/restaurants). Bitcoin awareness would also likely have to be a key feature of the target market or majority customer base of the brand (a company like Chico's ( CHS) might not fare as well as Lululemon ( LULU) in a promotion or giveaway of this sort).

OverallBitcoin is steadily finding more acceptance in the mainstream world, although the cryptocurrency is far from replacing fiat money. While there have been many instances of retailers accepting indirect payments of the coin, Tesla is pioneering direct payments of Bitcoin for its product. Although direct payments may not be feasible for most companies due to volatility/risks and capital outlay to acquire enough for liquidity reasons, Bitcoin could still find a way into corporate transactions from a marketing standpoint.

With a surge in popularity over the past six months to a year, and a very high likelihood of continued popularity, turning to Bitcoin-led promotions, like Chipotle Mexican Grill has done, could provide extremely high levels of engagement and traffic per total cost of the promotion. From small to large companies alike, Bitcoin could find significant potential as a tool in marketing.