Bitcoin continues surge as PayPal launches crypto service in run at Square



In competition with Square's service that allows users to buy and hold Bitcoin ( BTC-USD), PayPal Holdings (NASDAQ: PYPL) introduces a new service that enables customers to buy, hold, and sell cryptocurrency directly from their PayPal account.

In addition, PayPal signals plans to increase crypto's utility by making it available as a funding source for purchases at its 26M merchants.

PayPal

jumps 3.7%

in premarket trading. As for Bitcoin, it's continuing its big rally,

up another 4.6%

today $12.4K. That's the highest level in two months and closing in the strongest since early 2018. GBTC

+4.7%

premarket.

PayPal has been granted the first conditional Bitlicense ever issued by the New York State Department of Financial Services.

The company is introducing the ability to buy, hold and sell select cryptocurrencies, initially featuring Bitcoin, Ethereum, Bitcoin Cash and Litecoin, directly within the PayPal digital wallet. The service will be available to PayPal accountholders in the U.S. in the coming weeks. It plans to expand the features to Venmo and select international markets in H1 2021.

There are no service fees when buying or selling cryptocurrency through Dec. 31, 2020, and there are no fees for holding cryptocurrency in a PayPal account.

Beginning in early 2021, PayPal customers will be able to use their cryptocurrency holdings as a funding source to pay at PayPal's 26M merchants worldwide.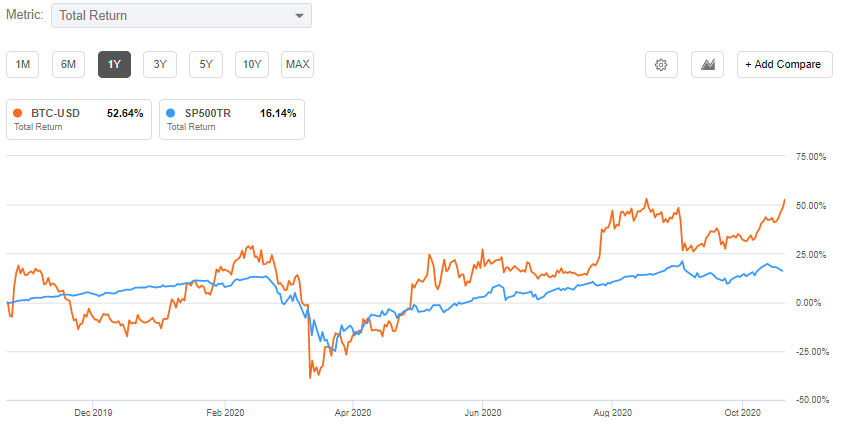 Square (NYSE: SQ)

slips 0.7%

in premarket trading on the same day when JPMorgan and Visa also introduce services in competition with the fintech.

seekingalpha.com