"AV is a $60B opportunity" "Every vehicle will be autonomous"...

Autonomous Represents Longer-Term Optionality

NVDA's existing Auto business (mainly infotainment solutions) may be in decline, but I would stress the opportunity at hand, as incremental demand from advanced driver assistance systems (ADAS) and the autonomous vehicle (AV) picks up.

For context, the Auto business generated ~$0.7bn in revenue in FY20 and contributes ~6% of NVDA's total revenue but has seen relatively little growth in recent years. This could change though, as NVDA positions itself to address the AV market - a ~$60bn addressable market opportunity by 2035, assuming 10m robo-taxis and 100m self-driving cars on the road.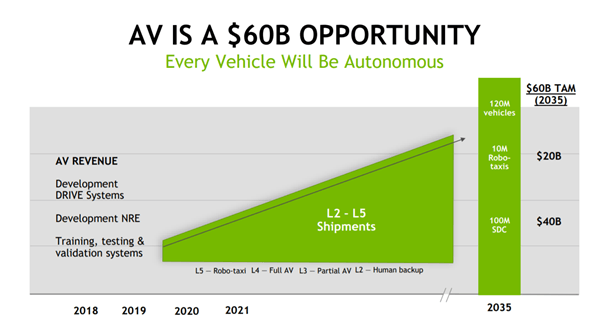 Source: Nvidia Investor Day 2018 Slides