Mentioned this a few days ago. Thought I'd post the news update .

Needs to pull back some yet but results have been consistent. I expect a Placement to to be announced Esckay, after Grand Duc. is what fostered such great attention on the region resulting in the Golden Triangle. That has since been extended by other outlying discoveries resulting in more of a horse shoe shape. Mount Milligan on one end and Stewart on the other. The culmination of the Stikine and Quesnellia formations. The Quesnel extends south encompassing Mt. Polly , Spanish Mountain, Yellow Head and Teck's Highland Valley. Fantastically mineral rich area. The bad is administrations Nationally and Provincially are not business friendly.

Eskay was a time prior to the technology used today so was never really explores as it should have been. Plus mining and infrastructure equipment was much inferior at what it is used today.

Venture stocks are generally trading stocks A medium term cycle indicator helps with entry and exits for swing trades or position trades.

Gold

Golden Triangle

TSX VENTURE: SKE
www.skeenaresources.com


Mr. Walter Coles reports:




VANCOUVER, BC / ACCESSWIRE / February 26, 2020 / Skeena Resources Limited (TSX.V:SKE)(OTCQX:SKREF) ("Skeena" or the "Company") is pleased to announce the final gold-silver assays from the 2019 Phase I surface drilling program at the Eskay Creek Project ("Eskay Creek") located in the Golden Triangle of British Columbia. Four ground-based surface drill rigs were utilized for the 2019 Phase I program in the 21A, 21E and HW Zones to infill and upgrade areas of Inferred resources to the Indicated classification. A total of 14,266 metres over 209 holes were drilled. Drill hole results reported in this release are from the 21E and HW Zones. Reference images are presented at the end of this release as well as on the Company's website.

Phase I Eskay Creek Drilling Highlights:

13.24 g/t Au, 701 g/t Ag (22.59 g/t AuEq) over 14.33 m (SK-19-246) - HW Zone
Including: 5.18 g/t Au, 5,860 g/t Ag (83.31 g/t AuEq) over 0.90 m
And: 1.75 g/t Au, 1,235 g/t Ag (18.22 g/t AuEq) over 1.05 m
And: 1.23 g/t Au, 1,895 g/t Ag (26.50 g/t AuEq) over 0.85 m
And: 176.00 g/t Au, 1,530 g/t Ag (196.40 g/t AuEq) over 0.90 m
2.58 g/t Au, 51 g/t Ag (3.26 g/t AuEq) over 25.00 m (SK-19-222A) - 21E Zone
3.36 g/t Au, 40 g/t Ag (3.89 g/t AuEq) over 14.00 m (SK-19-217) - 21E Zone
1.94 g/t Au, 166 g/t Ag (4.16 g/t AuEq) over 13.50 m (SK-19-237) - 21E Zone Gold Equivalent (AuEq) calculated via the formula: Au (g/t) + [Ag (g/t) / 75]. Reported core lengths represent 80-100% of true widths and are supported by well-defined mineralization geometries derived from historical drilling. Grade capping of individual assays has not been applied to the Au and Ag assays informing the length weighted AuEq composites. Processing recoveries have not been applied to the AuEq calculation and are disclosed at 100%. Samples below detection limit are nulled to a value of zero.

2019 Drilling Demonstrates Continuity and Exceptional Silver Grades

The 2019 Phase I infill program at Eskay Creek continues to demonstrate the excellent continuity of the current resource model which is derived largely from historical drilling. Phase I infill drilling within the 21E Zone, which is located on the eastern flank of the Eskay deposits, has correlated extremely well with the historical drilling with respect to grades, widths and spatial distribution of mineralization.

Initial drilling within the HW (Hanging-Wall) Zone has not only corroborated the current resource model but has located additional mineralization of equivalent tenor as confirmed by drill hole SK-19-245 which intersected 1.63 g/t Au, 62 g/t Ag (2.45 g/t AuEq) over 16.21 metres.

Situated 20 metres east of this expanded mineralization, drill hole SK-19-246 intersected extremely high-grade silver mineralization of 13.24 g/t Au, 701 g/t Ag (22.59 g/t AuEq) over 14.33 metres including 5.18 g/t Au, 5,860 g/t Ag (83.31 g/t AuEq) over 0.90 metres. This intercept was predicted by the resource model. Drill intercepts in the HW Zone are located less than 20 metres below surface.

Current Status - Eskay Creek Drilling

Four ground-based drill rigs are now operational at the Eskay Creek Project continuing the Phase I infill program. Exploratory drilling is scheduled to commence in the coming weeks.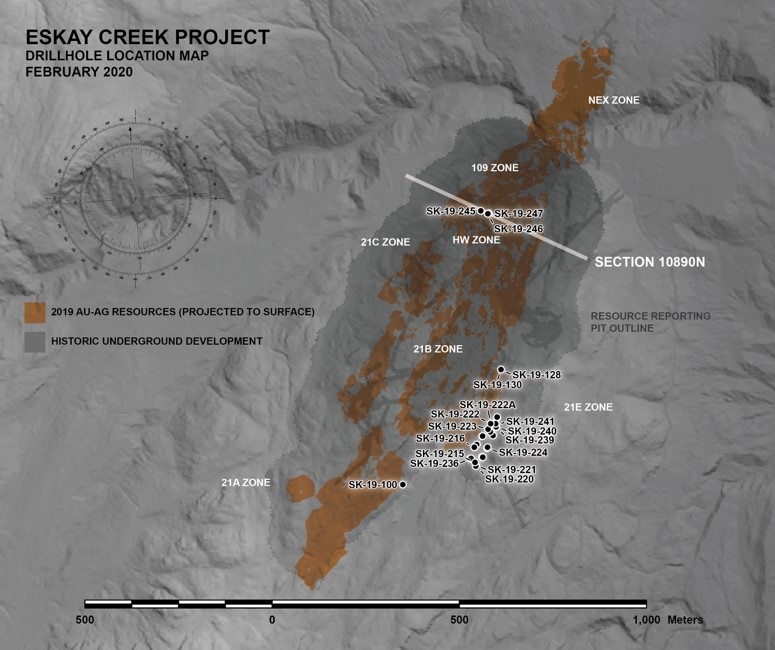 For higher resolution of image above, click here.




For higher resolution of image above, click here.

About Skeena

Skeena Resources Limited is a junior Canadian mining exploration company focused on developing prospective precious metal properties in the Golden Triangle of northwest British Columbia, Canada. The Company's primary activities are the exploration and development of the past-producing Eskay Creek mine, which contains a combined Indicated and Inferred 4Moz, 4.4 g/t gold-equivalent open-pit resource. The Company recently completed a Preliminary Economic Assessment (PEA) on Eskay Creek which highlights an after-tax NPV5% of C$638M, 51% IRR and a 1.2-year payback. Skeena is also exploring the past-producing Snip gold mine.

On behalf of the Board of Directors of Skeena Resources Limited,




Walter Coles Jr.
President & CEO