FedEx Reduces Amazon Ties as Retailer Flexes Delivery Muscles

By

Mary Schlangenstein

and

Spencer Soper


Bloomberg
June 7, 2019

-- Courier says it won't renew contract for U.S. air services

-- Focus will be on other customers such as Walmart, Target



FedEx Corp.

said it wouldn't renew its U.S. air-delivery contract with

Amazon.com Inc.

, paring a key customer relationship as the largest online retailer deepens its foray into freight transportation.

The delivery giant will instead focus on "serving the broader e-commerce market" with U.S. package volume from online shopping expected to double by 2026, according to a FedEx

statement

Friday. The Amazon contract expires at the end of this month, and doesn't cover international services or domestic operations at other units such as FedEx's ground deliveries.

FedEx's surprise move signals that the No. 2 U.S. courier will bank on smaller e-commerce customers that lack Amazon's bargaining power for big volume discounts. Amazon's emergence as a logistics giant is piling pressure on FedEx and United Parcel Service Inc. for cheaper and speedier deliveries, as the e-commerce powerhouse builds its own aircraft fleet and delivery capabilities.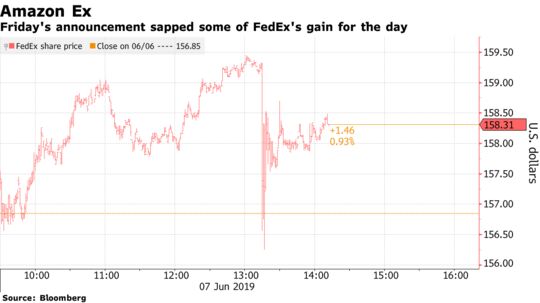 "They know their Amazon business is going to continue to shrink," said Satish Jindel, founder of SJ Consulting Group, referring to FedEx. "Why have your capacity be used up by a customer that's going to continue to chip away? They'd rather use that capacity for other customers."

FedEx rose less than 1% to $158.17 at 2 p.m. in New York. The shares erased gains on the company's announcement about Amazon before recovering some of the lost ground. Amazon held steady, trading 2.7% higher at $1,801.10.

"We respect FedEx's decision and thank them for their role serving Amazon customers over the years," the Seattle-based retailer said in a statement.

Walmart, Target

FedEx said Amazon represented 1.3% of sales last year. Jindel estimated that FedEx's domestic air-parcel business with Amazon is probably "a few hundred million a year, at the best."

The Memphis, Tennessee-based courier said Amazon wasn't its largest customer. In an email, FedEx said it would focus on customers such as Walmart Inc., Target Corp. and Walgreens Boots Alliance Inc.

"There is significant demand and opportunity for growth in e-commerce, which is expected to grow from 50 million to 100 million packages a day in the U.S. by 2026," FedEx said in the statement. "FedEx has already built out the network and capacity to serve thousands of retailers in the e-commerce space."

bloomberg.com