World's Smallest Heart Pump Fuels Red-Hot Medtech Stock By
Bailey Lipschultz

September 27, 2018, 7:30 AM EDT Updated on September 27, 2018, 10:37 AM EDT

Abiomed has more than doubled this year as revenue skyrockets

Patents and technology keep potential competitors at bay
It may be hard to justify buying a company that nearly tripled over the past 12 months, but then there's Abiomed Inc.

With annual sales growth seen at more than 25 percent through 2021, the maker of the world's smallest heart pump has quickened the pulse of investors, analysts and -- not surprisingly -- its chief executive.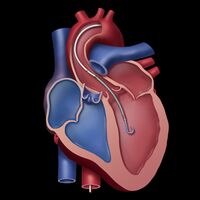 Abiomed Impella

Source: Abiomed
"We're just getting started," Michael Minogue, president and CEO, said in an interview at the company's headquarters earlier this month. Abiomed has spent more than $200 million over the last 10 years developing and improving its Impella devices, he said.

Abiomed's hot run can be at least partially attributed to the patented technology that provides an almost impenetrable barrier from competitors seeking involvement in the segment. Plus, it has space in the market to grow. The Danvers, Massachusetts-based company estimates it has only reached about a tenth of its addressable market, with more products and patents on the horizon. On top of that, there's global expansion.

Abiomed's preparing for a rush. Its recently expanded facilities in Danvers and Aachen, Germany can now produce more than $1 billion in product a year. That compares to fiscal first quarter sales of $180 million, according to data compiled by Bloomberg.

The minimally invasive Impella devices can be inserted via a standard catherization procedure and allow patients to maintain their native heart instead of more invasive surgeries that may require a heart transplant. The tiny pump is slightly less than 5 millimeters in diameter compared to other devices that are more than double the size.



Of course, the rally that's made it one of the Standard & Poor 500 Index's hottest stocks this year may also give new investors pause. Shares opened higher on Thursday to extend what was an eight session rally, the longest winning streak in four years, before reversing gains.

Not a Bargain"If there's one constraint on the company it is the valuation," Jefferies analyst Raj Denhoy said in a phone interview. "It's the most expensive stock that we track in medical devices and by a good amount, frankly. But again, it'd be hard to find another company with the characteristics as this company in terms of a sustainable growth story."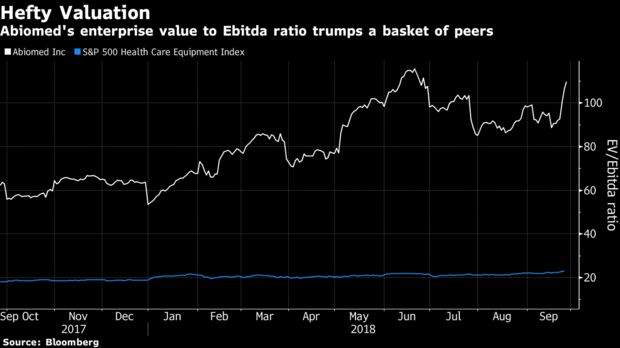 Rapid adoption of Abiomed's Impella technology, increased appreciation for the company's competitive moats and pipeline optionality explain the company's nearly two-year stock surge, according to BNP Paribas portfolio manager Jon Stephenson. And he sees more upside to come.

"A lot of people look at the valuation as mind-boggling, but in Abiomed's case, the addressable market for the indications in which they've already launched are huge," Stephenson, who helps oversee $450 million in BNP's World Health Care fund, said by telephone. The company has 321 patents protecting its technology with an additional 338 pending, management noted.

Not to say that Abiomed's completely protected from rivals. Abbott Laboratories' HeartMate PHP is a device currently being studied to take on the Impella and its incarnations. That said, early results from a study underwhelmed analysts at the Transcatheter Cardiovascular Therapeutics meeting in San Diego over the weekend.

The updates showed Abiomed "will be without meaningful competition to Impella for several more years at least," Jefferies' Denhoy wrote in a note to clients. In the interim, there's plenty of demand. The company has five approved pumps that qualify for reimbursement from the Centers for Medicare and Medicaid Services and major insurers, CEO Minogue said. The device maker could bring three more products to market over the next few years that could lead to increased adoption.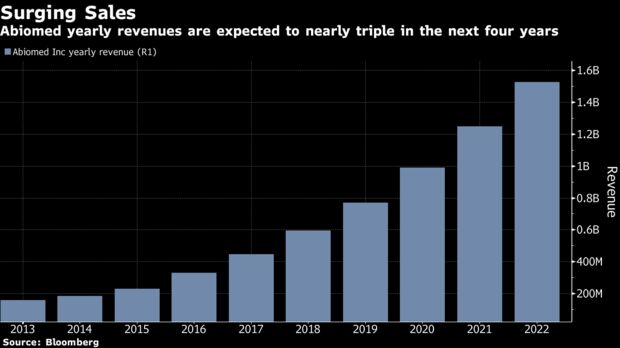 Current indications conservatively show a market potential of close to 200,000 to 300,000 cases in the U.S., Denhoy said. A successful trial could add "another couple hundred thousand patients," he said.

The next key catalyst for investors, outside of second-quarter results expected in late October, will be the highly-anticipated presentation of its 50-patient STEMI door-to-unloading safety and feasibility study in November.



— With assistance by Javon Thompson

(Updates with details on the pump in the sixth paragraph, shares in seventh paragraph.)

finance.yahoo.com