MIT researchers 3D print colloidal crystals
In a technique that could be used to scale-up self-assembled materials for use as optical sensors, color displays, and light-guided electronics, MIT engineers have united the principles of self-assembly and 3D printing using a direct-write colloidal assembly process to build centimeter-high crystals, each made from billions of individual colloids, defined as particles that are between 1 nanometer and 1 micrometer across.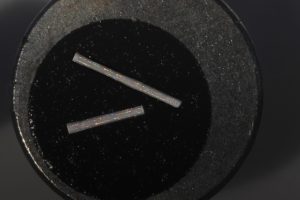 3D-printed colloidal crystals viewed under a light microscope.?
Source: MIT

Study co-author Alvin Tan, a graduate student in MIT's Department of Materials Science and Engineering explained, "If you blew up each particle to the size of a soccer ball, it would be like stacking a whole lot of soccer balls to make something as tall as a skyscraper. That's what we're doing at the nanoscale."

The researchers found a way to print colloids such as polymer nanoparticles in highly ordered arrangements, similar to the atomic structures in crystals. They printed various structures, such as tiny towers and helices, that interact with light in specific ways depending on the size of the individual particles within each structure.

The team sees the 3D printing technique as a new way to build self-asssembled materials that leverage the novel properties of nanocrystals, at larger scales, such as optical sensors, color displays, and light-guided electronics.

"If you could 3D print a circuit that manipulates photons instead of electrons, that could pave the way for future applications in light-based computing, that manipulate light instead of electricity so that devices can be faster and more energy efficient," Tan said.

The team reminded that there are many applications for different kinds of particles ranging from conductive metal particles to semiconducting quantum dots. "Combining them into different crystal structures and forming them into different geometries for novel device architectures, I think that would be very effective in fields including sensing, energy storage, and photonics," Tan added.