"Samsung, LG Catch" .. inside 'OLED airstrike,' realization?

newspim.com

TCL · Vision Oaks to share OLED strategy at 'All Red Conference'
Enter the article: 03/07/2010 17:42Last edited: March 07, 2018 18:15The +In addition,print
FacebookTwitterCacao StorybandGoogle Plus
China's organic light-emitting diode (OLED) air raids are in full swing. The company plans to narrow the gap with Korean companies within two years by using the ultra-large (11th generation) plant and technology with high production efficiency (inkjet printing).

TCL and Vision Oaks of China announced on November 7th that they will attend 'All Red Korea Conference' held at Novotel Ambassador Hotel in Gangnam, Seoul, hosted by Ubiquitous Research. Samsung Display and LG Display are planning to pursue full-scale OLED display market.

Unlike liquid crystal displays (LCDs), which require a backlight to emit light, each OLED display can be turned on and off by itself (one of the minimum size points that form an image) to express its natural color, And a variety of designs can be implemented.

"The next-generation premium TV market is expected to undergo a major change in terms of price cuts of OLED TVs through differentiated designs such as 8K resolution (7680 × 4320) and flexible, and 11th-generation factory operation," said TCL. Is currently focusing on OLED display development based on the inkjet printing process, which can be applied to eleven-generation factories that can improve OLED display performance as well as reduce prices significantly. "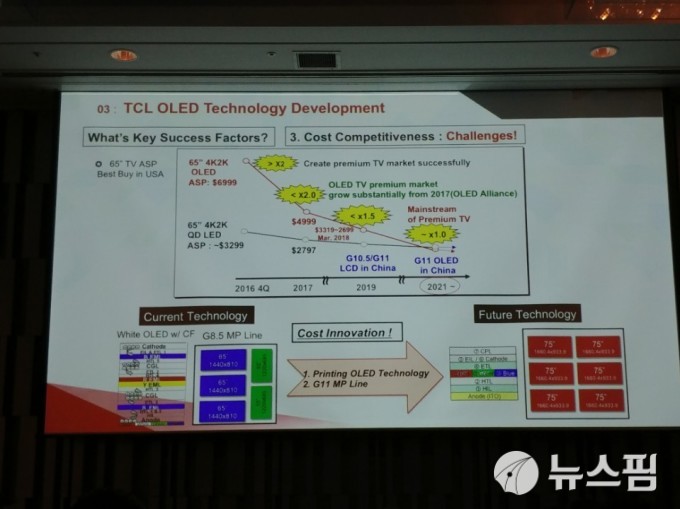 OLED materials released by TCL at 'All Red Korea Conference' held on the 7th. <Photo> Yang Tae-hoon reporter>
As LG Display's 10.5-generation plant will start operating in 2020, OLED display prices will fall and OLED TVs and LCD TVs (premium products) will decline to 1.4x, so plans to actively respond to 11G investment .

TCL said, "OLED TV prices are higher than current LCD but are gradually approaching LCD prices." In order for OLED to become the mainstream of OLED market, it is necessary to construct 11th-generation or more factories using inkjet printing technology. "He said.

Inkjet printing technology is a technology that can maximize the yield by injecting OLED solution of tens of picoliter (1 liter per 1 liter) or less and higher material efficiency compared with the conventional process (vacuum deposition method). TCL has been focusing on improving efficiency of inkjet printing process by creating a 4.5G R & D pilot factory by establishing a joint venture of Chinese company TiMa and coin in 2016 through CSOT, a subsidiary display company.

Vision Oaks was confident of leading the mobile market through flexible OLED technology at the conference. Vision Oaks succeeded in developing flexible OLED displays of 7.6 inches in 2014, followed by successful development of flexible OLEDs capable of folding half the screen size of 4.6-inch rollable OLED display in 2015 and 7.2-inch screen in 2016 We have focused on flexible technology development.

Vision Oaks said, "We will complete the development of a foldable display for 6 ~ 8 inch smart phones by 2020, and then complete rollable display and large folder display until 2022." "We have filed about 3,000 related patents by this year, and we have acquired 1,400 patents."

He also said, "Last year, we occupied 39% of the market in China and became the No. 1 OLED display company." "V1 factory in Kunshan, China (production of 15,000 per month) We plan to run the V2 line that we can do. "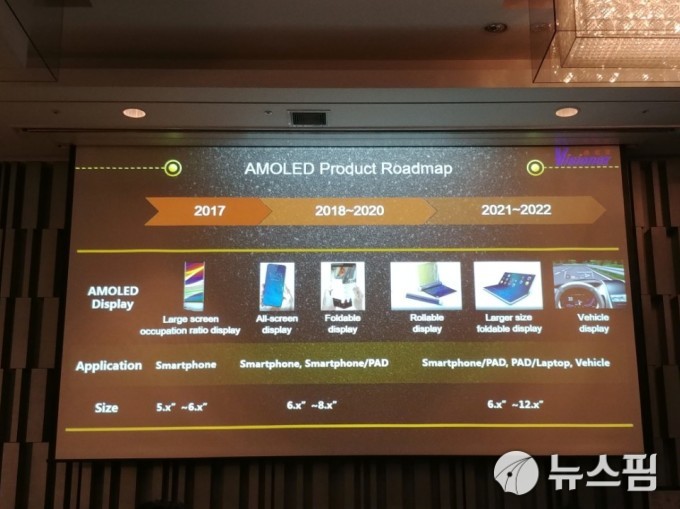 Vision OX plans Flexible OLED development at All Red Korea Conference. <Photo> Yang Tae-hoon reporter>