Why the Tivo Buyout Rumor Rings True

Mari Silbey, Senior Editor, Cable/Video
1/2/2018

M&A rumor mill rumbled again. Private equity buyers reportedly made offers to acquire Tivo, the video platform company that just over a year ago merged with metadata giant Rovi. The suggested takeover price? Slightly more than $20 per share, a $6 premium over Tivo's then-current trading rate.

The company's stock jumped 10% on the news.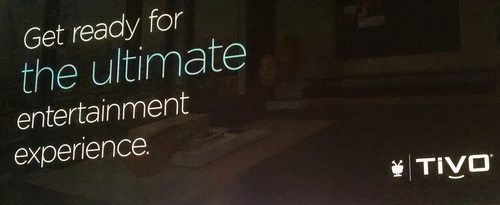 So far, TiVo Inc. (Nasdaq: TIVO) has remained mum on the acquisition rumor, with no response to Light Reading's request for comment. However, the idea of a Tivo takeover, which The Street attributes to "a person familiar with the situation," makes significantly more sense than much of the M&A gossip that goosed the market last year.


For starters, Tivo boasted several wins in late 2017, all of which should make it attractive to buyers looking past the near-term horizon. Those wins included a victory in Tivo's patent lawsuit against Comcast Corp. (Nasdaq: CMCSA, CMCSK) and new long-term deals with Altice USA , AT&T Inc. (NYSE: T) and Liberty Global Inc. (Nasdaq: LBTY).

The lawsuit win against Comcast means the cable operator can't continue to enable a feature with its X1 service that lets users schedule DVR recordings remotely. If the company wants to offer the feature in the future, it will either have to find a workaround solution or pay a healthy licensing fee to Tivo. Tivo already makes a mint from similar deals and counts nine of the top 10 pay-TV providers in the US among its licensing customers. Comcast has been the only holdout. (See Tracking TiVo's Ups & Downs.)

Meanwhile, Tivo's recent large customer contracts all extend well into the future. The Liberty Global agreement signed in October is described as a multi-year extension, while the September AT&T deal runs through 2025 and the December Altice arrangement is set for six years.

Beyond the positive financial news, however, Tivo is facing a number of unknowns. And this is the second reason that an M&A transaction sounds plausible. A dose of uncertainly presumably keeps the price of a deal from jumping too high and also lets potential new owners dream up their own strategies for Tivo's corporate direction.

The company, for example, remains in the retail hardware business today even though it stopped breaking out retail subscription numbers sometime in 2016 after years of declines. New owners would get to decide whether to jettison the retail business altogether or look for a way to revamp it to make Tivo's boxes more competitive with devices like the Roku and Apple TV. (See Tivo Tips New Bolt Boxes.)

Tivo's leadership has also gone through a shakeup recently. Tivo lost COO Pete Thompson in October, just a year after he was hired to help steer it through the integration of Tivo and Rovi. Then former AT&T executive Enrique Rodriguez joined the company as CEO in November, after previous CEO Tom Carson announced his plan to retire earlier in the year.

New leadership equals new opportunities for strategic change.

One final note. Despite Tivo's merger with Rovi in 2016, the company is still relatively small compared to many of the companies it does business with. Tivo has a market cap of $1.89 billion, whereas many of its customers' valuations reach into the tens, if not hundreds, of billions of dollars. Any private equity buyout could be merely a prelude to a deal to sell Tivo to a larger player -- part of a never-ending drive to create greater scale in media and telecoms.

Will 2018 play host to another major Tivo transaction? The jury's still out, but the signs in this case are arguably favorable. And 2018 is just getting started.

— Mari Silbey, Senior Editor, Cable/Video, Light Reading

==================================

A Head-to-head Comparison of TiVo Corporation (TIVO) and Netflix, Inc. (NFLX)
James Elly Jan 3,2018


TiVo Corporation (NASDAQ:TIVO) and Netflix, Inc. (NASDAQ:NFLX) are both Services companies that recently hit new low. Naturally, this has created a bit of a stir amongst investors. We will compare the two companies across various metrics including growth, profitability, risk, return, dividends, and valuation to determine if one is a better choice than the other.

TiVo Corporation (NASDAQ:TIVO) operates in the CATV Systems segment of the Services sector. The company has grown sales at a 2.10% annual rate over the past five years, putting it in the low growth category. TIVO has a net profit margin of -5.40% and is less profitable than the average company in the CATV Systems industry. In terms of efficiency, TIVO has an asset turnover ratio of 0.34. This figure represents the amount of revenue a company generates per dollar of assets. TIVO's financial leverage ratio is 0.72, which indicates that the company's asset base is primarily funded by equity capital. Company's return on equity, which is really just the product of the company's profit margin, asset turnover, and financial leverage ratios, is -2.50%, which is worse than the CATV Systems industry average ROE.

TiVo Corporation (TIVO) pays out an annual dividend of 0.72 per share. At the current valuation, this equates to a dividend yield of 4.77%.Stock's free cash flow yield, which represents the amount of cash available to investors before dividends, expressed as a percentage of the stock price, is 4.17. The average investment recommendation for TIVO, taken from a group of Wall Street Analysts, is 2.60, or a hold.

Over the past three months, TiVo Corporation insiders have been net sellers, acquiring a net of 55,754 shares. This implies that insiders have been feeling relatively bullish about the outlook for TIVO. Insider activity and sentiment signals are important to monitor because they can shed light on how "risky" a stock is perceived to be at it's current valuation. Knowing this, it makes sense to look at beta, a measure of market risk. TIVO has a beta of 0.07 and therefore an below average level of market volatility.

Netflix, Inc. (NASDAQ:NFLX) operates in the CATV Systems segment of the Services sector. NFLX has increased sales at a 22.50% CAGR over the past five years, and is considered a high growth stock. The company has a net profit margin of 4.00% and is more profitable than the average CATV Systems player. NFLX's asset turnover ratio is 0.71 and the company has financial leverage of 4.09. NFLX's return on equity of 14.60% is worse than the CATV Systems industry average.

Stock has a payout ratio of 0.00%. According to this ratio, NFLX should be able to continue making payouts at these levels. The company trades at a free cash flow yield of -0.5 and has a P/E of 203.51. Compared to the average company in the 33.56 space, NFLX is relatively expensive. The average analyst recommendation for NFLX is 2.20, or a buy. The average analyst recommendation for NFLX is 2.20, or a buy.

Netflix, Inc. insiders have sold a net of -1,130,769 shares during the past three months, which implies that the company's top executives have been feeling bearish about the stock's outlook. Finally, NFLX's beta of 1.35 indicates that the stock has an below average level of market risk.

TiVo Corporation (NASDAQ:TIVO) scores higher than Netflix, Inc. (NASDAQ:NFLX) on 7 of the 13 measures compared between the two companies. TIVO has the better fundamentals, scoring higher on leverage metrics.