The Hottest ICOs Are the Ones That Have Done the Least Amount of Work

By Camila Russo and Olga Kharif
Bloomberg
December 11, 2017

-- Those without working projects did best in first trading month

-- Almost two-thirds of coin sales with testable projects slumped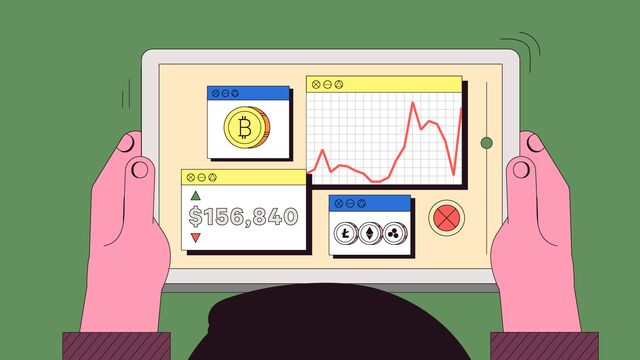 The man known as Bitcoin Baba is, as you might have guessed, a true believer in the power of cryptocurrencies to change the world.

Two years ago, the 30-something Kiwi ditched his job in construction and went all in on bitcoin. Now he says he's living the dream, traveling the world and evangelizing to would-be crypto-enthusiasts wherever he goes. (He got his nickname, a term of endearment that means "wise man" in Hindi, after putting up signs outside coffee shops and banks in India offering free bitcoin advice.)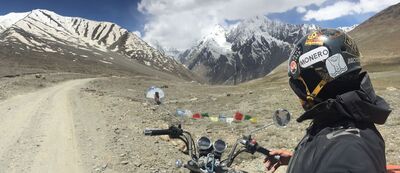 Bitcoin Baba in the Himalayas.
Source: Bitcoin Baba
____________________________________

But when it comes to the recent frenzy in initial coin offerings, even Bitcoin Baba struggles to see much more than a place to make a quick buck.

"You can listen to all the technologists explain why these projects work or don't work and then you go onto the trading channels and people are just talking about the price action and sometimes there's just no correlation," he said one morning during a recent jaunt to Australia. Like so many in the

world of cryptos

, he's deeply fearful of having his virtual assets stolen by hackers and declined to give his real name. "There's a massive bubble here that's going to pop in an ugly way. That's why I'm not an investor in alt-coins and ICOs, and only trade them depending on what the market's doing."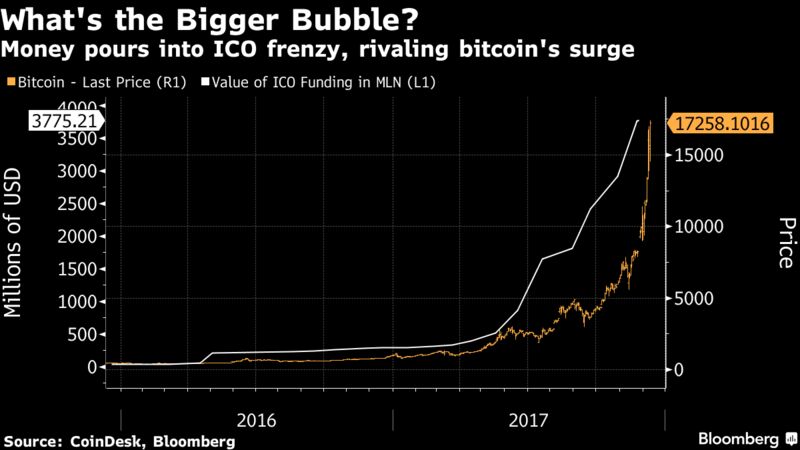 The data support this view. Of the 30 biggest digital tokens sold in ICOs this year, the ones without a working product backing their projects did the best in their first month of trading, data compiled by Bloomberg show. And the ICOs with actual products that could be tested? Almost two-thirds of those declined.

Dot-Com Parallels

The disparity has come to reflect the wildly speculative, topsy-turvy world of ICOs, which in recent weeks has increasingly drawn parallels to the go-go days of the dot-com bubble. This unregulated, crowd-funding model -- where backers finance cryptocurrency startups -- has taken off and pushed the

nascent market

toward $4 billion in value.

And the boom is showing few signs of slowing even as U.S. regulators start to crack down on

fraudulent

fundraising schemes. This year alone, hundreds of ICO-backed blockchain projects have been created, as the popularity of just about anything crypto-related pushes bitcoin to one high after another. This week, bitcoin futures debuted on Wall Street, the clearest sign yet cryptos are moving into the mainstream.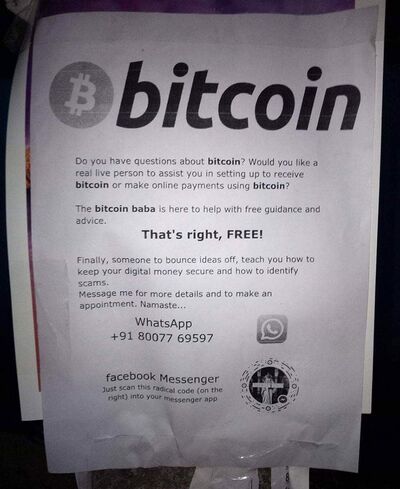 Ad for help from the Bitcoin Baba.
Source: Bitcoin Baba
________________________________________

Yet for every promising ICO, a host of others seem to offer little more than a solution looking for a problem. (One promises to revolutionize office sharing on the blockchain, while another ICO exists solely to allow users to buy other tokens. And exactly how many blockchain-based providers of cloud storage does the world really need?)

That's not counting the duds or the marketing ploys where

celebrity endorsements

from Paris Hilton and outrageous names like

Wu Tang Coin

grab headlines. And it's no small irony that in a market which appeals to people who lack faith in governments and banks, the president of Venezuela -- a country facing an economic collapse and hyperinflation -- just pitched a cryptocurrency backed by its oil, gas, gold and diamond reserves.

Crypto Spectrum

Wide-eyed enthusiasts and greedy opportunists alike are

jumping in

, lured by the promise of groundbreaking technology or just skyrocketing prices, and making it harder than ever to tell whether this is a revolution, a bubble, or both. But what's clear is that regardless of where you are on the crypto spectrum, the

hype

has rarely been more divorced from reality.

It can be frustrating because "we are really big believers in, 'Hey, you should at least have done as much work as you could have done on the project before trying to raise money,"' said Alex Xu, director of operations at 0x, which builds software that allows users to trade tokens on the Ethereum blockchain.

Dreams Vs. Reality

Only one in 10 digital tokens issued in ICOs is

in use

following their sales, according to Token Report. The rest, at least for now, are purely speculative instruments, only to be traded. CoinSchedule estimates at least two-thirds of ICO projects lack a working product or a prototype.

In some ways, that might be for the best. Take

Bancor

, which in June raised $153 million over a matter of hours in one of the most ballyhooed ICOs in the short history of digital coins. Since then, the startup has plunged 38 percent as developers scrutinized its product and poked holes in its usefulness.

Its project, which aims to become something that combines a central bank, an exchange and market making for digital currencies all in one application, lost much of its buzz after a student showed that loopholes made it vulnerable to front-running. Cornell University's Emin Gun Sirer also said the technology doesn't work as well as simply making markets manually. Bancor co-founder Eyal Hertzog, who says his team is still building the code, is undaunted.

"It's not a valuation of a company, it's a valuation of an economy that this ICO is creating," Hertzog said from Tel Aviv.

Perhaps the most famous example of an ICO made good is Ethereum, second only to bitcoin in market value and name recognition. Launched as little more than a grand idea in a white paper, the project raised $17 million in 2014, issuing ether as its currency. Now, the Ethereum blockchain, with its smart contracts, serves as the backbone for many other crypto-based projects. The value of

ether

has soared from mere pennies to about $475 today.

Game Changing

"We're talking about core infrastructure of the entire internet" with some of these ICOs, said Olaf Carlson-Wee, who runs Polychain Capital, one of the first and biggest cryptocurrency-dedicated hedge funds. "It's massive upside if it reaches true scale and true adoption."

It's the kind of

game-changing potential

that has made a believer out of Ozkan Isik, who says he's sunk about half his savings into ICOs. The 25-year-old German college student spends his free time poring over white papers, checking GitHub, a site where coders share their work, and talking to founders before investing. He recently invested in

Polkadot

, a venture led by Ethereum co-founder Gavin Wood that raised over $140 million in its ICO in October.

The project aims to build a network that connects different blockchains and lets users securely move information from one to another. Investors won't get their tokens for roughly two years, which is how long developers say it will take to build and roll out the network. That doesn't worry Isik.

"Even though they raised a lot," he said, Wood "is not someone who'll want to run away with the money. It could become very huge too."



bloomberg.com