Charter Gives the Gift of Gigabit

| Light Reading

($60 a month! I pay $75 for 75Mbps. Rip off.)

lightreading.com





Before the clock winds down on 2017, Charter is bringing gigabit Internet service -- branded as Spectrum Internet Gig -- to seven cities; a follow-up to the company's initial gigabit launch earlier this month on the island of Oahu in Hawaii. Those additional seven markets include Austin, Texas; Charlotte, North Carolina; Cincinnati; Kansas City, Missouri; New York City; Raleigh-Durham, North Carolina; and San Antonio, Texas.

Charter Communications Inc. says the new downstream gigabit service is priced at $104.99 per month for new customers and is now available to 8.8 million consumers across the country. Spectrum Internet Gig comes with no data caps and no contracts. The price includes a Charter modem with an integrated WiFi router.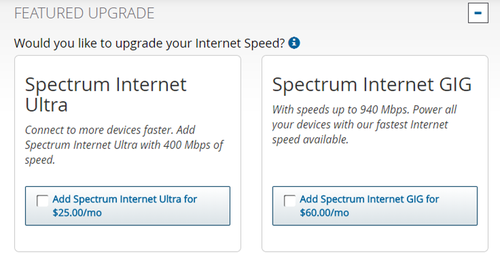 Screenshot of Charter's gigabit upgrade promo

Although Charter doesn't mention any upstream speeds in its press release, DSLReports dug up materials recently showing that the downstream gigabit offering is paired with an upstream rate of 35 Mbits/s. Charter subscribers in gigabit markets reportedly also have the option of signing up for speed tiers that include 400 Mbits/s downstream with 20 Mbits/s upstream, and 200 Mbits/s downstream with 10 Mbits/s upstream.

While Charter is beating the end of the year with its gigabit launch, the cable company is still behind many of its peers in offering a gigabit product, and in making the transition to DOCSIS 3.1 technology. That pattern may be about to change, however. CEO Tom Rutledge has said the company will start buying D3.1 modems exclusively starting in 2018. The company is also planning to debut a higher-powered WiFi router in the New Year alongside updates to the Charter video platform. (See Charter Touts Gig Plans as Earnings Slide.)

Charter has every incentive at this point to boost its network capacity. Not only will the operator have to support gigabit wireline service in the future, but it also plans to use its wired network as a foundation for future wireless services. The company plans to introduce an initial mobile service next year, and down the line, Charter says it will include LTE small cells alongside IoT radios in its home gateway devices. (See Charter Plans In-Home Small Cell Gateway.)