Potential political risk/rewards for Softbank's Vision Fund

SoftBank's Saudi Connections Could Mean Cash After Crackdown

By Takashi Nakamichi
Bloomberg
December 10, 2017

-- Crown Prince, key backer of Vision Fund, consolidating power

-- But a reversal may raise questions about continued investment

Billionaire Masayoshi Son may be getting closer to achieving his dream of making

SoftBank Group Corp.

the world's biggest investor in technologies. The reason has to do with the main patron of Son's $100 billion investment plan, Saudi Arabia's Crown Prince

Mohammed bin Salman

.

The Saudi prince has been the largest investor in the

SoftBank Vision Fund

, contributing almost half of the money Son has been raising to accelerate his dealmaking around the world. And since November, Prince Mohammed has been at the center of an unprecedented purge of officials and political rivals in the oil-rich nation, leading to a consolidation of his power.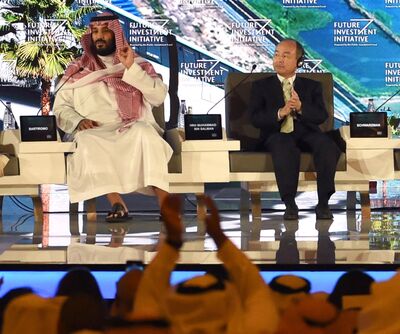 Saudi Crown Prince Mohammed bin Salman and Masayoshi Son in Riyadh, on October 24, 2017.
Photographer: Fayez Nureldine/AFP via Getty Images
________________________________

A stronger Prince Mohammed could mean steady flows of Saudi money into the fund, which allows SoftBank to make investments without adding to its heavy debt load and offering the potential for those investments to generate revenues to pay down the burden. At the same time, any unforeseen reversal in the prince's fortunes may raise questions about the sustainability of his investments.

"Saudi Arabia has money to invest, meaning that it has the potential to sponsor the second, third Vision Fund," said BNP Paribas SA's chief credit analyst Mana Nakazora, who added that having a more influential Prince Mohammed increases that possibility. Saudi Arabia has committed $45 billion to the fund, making it the largest investor.

Increase Influence

With the Vision Fund, SoftBank's billionaire founder Son is looking to increase his

influence

as a tech investor, wagering on the future of artificial intelligence, connected devices, and the integration of computers and humans. The fund has raised at least $93 billion so far. In addition to the Saudi money, it had gathered $28 billion of SoftBank's own money plus an additional $20 billion from other investors.

"I think you have to be aware that the guy who is winning in Saudi today is Mr. Son's friend who desperately wants the Vision Fund to help diversify Saudi Arabia's economic future" away from oil, said Richard Kaye, a portfolio adviser at a Japan unit of Comgest Global Investors S.A.S., which holds around $165 million of SoftBank shares.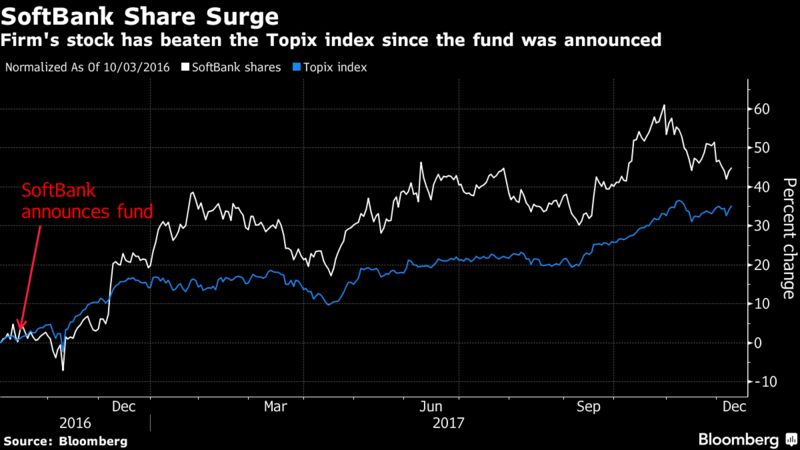 Mitsuhiro Kurano, a SoftBank spokesman, declined to comment on the Saudi events and potential effect on SoftBank investments.

Prince Mohammed, in a

statement

when the Vision Fund was announced in October 2016, noted "the long history, established industry relationships and strong investment performance" of SoftBank and its founder.

SoftBank plans to invest as much as $25 billion in a new

megacity

the Saudi prince is building on the Red Sea coast and the state-controlled Saudi Electricity Co., people familiar with the matter

said

last month.

Chinese Finance

Elsewhere, the fund is looking into investing in businesses owned by Chinese insurer

Ping An Insurance (Group) Co.

, including

Lufax

, China's largest online-financing company, and another business that offers AI-powered services for financial companies, other people with knowledge of the deals

said

last week. The fund has also agreed to invest

$450 million

in Compass, which is building an Internet-based real estate platform, the New York-based company announced.

For bond investors, the fund may offer peace of mind. SoftBank now has ammunition to undertake deal making for some time without adding much to its liabilities, said Nakazora at BNP Paribas.

The company's interest-bearing debt totaled 14.7 trillion yen ($130 billion) in the quarter ended September, according to its earnings data. S&P Global Ratings has a

junk

rating on SoftBank in part because of its "heavy debt burden and heightened financial leverage" amid big acquisitions and investment, the rating firm said in September.

Some Japanese brokerages and investors have recently begun asking Japan Credit Rating Agency about whether the crackdown in Saudi Arabia could hit the firm's creditworthiness, said chief analyst Akihisa Motonishi. JCR rates SoftBank as

A-

, four levels above junk.

"Because a lot is happening in the country, people are naturally wondering whether there is any risk to SoftBank," he said. If SoftBank's initial fund investment ends up tripling in value, "that would be positive for their credit" because the firm could use it to pay down its debt, Motonishi said.

Saudi security forces arrested princes, ministers and former top officials on Nov. 4, in a development that analysts

said

would help Prince Mohammed consolidate his power. Son, in a news conference two days later, was unfazed.

"Because the fund is affiliated with the inner circle of the Saudi government, there will be no impact at all," Son said.

While the

collapse

of merger talks in November between SoftBank's U.S. wireless unit Sprint Corp. and T-Mobile US Inc. dented gains in the Japanese company's

shares

, they remain up 22 percent so far this year. The stock rose 0.8 percent Monday to the highest in more than a week.

Walking Away

A risk for SoftBank is the possibility of the Saudis walking away from the fund, Motonishi said. It would be especially negative for the firm's credit if it began to borrow to fill in the hole, a scenario that he called very unlikely.

Even if the Saudis withdrew, other investors would likely jump in on expectations that the fund would generate high returns, said Yoshihiro Nakatani, senior fund manager at Asahi Life Asset Management Co. in Tokyo. "I've been hearing that there are many who want to invest in the Vision Fund" if there is room, he said. SoftBank said earlier this year that it had delivered a 44 percent rate of return over the preceding 18 years on its investments in internet companies.

Saudi TiesSon isn't the only one in Japan wooing Saudi Arabia. Prime Minister Shinzo Abe and King Salman have been trying to strengthen bilateral cooperation through a package of initiatives announced in March. Japan wants to export more to Saudi Arabia in addition to buying its oil, whereas the Middle Eastern nation wants cutting-edge Japanese technologies to reduce its reliance on oil.

Japanese firms including

Toyota Motor Corp.

, synthetic fibers maker

Toyobo Co.

and engineering service provider

JFE Engineering Corp.

have exchanged memorandums of cooperation with the Saudis, according to Japan's Ministry of Economy, Trade and Industry.

bloomberg.com