How a Silicon Valley Striver Became the Alt-Right's Tech Hero

Andrew Torba founded Gab.ai as a "free speech" alternative to other social networks

By Joshua Brustein
Bloomberg
October 9, 2017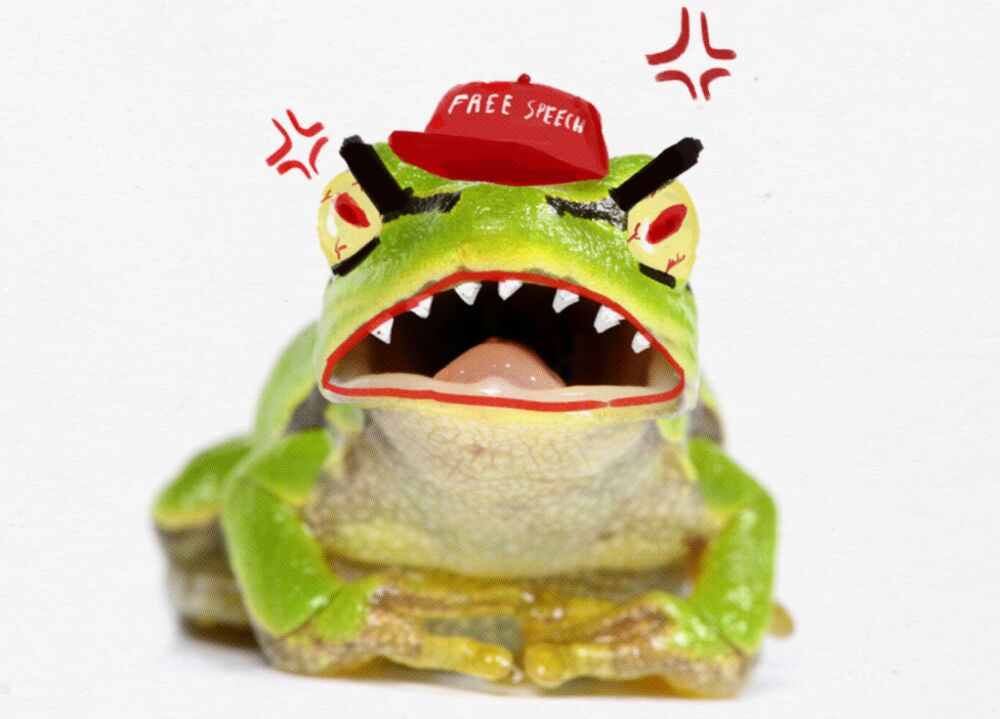 Illustration: Steph Davidson
____________________________

There's a revolution going on in online conservative media. Breitbart and Infowars are attracting audiences that are too angry for Fox News, and communities of conspiracy theorists and Internet trolls thrive on platforms like Reddit and 4Chan. Then there's the upstart social network Gab.ai. The content on Gab tracks closely with the fixations of the populist right in the Trump era – desire for restrictive immigration policies, disdain for "political correctness," disapproval of NFL players kneeling during the national anthem – with outright racism and bigotry mixed in. But the site's management and its users seem particularly furious about one subject: Big Tech.

Gab was started a year ago by Andrew Torba, a 26-year old entrepreneur from Pennsylvania. Torba has ridden its success into the upper ranks of right-wing rabble-rousers. He rubs elbows with

former Breitbart writer Milo Yiannopoulos

, and debates best practices on website moderation with Andrew Anglin, the founder of the neo-Nazi website the Daily Stormer. When Torba donned a suit for a recent appearance on Infowars, he made sure to mention he was doing so because the infamous political operative Roger Stone had chided him about his wardrobe. He posted a public welcome note to right-wing activist and filmmaker James O'Keefe when he signed up for Gab in September.

Technically, there's nothing distinctive about Gab. It's a lot like Reddit or Twitter, where users set up accounts, follow one another, and post videos and links. The service's main draw is its

loose policy governing what users are allowed to say

. Almost anything goes, except for explicit threats, spam, illegal pornography, and posting other people's personal information. "We believe that the only valid form of censorship is an individual's own choice to opt-out," the company writes in its guidelines. Users can choose to block posts with specific words, or those from specific accounts. According to Gab, 290,000 people have signed up since it started, although it doesn't provide data on how many accounts are active. It also offers premium memberships for $6 a month.

Torba tries to distance himself from the more extreme content on the site, and objects to the common description of Gab as an alt-right social network. But he's comfortable in that rhetorical neighborhood. Torba recently reposted a message from an account named "Hitler Was Right," and suggested Gab users report Mark Zuckerberg to Immigrations and Customs Enforcement because the Facebook CEO played host to a handful of DACA recipients.

Gab has never been able to get its app into Apple's app store, and in August was banned from Google's, because the company said Gab's users posted content that violated its standards and the site had inadequate moderation in place. In September, Gab's domain registrar, the Australian company Instra, said it would no longer do business with Gab, forcing the company to find a new one. Torba said several days later that he had succeeded, but declined to disclose the new registrar's identity.

At a time when Big Tech has replaced the mainstream media as a target of rightwing vitriol-- "

Facebook was always anti-Trump

," the president tweeted on Sept. 27-- Torba sees a huge opportunity in providing an alternative. He has used the rejection of his company as a rallying cry for the broader campaign against Silicon Valley. In late September, Gab sued Google, arguing that removing Gab's app from the Android store was an attempt to kneecap Gab's growth in order to benefit Google Plus. "This will be historic, people will talk about this all around the world, and people will know the real story of what is going on in Silicon Valley," said Torba in a livestream.

Antitrust and digital free speech experts give the case little chance of succeeding. But some see Gab's situation as a reminder of Silicon Valley's power to silence dissenting voices. "I do sympathize with Gab's plight," said Aaron Mackey, a staff attorney at the Electric Frontier Foundation. "There's something to be concerned about with regard to policies that are vague, and may be applied in different ways depending on who comes through."

The most interesting thing about Torba may not actually be what he's doing now, but how he got here. Fewer than three years ago, his startup got into Y Combinator, the prestigious Silicon Valley incubator. Torba moved from Pennsylvania to Palo Alto, hoping to hit it big in the field of social media marketing. The first chapter in Gab's story is about a young man who moved across the country looking to buy into the promise of the tech industry, only to become obsessed with tearing it down.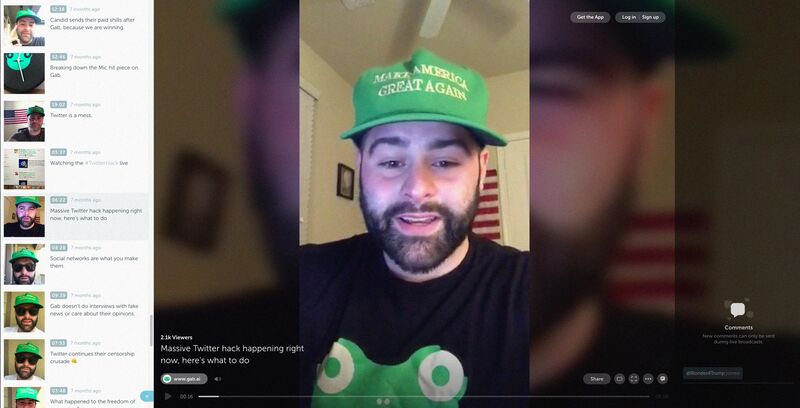 Source: Periscope
______________________________________

Torba is a stocky, bearded guy who's partial to dark sunglasses and a green hat that says "Make Speech Free Again." He studied philosophy and political science in college, and likes to wax poetic about his beliefs. While Torba declined to comment for this article -- more on that in a bit -- it's possible to trace his thinking through articles and videos he has posted over the last several years.

While still living in Pennsylvania in 2011, Torba launched an advertising business called Kuhcoon. It made software to automate the process of placing and maintaining targeted ad campaigns on Facebook. Torba felt like he had his big break when the startup got into Y Combinator in late 2014. "Scranton will always be our home," he wrote on the company's blog, "

but Silicon Valley has always been our destiny

."

Torba's mentors and peers at YC were enthusiastic about Torba's idea. Several YC companies signed up to use the service. "He was super-nice, and it was a pretty cool product," said Eugenia Kuyda, the co-founder of Luka, a

YC company that makes chatbots

. A few YC partners made personal investments in Kuhcoon, which later changed its name to Automate Ads, according to a person involved with Torba's business at the time. (With the exception of Kuyda, everyone who agreed to speak about Torba's past requested anonymity because of his controversial public profile.)



Torba loved YC

. But California was a culture shock. He had always been a conservative, and it wore on him that this was considered a character flaw in Silicon Valley, according to someone familiar with his thinking at the time. As the 2016 election heated up, Torba's alienation grew.

The situation at Automate Ads added to the stress. Meetings with representatives at Facebook, Google, and Twitter were frustrating, and catering to small businesses was labor-intensive in a way that made it hard to grow. As two people familiar with the company described it, Automate Ads died like so many startups do, by slowly losing momentum until it ground to a halt in mid-2016.

Torba took his company's failure very hard, said people who interacted with him at the time. His political fights with other YC founders online became increasingly poisonous. Videos he posted to Periscope last summer show someone who was engaged both in politics and the advertising business. In June, Torba recorded a video from the floor of a Trump rally in San Jose. He followed it up with a stream of himself playing Pokemon Go with a group of people in a darkened park. "The ability to drive commerce with this game, I think it's going to be incredible," he enthused. But his mood was darkening.

Torba launched Gab in August, as the charged atmosphere around the online political debate was intensifying. Twitter had just banned Yiannopoulos, a move that foreshadowed the company's persistent attempts to tamp down on trolling and harassment, and conservatives were loudly complaining about censorship in Silicon Valley. Torba became fixated on his grievances against tech. He recorded a series of videos while on a trip to Las Vegas, mixing banal sightseeing with stream-of-consciousness political rants. The entrepreneur who had once referred to social media marketing as his No. 1 passion now proclaimed that advertising was a foolish business model because everyone used ad blockers. He criticized Facebook for its use of personal data, and scoffed at its stated goal of making the world more open and connected. "You know what that sounds like to me? That sounds like globalism, and that sounds like something I'm not about," he said.

While in Vegas, Torba accused "Big Social" of abusing him and treating him terribly. (Snapchat, he said, was cool.)

Then he made a prediction about Gab

. "They're all going to approach us, they're going to try to buy us, they're going to try to flash billions in front of my face. And you know what I'm going to tell them?" Torba flicked off the camera.

Torba seemed to covet rejection. He gleefully documented how Facebook froze his account. Days after Trump's victory,

YC kicked him out of an online alumni group

for directing profane, anti-immigrant comments at other founders. It all fed into his narrative that Silicon Valley silences anyone who disagrees with its politics. Of course, Gab's perceived enemies haven't completely silenced it. The service continues to have a presence on both Twitter itself and its live streaming service, Periscope. For announcements, Gab also uses Medium, which is run by Ev Williams, one of Twitter's founders. The company says that mainstream social media companies periodically make it hard to participate fully on their platforms.

Torba also had trouble separating politics from personal slights. Last month, Fox News invited him to talk to Tucker Carlson. Just before he went on, Torba appeared on Periscope. He was visibly excited, sporting a fresh haircut. "

Prepping tonight for Tucker Carlson, when Gab goes mainstream!

" he said. His tone following the interview was markedly different. He appeared in a Periscope stream with Gab chief operating officer Utsav Sanduja, complaining that Fox kept rearranging the schedule and reduced their air time. These are the same minor indignities to which all news networks subject their guests. The two men accused Fox News of treating them like Nazis, at which point Sanduja sarcastically yelled "Sieg Heil!" The stream recently disappeared from Gab's Periscope feed. When asked what happened, Sanduja said he wasn't aware of Gab removing any videos. A spokesperson for Twitter said the company doesn't comment on individual accounts or enforcement actions.

Torba's views on Fox shifted yet again after his supporters praised the interview. Yiannopoulos even posted a link of the interview to Gab,

congratulating Torba

. Upon further examination, what had seemed like a loss was actually a win. Torba began boasting about the appearance.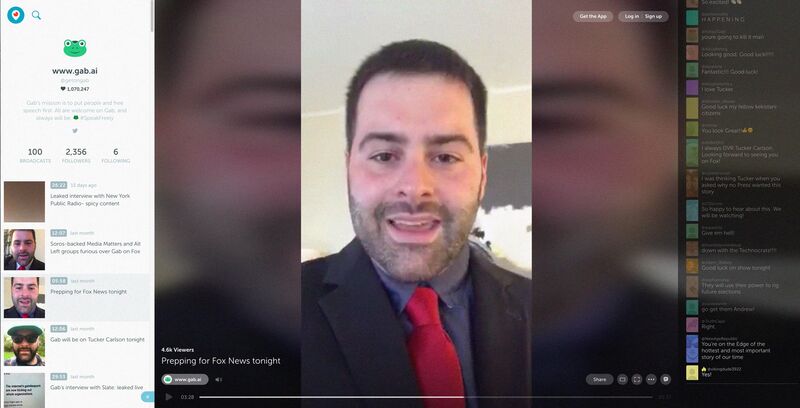 Source: Periscope
_______________________________________

With the exception of Fox, the mainstream media has treated Gab with universal hostility, and the

feeling appears to be mutual

. When I interviewed Sanduja in mid-September, he recorded the conversation without my knowledge. Torba then posted the audio on Periscope, along with a short, insulting introduction. (Several days later, that video also disappeared from Gab's Periscope account.)

Torba declined to speak with me directly. "Andrew does not do interviews with the mainstream media as he strongly feels they are immensely biased and engage in fake news," Sanduja explained in an email. Torba then posted a screenshot of the emailed interview request on Gab. "Lol the sophist media thinks that I will fall for their lies. Get bent," he wrote.

Gab sued Google a few days later. The 44-page complaint is a spaghetti-on-the-wall account of Gab's grievances against Silicon Valley, arguing, among other things, that Google enforces its community standards inconsistently. A Google spokesperson described the suit as baseless.

While Torba ranted about Google's application of its content standards, he was finding it increasingly tricky to walk the same line on Gab. In September, Theodore Beale, a right-wing science fiction writer who goes by the alias Vox Day, complained to Torba about posts from several Gab users that accused Beale of being a pedophile. Torba didn't take Beale's side, and told him to toughen up. "

Imagine thinking you can email me and get me to suspend users who hurt your feelings at will

," he wrote on Gab. In a post on his personal blog, Beale argued that Gab's inadequate moderation made it "

knowingly complicit

in publishing these false, malicious, and defamatory statements." He filed a petition in district court in Travis County, Texas, seeking a court order that would require Gab to unmask them.

At the same time, Torba found himself on the defensive after banning Andrew Auernheimer, a notorious Internet troll also known as Weev. "Jews have cornered the whole Internet, and I really think the only way we'll have any freedom of speech here is if someone teaches them a lesson," wrote Auernheimer on Sept. 17. Gab said this violated its guidelines against threats and terrorism. It banned Auernheimer.

This prompted protests from users who said Torba was punishing hyperbole, even though such speech was perfectly legal, just because he had been pressured by his domain registrar. Torba took to Gab to plead his case, saying he was working hard to come up with a way to police user content that would be acceptable to everyone. "This isn't an easy problem to solve," he acknowledged. Some Gabbers were unmoved. "There's not going to be some 'nice middle ground' for you to hide in," wrote one user.



bloomberg.com