seekingalpha.com

Buy Qualcomm Before Apple Starts Paying Royalties Again.

I initially wrote about Qualcomm ( QCOM) a little over 4 months ago. I rated the chip maker a buy for two main reasons. The first was their NXP ( NXPI) acquisition. This deal is estimated to not only increase their chip business by a 40%, but also lead them into multiple brand new business areas including automotive, Internet of Things, and digital networking. The second reason was because I believed the Qualcomm's steep drop after being sued by Apple ( AAPL) was overblown.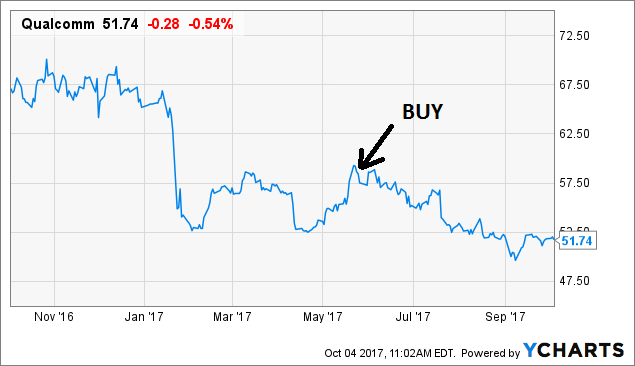 As you can see from the chart above, the stock has fallen about 14% since my initial call. I recently revisited my thought process and my work and had to ask myself the age-old question, am I wrong or am I early? If I was wrong I need to close my position, but I have no problem with being early. This is a long-term position for me and I'm willing to continue collecting the over 4% dividend payment as I wait.

Most of this article will be about the Apple lawsuit, but I wanted to touch very quickly on the NXP acquisition. The deal is expected to be complete by the end of 2017. Besides allowing to to break into new business areas, Qualcomm will be adding about $9.5 billion in revenue and $1.9 billion in Free Cash Flow. Nothing much has changed since my previous article covering this which you can read here.

Apple is currently suing Qualcomm in the US, China, and the UK for two main reasons. The first is that Apple is claiming that a recent ruling from the Supreme Court would prohibit Qualcomm from selling it's chips while also licensing its technology at the same time. The second is that Apple claims Qualcomm is price gouging.