investorplace.com

Hardware Problem – The AAPL Bear CaseAt its core, Apple is a hardware company, and that's a big risk for AAPL stock
By Vince Martin, InvestorPlace Contributor | Oct 5, 2017, 7:11 am EDT
Get AAPL alerts: Submit






Popular Posts: Advanced Micro Devices, Inc. (AMD) Stock Story Is Played out — and Priced In Starbucks Corporation (SBUX) Stock Has Huge Problems The Rally in Ford Motor Company (F) Stock Won't LastRecent Posts: Snap Inc (SNAP) Stock Has Two More Big Problems Apple's Hardware Problem – The AAPL Bear Case Netflix, Inc. (NASDAQ:NFLX) Dominance Is Eroding Quickly View All Posts





I'm a skeptic toward Apple Inc. (NASDAQ: AAPL) stock. So far in 2017, that skepticism has looked downright foolish, as AAPL stock's price today is up 33% this year alone, even after a recent pullback.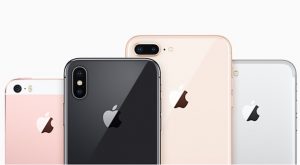 Source: Apple

The bear case for AAPL stock is tough to make on the surface. Apple is the world's most valuable company, ever. The company has more cash than it knows what to do with, and it's the premier brand in the world. And yet Apple stock trades for 14x 2018 analyst EPS estimates — around 13x when backing out the company's net cash.

Even right now, the market is pricing AAPL stock as if its growth will come to an end relatively soon. That seems almost ridiculous as consumers wait in anticipation for the $999 iPhone X. But if an investor understands the role of hardware in the future tech ecosystem, that possibility starts to make more sense, as does the low valuation of Apple stock.



AAPL Stock Relies Heavily on the iPhoneOne of my long-held concerns about Apple stock is its reliance on the iPhone. Ancillary products have come and gone. The iPod once was a profit center, iPad revenue soared and fell, and now Services sales are rising (+19% through the first three quarters of FY17). But no matter what the product, non-iPhone revenue simply hasn't moved ($77.8 billion in 2012 and $78.9 billion in 2016).