Définition de High Contrast Filter
High Contrast Filter (Panasonic)
La technologie High Contrast Filter, présente sur certaines TV Neoplasma Panasonic, est destinée à améliorer les résultats en contraste.

Les TV plasma équipées de cette technologie intègrent dans leur revêtement un filtre dont l'architecture permet :
de laisser passer une quantité plus importante de la lumière qui est émise par les cellules
de réfléchir la lumière environnante afin d'éviter qu'elle perturbe celle émise par la TV.

Ainsi, la technologie High Contrast Filter permet d'obtenir des images plus lumineuses et plus contrastées.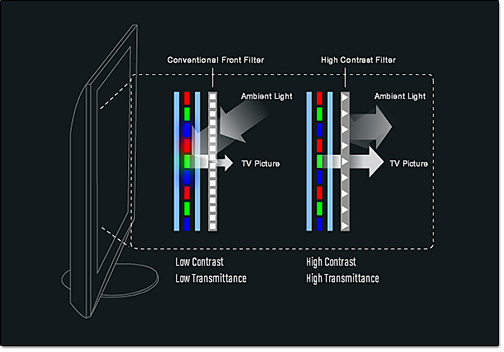 Illustration de la technologie High Contrast Filter de Panasonic

On retrouve le High Contrast Filter par exemple sur la TV Panasonic TX-P50ST60E.

REMINDER

SPD-Smart Contrast Enhancement Filter for Information Display

Annax, a leading supplier of passenger information systems consisting of six companies in four countries (Germany, Switzerland, Austria and China), showcased another information-display related innovative application for SPD-Smart technology at InnoTrans. At their booth, Annax's information display used an SPD-Smart contrast-enhancement filter supplied by Vision Systems. The functionality of the SPD-Smart filter brings more contrast to Annax's information display, and facilitates reading the text on the screen.


At InnoTrans, Annax exhibited an information display that included an SPD-Smart contrast enhancement filter supplied by Vision Systems – delivering greater contrast to the display, for improved reading.