Mercedes Plots Tesla Attack With $1 Billion U.S. Electric Push

By
Christoph Rauwald
and
Elisabeth Behrmann

September 21, 2017, 9:00 AM PDT

Company to make plug-in vehicles, batteries at U.S. factory

Investment in electric SUVs to create 600 jobs in Alabama

Daimler AG plans to spend $1 billion to start production of Mercedes-Benz electric vehicles at its Alabama factory, setting the world's largest luxury-car maker up to battle with battery-car specialist Tesla Inc. on its home turf.

The German automaker will build its fifth battery plant globally and create more than 600 jobs in the region, the company said Thursday in a statement. The Alabama factory will assemble electric sport utility vehicles, taking on Tesla's Model X and making Stuttgart-based Daimler the first European company to assemble plug-in autos in the U.S.

"We're celebrating our 20th anniversary at our production facility in Tuscaloosa, Alabama, and we're taking this as an opportunity to expand the operation and further fuel growth," production chief Markus Schaefer said in a Bloomberg TV interview. "We're very confident for future growth in the U.S. in the long-term. "

While the investment could ease tensions over President Donald Trump's claims that too many German cars were being sold to Americans, the real target is certainly the intensifying rivalry with Tesla. The Palo Alto, California-based carmaker's flagship Model S sedan outsold the Mercedes S-Class and BMW 7-Series last year in the U.S., putting pressure on the brands to defend their image as automotive innovators.

Electric Surge

Daimler's investment shows the carmaker's shift to electric vehicles is taking shape. The German manufacturer is also in talks to expand its Denza joint venture with BYD Co. in China with additional models, Chairman Wang Chuanfu told a group of reporters in the southern Chinese city on Thursday.

Like other automakers, Daimler is preparing for a time when sales of battery-powered vehicles finally take off. U.S. sales are projected to grow fourfold from last year to 643,000 in 2021, about 4 percent of the U.S. auto market, according to estimates by Bloomberg New Energy Finance. The segment is expected to account more than one-third of sales in 2030.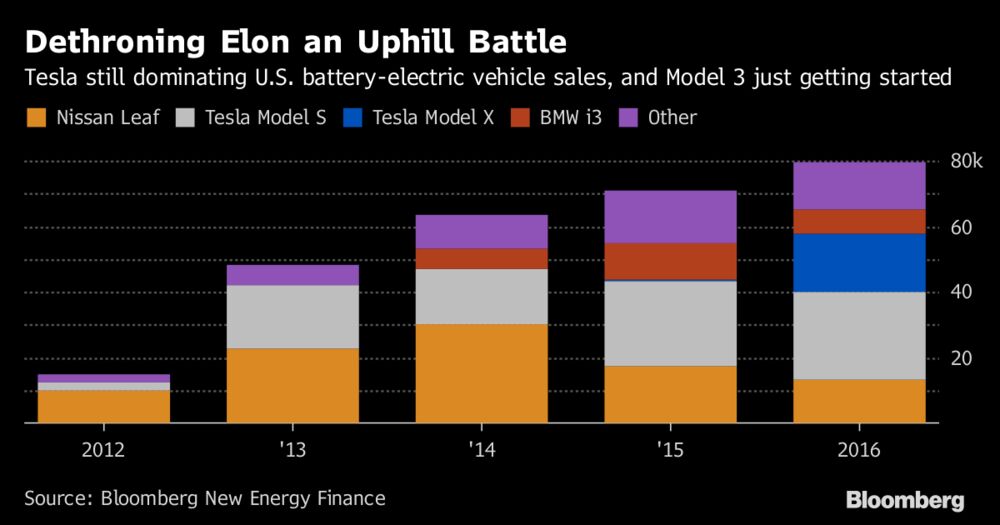 The shift is proving costly. Daimler laid out a plan last week to slash 4 billion euros ($4.8 billion) from spending by 2025 to compensate for weaker margins from electric cars as global automakers accelerate efforts to roll out cleaner vehicles amid tightening emissions rules across the globe.

As part of a 10 billion-euro green-car rollout, Mercedes unveiled an electric hatchback this month at the Frankfurt auto show. In addition to the new EQ line of battery-powered cars, the manufacturer will add electrified versions across its model range. Daimler's Smart city-car brand will gradually stop offering models with combustion engines as of 2020.

Mercedes, which topped BMW as the top luxury auto brand in the U.S. last year, started assembling vehicles in Alabama 20 years ago. The factory has since emerged as one of the brand's main manufacturing hubs worldwide, with some 70 percent of assembled vehicles slated for export to global markets. About 3,700 employees produce the GLE, GLE Coupe and GLS SUVs at the site, which added the the C-Class sedan for the North American market in 2014.

bloomberg.com

My comments:

Mercedes has a long ways to go to catch up with Tesla.

They don't have any battery cell production yet...

Years...

Eric