Why Amazon Isn't Ready for Prime Time in China

By Liza Lin in Shanghai and Laura Stevens in San Francisco
Published August 27, 2017
Dow Jones Newswire

In launching its Prime membership program in China last fall, Amazon.com Inc. was betting that the lure of hard-to-find Western goods and free international deliveries would be enough to get traction in the world's largest e-commerce market.

That hasn't happened, according to retail analysts, underscoring the difficulties faced by U.S. technology companies as they try to compete in a country with high hurdles for outsiders and increasingly sophisticated competitors.

Companies including Facebook Inc. and Alphabet Inc.'s Google have struggled with stringent government controls and censorship, while Apple Inc. has seen its iPhone market share decline as Chinese smartphone makers offer less-expensive, high-performing smartphones.

"Over time, companies from Apple to Microsoft are seeing Chinese rivals move up the value chain and narrow the gap between them and their products," said Mark Natkin, managing director of Marbridge Consulting in Beijing.

Retail analysts say it is largely Chinese competition, and not the ground rules of doing business, that has challenged Amazon's efforts here. Membership programs aren't popular in China, and consultants say Amazon's app for mobile phones -- the shopping cart of choice in China -- lags behind its competitors in ease of use and appeal.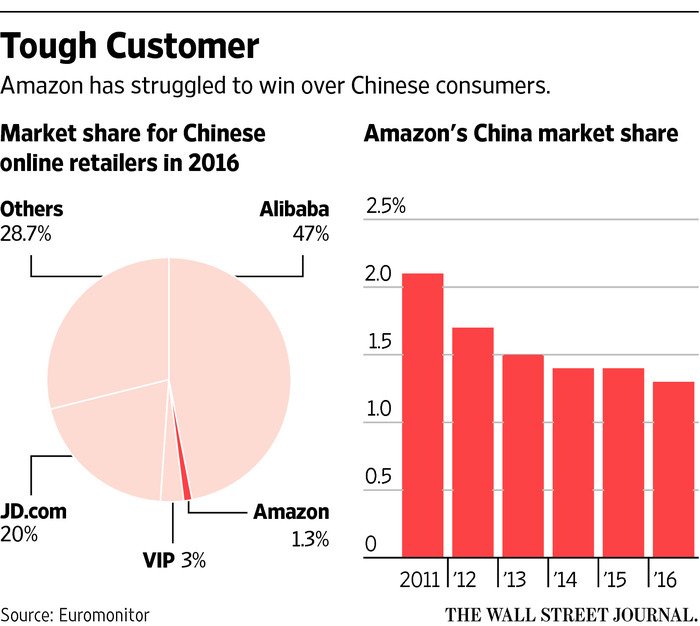 What's more, the company's main pitch to Chinese consumers -- authentic Western goods shipped free from abroad -- is being weakened as Chinese rivals strengthen their offerings and dangle discounts.

Chinese competitors Alibaba Group Holding and JD.com Inc. have invested heavily to improve their selection of products and spent liberally on promotions and discounts through massive sale campaigns this year, said Jason Yu, China general manager at Kantar Worldpanel, a consumer-research firm.

In its most recent analysis in June, Kantar estimated that Amazon had a 1% share of China's fast-moving consumable goods, like diapers and food, unchanged from a year ago.

Free delivery, even internationally, isn't much of a selling point in China either, since overseas shipping costs are free or generally low. An 800-gram can of Aptamil infant formula, for instance, is free to ship from Germany to Shanghai on both Alibaba's Tmall and JD platforms via bonded warehouses. A similar product is also shipped free by Amazon.

In China, Amazon Prime's offerings don't stand out, said Shirley Lu, a Shanghai-based analyst focusing on retail at Euromonitor International.

"Local e-commerce providers have fast deliveries, good customer service and very competitive pricing," Ms. Lu said. "These are areas Amazon will find hard to beat."

An Amazon spokeswoman said the company has had a "strong response" to Prime from Chinese customers since its launch last October, with membership figures more than doubling since the beginning of the year. She declined to provide figures.

Amazon in October last year sweetened its offer by discounting its China Prime membership fee to $30, or half its standard list price. Prime membership costs $99 annually in the U.S.

But membership programs are also a tough sell in China, where high-profile scandals involving beauty chains and health clubs have made consumers wary, said Deborah Weinswig, New York-based managing director at Fung Global Retail & Technology.

JD and Alibaba also offer memberships, but on those sites you don't have to be a member to qualify for free shipping on most purchases beyond $15. Alibaba's 88 Membership program is free and rewards frequent shoppers on their site with discounts for high-end brands and free concert tickets. JD's Plus program costs $22 and dangles unlimited e-books and free exchanges and returns, on top of free shipping for all purchases five times a month.

Furthermore, Euromonitor's Ms. Lu noted that most Chinese consumers shop on their smartphones, and that Amazon's relatively bare mobile platform is a turnoff for Chinese consumers used to seeing a kaleidoscope of colors and attention-getting deals.

Mobile-phone shopping will account for more than 60% of China's total e-commerce this year, about $720 billion, Boston Consulting Group analysts estimated.

Wang Hao, a 38-year-old internet entrepreneur in Shanghai who buys everything from steaks to computer parts online, said he found Amazon's site "as bland as plain water." JD's website, a riot of red and orange hues, "makes one feel festive and in the mood to shop," he said.

Finally, the video streaming service included in Amazon Prime -- with its award-winning original content -- isn't available in China due to censorship rules.

Still, China is an important piece of the puzzle for Amazon in its plans to one day haul and deliver packages and cargo globally for others as well as itself.

The online retailer has been building its business with manufacturers and sellers in China, encouraging them to sell direct to U.S. consumers via Amazon.com. As the company sends more merchandise from China to the U.S. -- and especially as it develops its own air-service offerings -- it needs to fill trucks and planes going both ways.

As Amazon adds international shipping capabilities including its own planes, "in order for it to be cost effective, they need to have goods that are going out of the U.S. and into the U.S. to do it profitably," said John Haber, chief executive of supply-chain consultancy Spend Management Experts.

Going forward, Robert W. Baird & Co. Amazon analyst Colin Sebastian expects Amazon to continue to focus on its global store, which allows Chinese consumers to buy products from countries including the U.S. and the U.K. That is an area where it can likely gain a better foothold because of its reputation as a place to buy authentic Western goods.

"They've dialed back their strategy and expectations from trying to compete as a mainstream online retailer," Mr. Sebastian said.

Write to Liza Lin at Liza.Lin@wsj.com and Laura Stevens at laura.stevens@wsj.com

(END) Dow Jones Newswires

August 27, 2017 08:14 ET (12:14 GMT)



foxbusiness.com