Slightly OT:

The rise of the QR code and how it has forever changed China's social habits

It's being used to encourage tipping at restaurants, receive cash gifts at weddings...even beggars are using it to collect handouts. The little barcode is driving China's rapid shift towards a cashless society



Stephen Chen


South China Morning Post
PUBLISHED : Saturday, 27 May, 2017, 11:02am
UPDATED : Sunday, 28 May, 2017, 12:03pm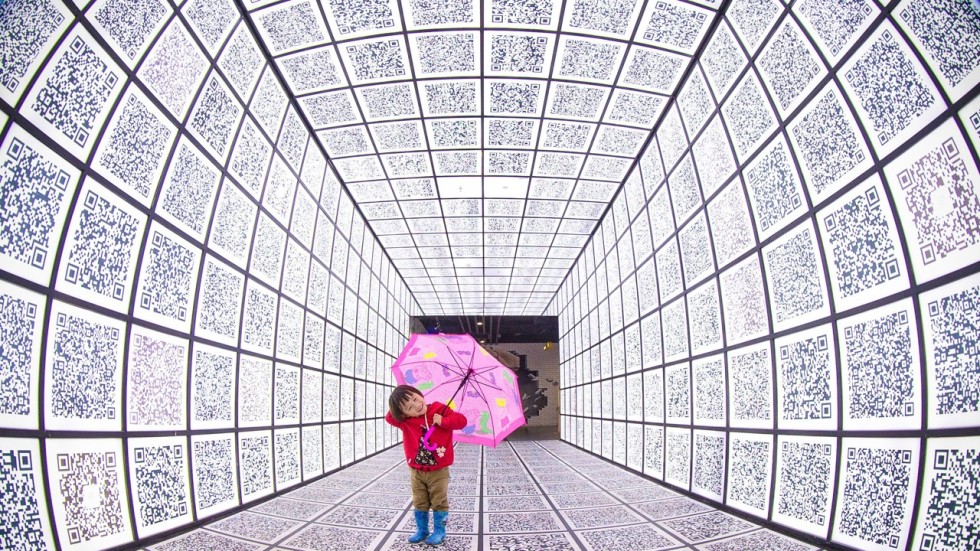 A little girl plays in a special QR code tunnel in a shopping mall in Nanjing. Consisting of 400 QR codes for brand products and creative games, the tunnel in this April file photo points to how the technology's acceptance has changed China. Photo: Xinhua
______________________________

On one of the hottest May days on record, Wang Jiarui walked out of school to see his grandfather, who had come to pick him up, standing in a sweat-soaked shirt.

The seven-year-old Beijing primary school pupil pointed at a nearby convenience store, proposing that his grandfather cool off with an ice-cold Coke. But the old man had forgotten his wallet.

No matter. Jiarui then took his grandfather's smartphone and summoned to the screen a payment app with a QR code.

"He told me those black and white dots were money," Jiarui's grandfather, Wang Meng, recalled later, after that revelatory day in the heat.

"So I tried it [myself] and bought a pack [of cigarettes]."

With his mother's permission, Jiarui helped his grandparents set up an account to let them buy things on the internet with a mobile phone using QR code scanning. He then showed them the technology could also work at a store counter just by presenting a QR code on the mobile phone to the cashier and letting them scan it to effect payment.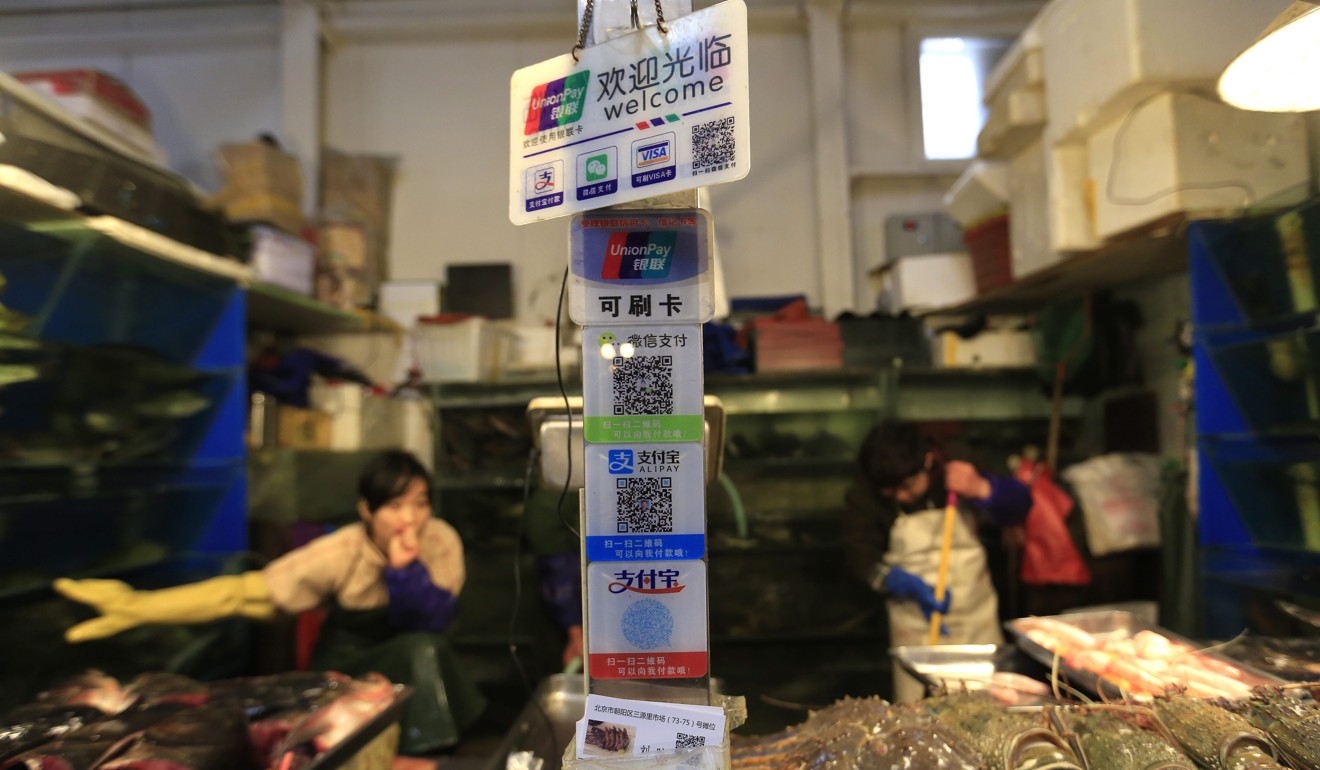 Placards on a seafood stall show various non-cash ways to pay, including QR codes of WeChat and AliPay, at a market in Beijing, in 2016. Photo: EPA
______________________

A QR code is a two-dimensional barcode with a random pattern of tiny black squares against a white background, capable of holding 300 times more data than a traditional one-dimensional code. According to internet consulting firm iResearch, payments made via mobile devices by Chinese consumers last year reached 38 trillion yuan (US$5.5 trillion, HK$43 trillion), more than half the nation's GDP.



QR code scams rise in China, putting e-payment security in spotlight



Thanks to QR code's rapidly increasing usage at off-line shops, the amount of mobile payments on the mainland is now 50 times greater than that of the US. Mobile payments in the US totalled US$112 billion in 2016, according to Forrester Research.

To consumer behaviour researcher Chen Yiwen, we are witnessing the dawn of "codeconomy".

"China has started the transition to a cash-free economy faster than anyone could have imagined, largely because of the viral spread of two-dimensional barcode," said Chen, a professor and researcher with the Institute of Psychology, Chinese Academy of Sciences in Beijing. "It creates a new economy based on scannable codes."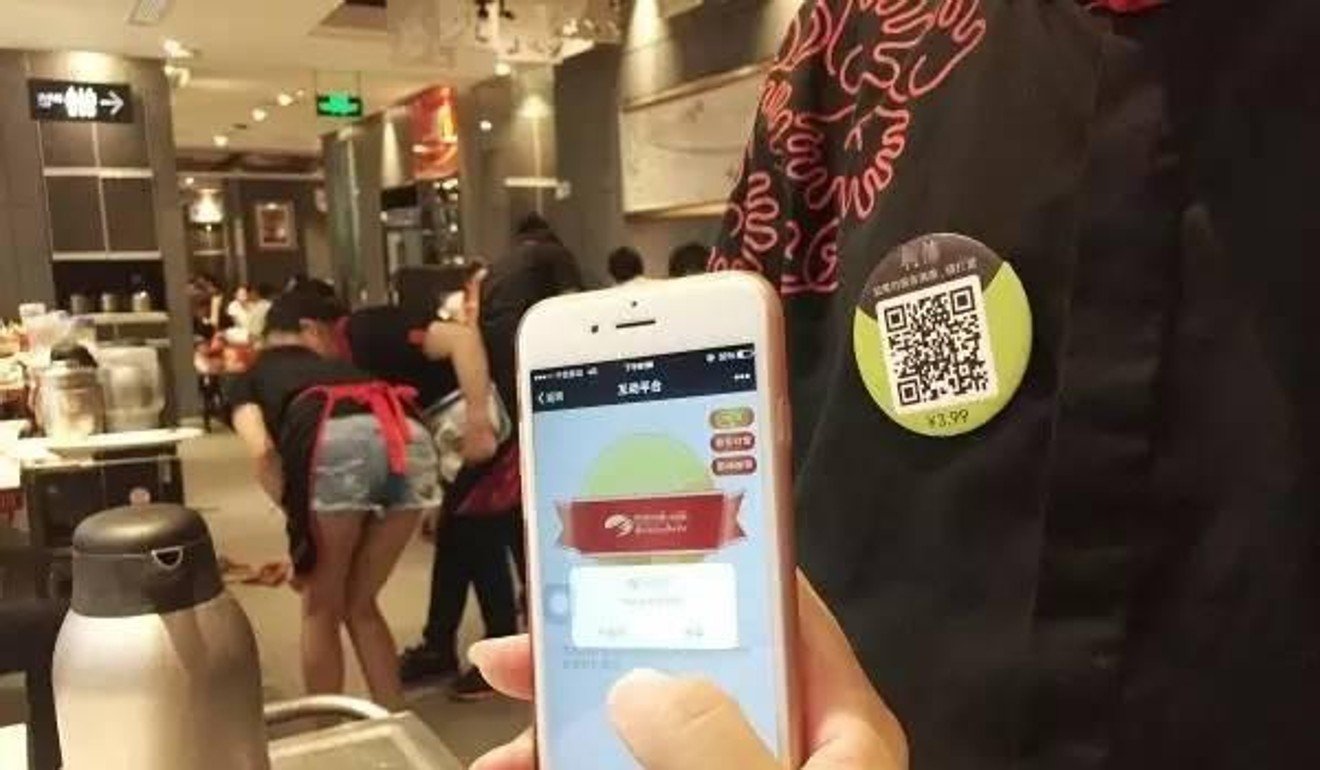 A restaurant in China has pinned barcode tags to the chests of its waiters and waitresses to encourage tipping. Photo: Handout
_______________________

From big cities to remote villages, the codeconomy is already changing Chinese social behaviour, according to Chen.

Some restaurants have pinned barcode tags to the chests of waiters, waitresses and even chefs. Customers can scan the code to leave a tip if they are satisfied with service.



Umbrellas the latest trend in China's sharing economy



Though the measure initially caused controversy after it was introduced last year as many people on the mainland tend not to be in the habit of tipping, customers are noticing a significant improvement in service and some servers are earning an extra 3,000 yuan in tips per month, thanks to the incentive the QR code seems to provide, the Beijing Morning Post reported this month.

Last month, a bridesmaid wore the code tag to collect gift money from guests at a wedding ceremony in Beijing, triggering a verbal fight between the bride and her red-faced, soon-to-be mother-in-law, China Youth Daily and other Chinese media outlets reported.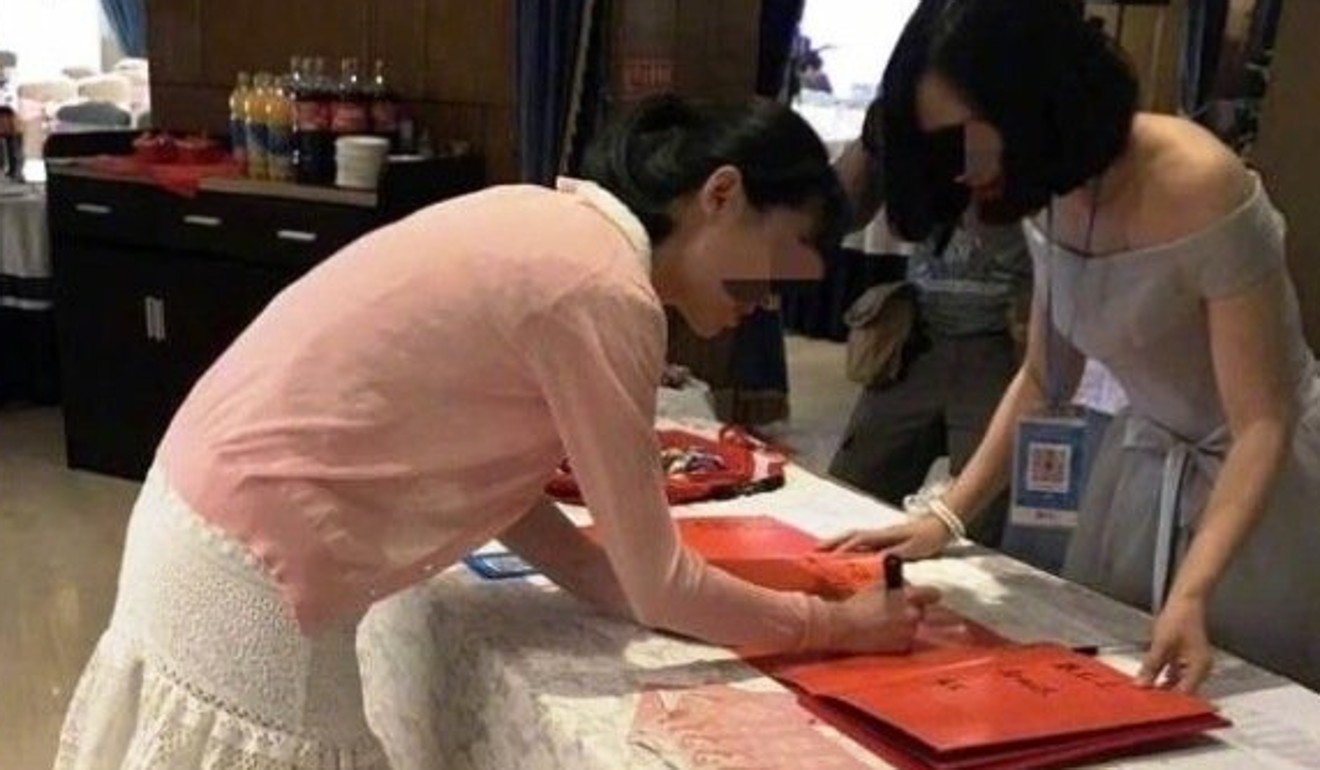 The bridesmaid with a QR code tag around her neck at a wedding ceremony in Beijing last month. Photo: Handout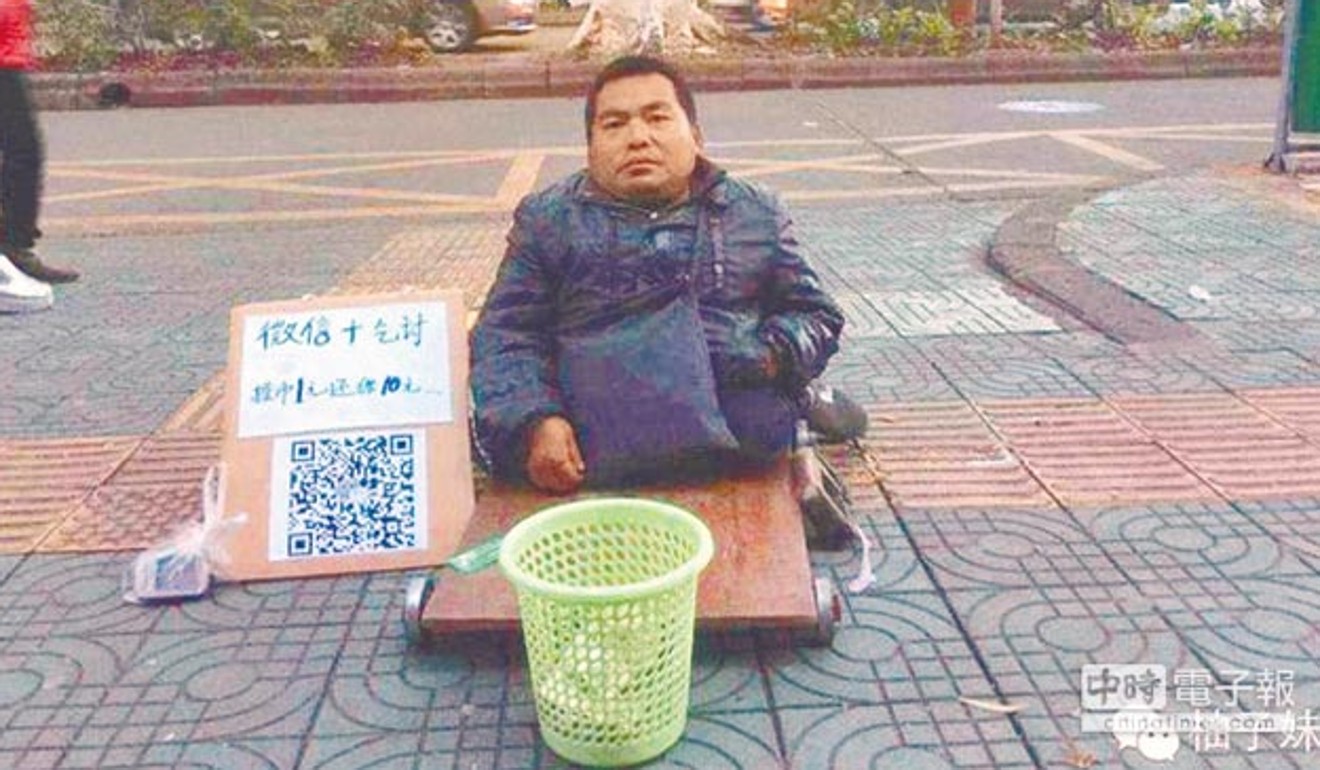 A beggar in China has come up with an innovative way to collect his handouts. Photo: Handout
_________________________________

A beggar in Jinan, Shandong province, last month wore a QR code tag around his neck. He was mentally ill, according to mainland media reports, but the code allowed passers-by to give him money through a quick scan. Many other beggars on the street followed suit, according to reports.

The QR code has also helped expand the emerging sharing economy. To rent a bike, for instance, a customer needs only to phone-scan a barcode on the item and the bicycle will unlock itself automatically. Umbrellas and battery packs can be rented similarly, among other items.



Cars to batteries: is China's sharing economy in bubble territory?



But the QR code stoked farmers' concern in remote villages when it was reported that county governments were exploring a plan to use the technology to tighten control and governance. By sticking QR codes on farmers' houses, government inspectors could use a code scanner to find out family names and other information and whether the building they occupied was violating any laws.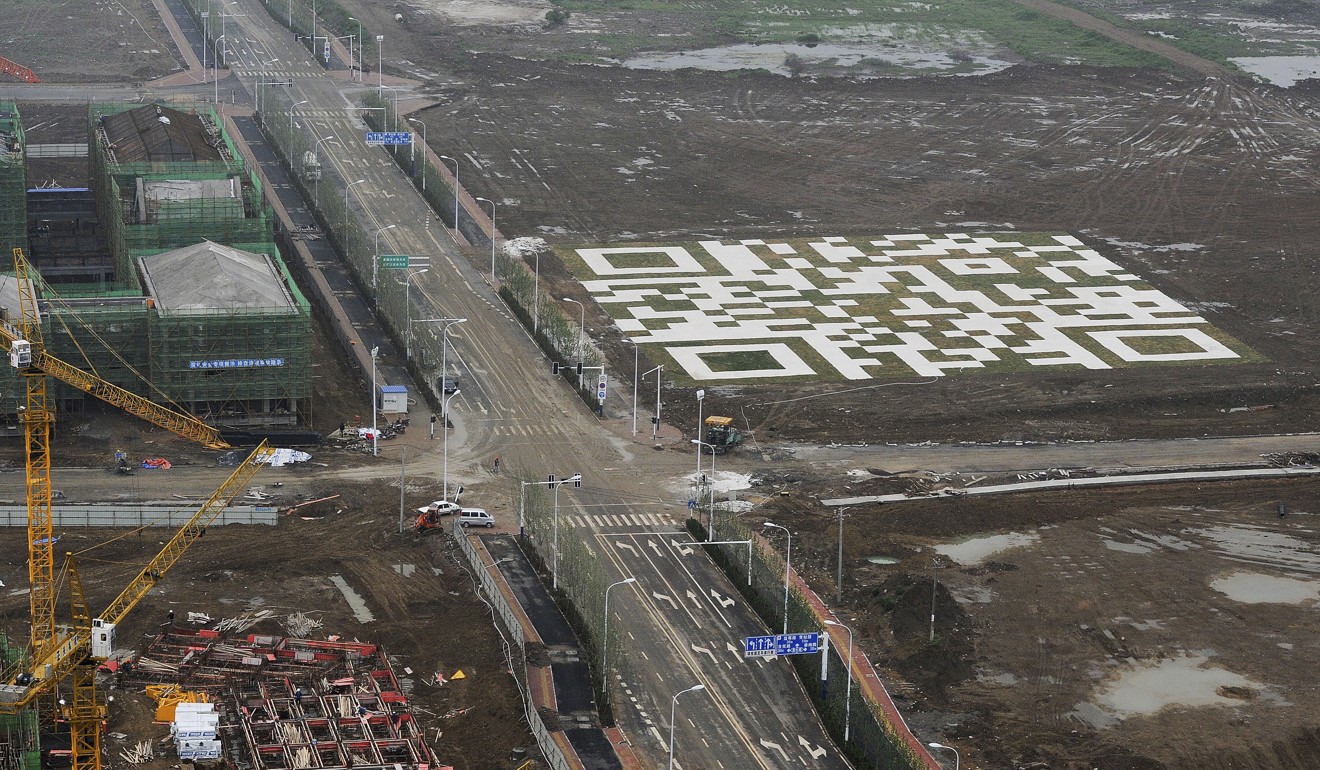 A giant QR code is seen near a housing construction site owned by Chinese developer Vanke in Hefei in Anhui province in this 2013 file photo. The 6,400-square-metre QR code, formed from marbles and lawn, can be scanned by mobile phone to enable the phone to play audio and video content of nature, attracting home buyers. Photo: AP
____________________________

Chen said what seems like disruptive technology today eventually will be diffused into society and become an element of normal life tomorrow.

"The younger generation in China will grow up in a world full of two-dimensional barcodes," he said. "They may develop a new understanding of money."

"Maybe, in their eyes, money [will be seen as] not just a means to purchase commodities and services, but also socialise."



China's internet giants throw weight behind sharing economy after endorsement by Beijing



Mobile payments began to grow in China as people increasingly used social media platforms such as WeChat to distribute the red money envelopes known as hongbao in Mandarin, or lai see in Cantonese, to friends and relatives in the traditional Spring Festival. Last year, the average WeChat user sent out 28 packets of hongbao every month, according to the platform. Much of the money was used to compliment a well-taken photo or well-written post.

Such behavioural changes are poised to profoundly affect the Chinese economy, according to Chen.

"When the credit card emerged, consumers were found to spend more than when they used cash. The QR code is even more convenient than the credit card, so we have good reason to expect it will increase consumption," he said.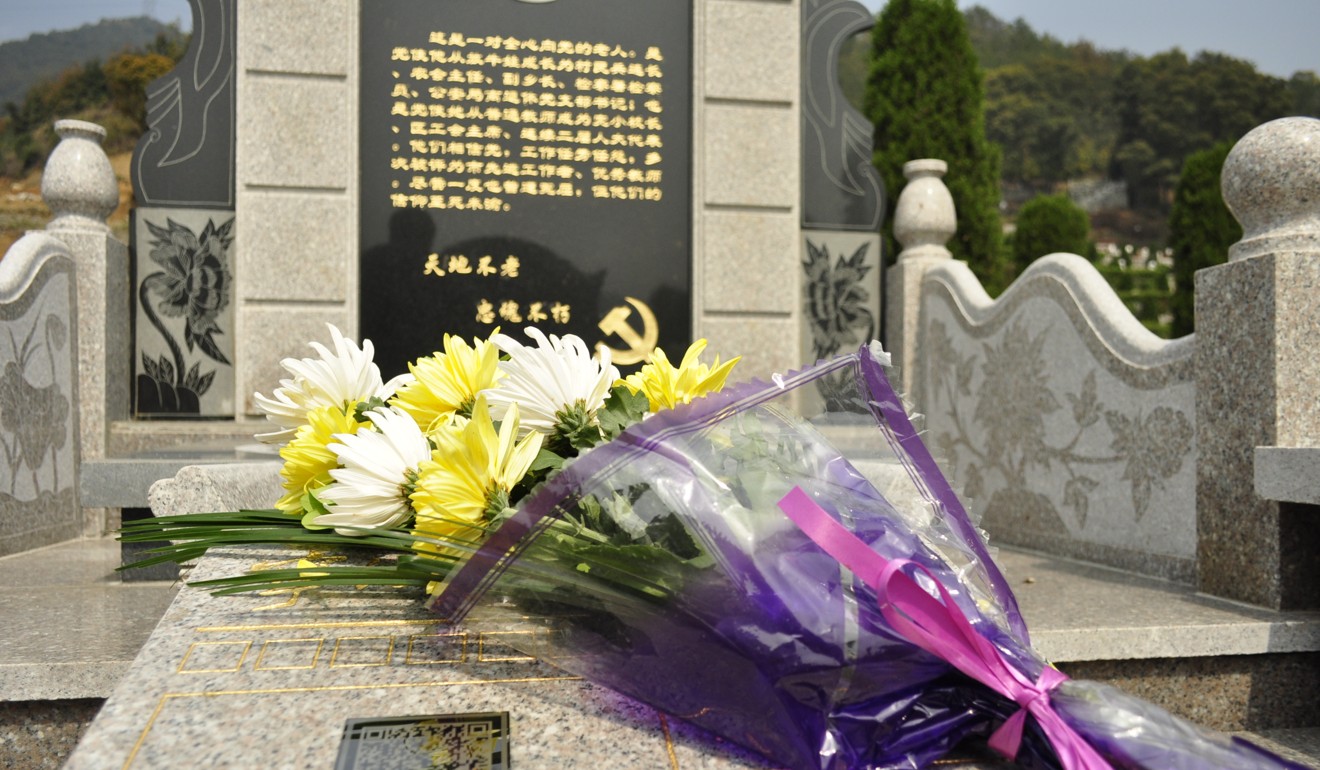 A two-dimensional quick response QR code is affixed to a tombstone in this 2013 file photo to offer smartphone users extended information about the person buried beneath in Ningbo, Zhejiang Province. Photo: ChinaFotoPress
___________________________

The QR code was invented in Japan in the 1990s, initially to track automotive industry-related goods. Efforts had been made in other countries, such as South Korea and Japan, to use it in consumer payment, but none has produced the level of success seen in mainland China.

In Western nations, as well, credit cards continue to be preferred over mobile payment, though people increasingly are using Apple Pay in the US.



How QR codes are adding a load more memory to loved ones' memorials



Xue Chengqi, a researcher specialising in human-computer interface at Southeast University in Nanjing, said the QR code's China success is partly due to efforts by large Chinese internet companies such as Tencent and Alibaba to bring mobile-payment capability to every vendor.

"From supermarkets to street pedlars, the QR code has been accepted and is used by every merchant," he said. "The technology is simple and easy to use. A transaction can be completed almost instantly in any place with mobile phone signal coverage.

"It is hard to resist. In other countries, there is no such user-friendly environment," he said.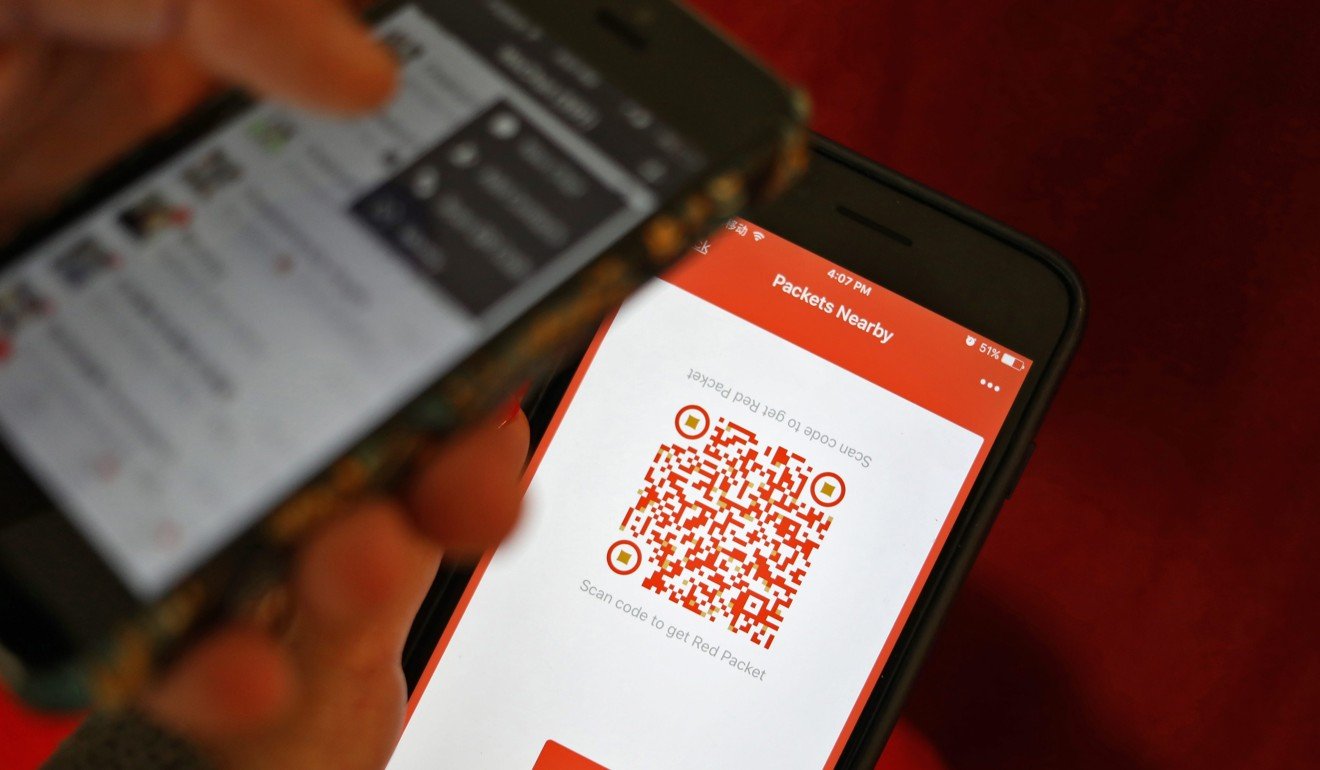 A photo illustration of a WeChat user scanning a QR code to retrieve a digital red envelope on the WeChat app on a mobile phone during the Chinese New Year period in Beijing. Photo: EPA
_____________________________

Compared to other cashless payment methods, such as the near field communication technology used by ApplePay, the QR code was not seen as safe. Scanning a malicious code could lead the user into a trap set by criminals. For instance, the code could take one to a website used for ill purposes such as stealing bank accounts or other sensitive information.

According to a March report in the Southern Metropolis Daily, about 90 million yuan had been stolen via QR code scams in Guangdong province alone. A suspect in the case replaced the legitimate codes of merchants with fake ones embedded with a virus programmed to steal consumers' personal information.



Two-thirds of smartphone users now paying by mobile



Speaking at the National People's Congress in Beijing earlier this year, Liu Qingfeng, deputy chairman of voice-recognition cloud-service provider iFlytek, told mainland media that "over 23 per cent of Trojans and viruses are transmitted via QR codes. The [difficulty] threshold to make QR codes is so low that fraudsters could implant Trojans and viruses into a QR code very easily."

Some cybersecurity experts have estimated that a quarter of malware found on smartphones is transmitted through QR codes. But Xue said China can no longer turn back.

"Consumers have already developed the habit, and can use (the QR code) almost anywhere. These are the biggest attractions," he said.

"The technology itself and security issue may be the last thing people considered."

This article appeared in the South China Morning Post print edition as:
scanning the horizon of the cashless society

scmp.com