Dropbox Secures $600 Million Credit Line Ahead of Expected IPO

The debt facility provides flexibility as the cloud-storage company explores a public offering as soon as this year.

by Dina Bass and Alex Barinkin
Bloomberg
March? 30,0 2017

Dropbox Inc. is opening a $600 million credit facility from six banks led by JPMorgan Chase & Co., said people familiar with the plans, as the cloud file-sharing startup pushes toward an initial public offering as soon as this year.

The line of debt has commitments from the banks and is expected to close on Monday, said the people, who asked not to be identified because the deal isn't finalized. The financial security provides Dropbox with flexibility as it deliberates an IPO.

The San Francisco-based startup has been

meeting with bankers

to discuss plans to list, people familiar with the talks said. While the company hasn't set specific timing, potential advisers believe it will be ready to go public by the end of this year. Dropbox and its lenders declined to comment.

Dropbox has said it's not in a hurry to go public and that the business is

nearing profitability

. The company is

cash-flow positive

, with annualized revenue of more than $1 billion, Chief Executive Officer Drew Houston said last summer. Dropbox could tap debt if it wants to expand more aggressively or make acquisitions, said one of the people. It never touched a smaller credit facility, which was expiring, the person said.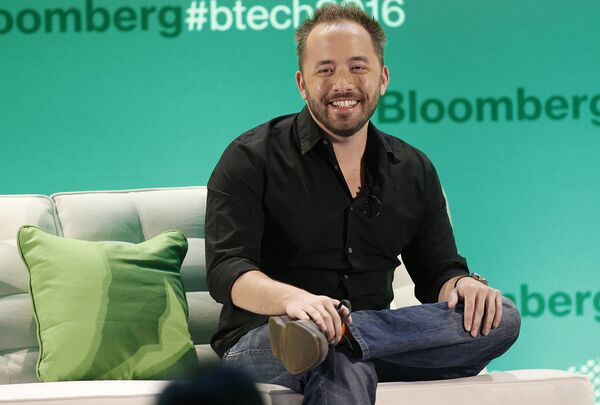 Dropbox CEO Drew Houston.
Photographer: Tony Avelar/Bloomberg
______________________

After opening up in 2007, Dropbox gained a loyal following from people looking to store photos and other files in the cloud, making them available from any computer or mobile device. It rode this wave to a $10 billion valuation in early 2014, vaulting it to become one of Silicon Valley's most valuable unicorn startups. A few months later, it secured a $500 million credit facility led by JPMorgan.

Box Inc., a rival file-storage company, went public in 2015. After popping on the first day of trading, Box lost 40 percent of its market value over the course of that year. Dropbox's private investors soon began

scrutinizing the startup

more closely, and mutual fund backers

wrote down the values

of their stakes.

Dropbox has

shifted to focus

on selling its cloud service to larger businesses, which has helped boost revenue. It has also cut costs, partly by building data centers instead of relying on Amazon.com Inc.'s cloud storage. Dropbox's growth is encouraging, and its cash generation is impressive compared with most other unicorn businesses, said a banker close to the deal.

In addition to JPMorgan, participants in the new debt facility include Bank of America Corp., Deutsche Bank AG, Goldman Sachs Group Inc., Macquarie Group Ltd. and Royal Bank of Canada, said the people. For the banks involved, taking on the risk of lending to an unprofitable private company can help them win a role underwriting an eventual IPO.

When Snap Inc. sought advisers to go public, the company placed a big consideration on which banks had been willing to extend credit in the past, according to people familiar with the matter. Aside from boutique advisory firm Allen & Co., Snap's roster of lenders claimed the main IPO underwriter spots, gaining the biggest fees and most prominent roles. Meanwhile, Bank of America declined to lend to the money-losing company and didn't have a role in Snap's listing, the people said.

Dropbox's cash flow and more predictable subscription revenue make it a less risky borrower than Snap. Dropbox's incentive for raising the new credit facility was to replace the one that's expiring and wasn't determined by IPO timing, said one person familiar with the plans. The company got better terms by setting up a new line of credit from these banks, rather than renewing the previous one, the person said.



bloomberg.com