Memristor Computer Emulates Brain Functions

Knowm offer three types to prototypers

LAKE WALES, Fla.--IBM, Intel, HP, Samsung and every big forward-looking semiconductor design organization knows that emulating the functions of the brain may be the only way forward when we finally get to atomic-level chip designs, sparking an exponential growth in the study of memristors.

Memristors are the only known component today that can emulate the brain--which performs better than the fastest supercomputer while consuming only 20 watts. Today's supercomputers can simulate--as opposed to emulate--the brain, but consume thousands of watts and cost millions of dollars. To satisfy the appetite for doing real brain emulations, Knowm Inc. (Santa Fe, N.M.) today announced its portfolio has expanded to three different types of memristors, along a new high-density die-only option and all the raw data you need to perform your characterizations.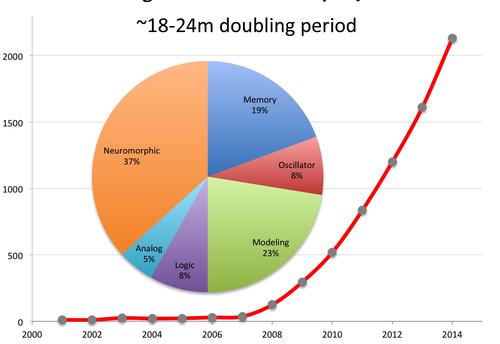 Memristor research is growing at an exponential rate, as computer makers realize they need a component that can emulate the brain's functions to continue Moore's Law.
(Source: Knowm, used by permission)

Earlier this year Knowm beat to market the only other organization trying to build commercial memristors-- HP/Hynix. Today it diversified its memristor offering into three models with fast, medium or slow hysteresis (see figure 2) based on chromium, tin or tungsten.

The basic memristor works the same regardless of which metal-ions are chosen. A layer of metal is located near one electrode of the two-electrode device. When a voltage is applied across the device metal ions move through the device towards the lower potential, electrode. When the metal ions move through a layer of amorphous chalcogenide material (the active layer) they form a conductive pathway between both electrodes that spans through the active material layer, lowering the device resistance. Reversing the direction of the applied potential causes the conductive channel to dissolve and the device resistance to increase. The memristor is thus a bipolar device that emulates the way neurons learn by sending pulses through their synapses, thus strengthening them (lowering their resistance), or not sending pulses through them, thus causing the synapses to atrophy (thus increasing their resistance).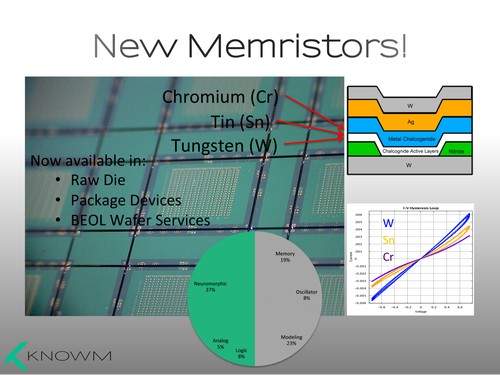 Two new memristor types, in addition to the one already introduced by Knowm, diversify the number of brain functions that researchers can now emulate.
(Source: Knowm)

Programs from IBM to the Defense Advance Research Agency (DARPA) are simulating this process with digital computers and software that spans the spectrum of accuracy in modeling how synapses work, but memristors are the only true emulators--so far. Some researchers are building scaffolding to connect memristor-based emulators for large scale models, prompting the need for components like those being offered by Knowm.

Since there are no well-defined properties to properly characterize memristors, Knowm is offering a treasure-trove of raw data from over 1000 experiments, from which researchers can concoct their own characterization data based on the properties of their choice.





Knowm still offers 16 memristors in a single dual in-line ceramic package--of all three varieties--plus now offer a "die only" option that holds 180 memristors (not shown). (Source: Knowm)

"Researchers can now create their own models from our massive raw database," CEO and founder Alex Nugent told EE Times. "Each metal works better in different applications of the memristor, so researchers now have a choice."

Knowm is currently fabricating its devices at the Idaho Microfabrication Lab (Boise) but has several CMOS fabs lined up to take on the task of mass production, once researchers has finalized their architectures, using widely available back-end-of-line tools.

Related articles:
EE Times