Pandora Should Be At $4

by: Kraken
Seeking Alpha
September 2, 2011

Pandora Media, Inc. (

P

) operates as an Internet radio company in the United States. It provides its radio service to traditional computers, Android phones, Blackberry phones, and the iPhone. The company allows listeners to seed personalized stations with artists, composers, songs, and genres or choose stations organized by genre, as well as enables listeners to create up to 100 personalized stations and use combination feature to listen to two or more of their stations at one time.

Pandora has a very simple business model. It allows people to listen to music for free. The company generates revenue from ads on the stations and uses the proceeds to pay royalties and help keep their radio stations up. Sounds like a great business model except for the fact that the company has had a daunting task of turning a profit.

Currently the stock trades around $12 per share. This is a very high valuation for a company that can't hold a profit. So why such a high valuation? Well the market believes that there is significant growth opportunity ahead and a consensus of analysts are expecting 45% growth.

Simply put even if Pandora's consumers grow 45% annually, the company will still lose money. This is because the way the company is set up. Expenses are always higher than revenue.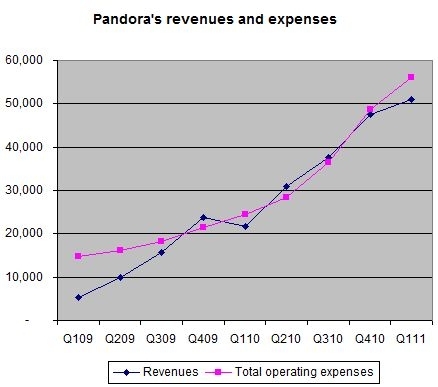 Source:

radioink.com



Pandora reported earnings last week. The company reported a 117% increase in revenue growth. Sounds like the company is doing solid except for the part where its cost rose 130%. The content acquisition costs rose the most as the company is trying to stay competitive against companies such as Sirius XM (

SIRI

) and Spotify.

The other concern that I have is the employee stock option plan. The plan is extremely dilutive and considering this company basically has no net income, the company is hurting itself.

My $4 price target is actually still a bullish prediction and let me explain why. Let's say that the company starts generating positive net income around 15 cents a share annually, which would be a significant improvement and a difficult task to achieve to achieve for them. Even at $4 a share and with an annual net of $24.15 million(15 cents per share). The P/E ratio would be around 26.6. Keep in mind the company lost $1.8 million just in the last quarter alone.

At the current valuation of $2 billion with a P/E ratio of 25(higher than the average S&P 500 average) the company would need to make $80 million a year. The fact that the market keeps giving it such a valuation is such a surprise. A large amount of speculation and a lack of knowledge has caused the stock price to maintain this valuation. Long-term this stock has nowhere to go, but down.

If you want exposure to the music industry there are much better companies out there that are turning a profit. Here is a few:

Sirius XM is on the verge of a turnaround and is already generating nice profit. The company has strategic partnerships with auto manufacturers such as Ford (

F

). Ford has been offering several Sirius promotions and has included the radio system in most of their lines. While Ford is also enjoying strong sales, Sirius will gain from that as well. Sirius trades at a forward P/E of 22.

Cumulus Media (

CMLS

) is another stock in the radio space. The company operates almost 350 radio stations in mid to large size markets. The company has been generating millions in free cash flow.

Of course if you are really willing to take some risk, then you could go short Pandora. I am very confident long-term the stock price will have to fall to match the fundamentals. If you are going short, just be careful as the sheer amount of speculation can still drive this up. The market can remain irrational for a very long time.

The sad thing is that CEO even knows the company will probably not be profitable. I encourage you to watch his interview

here

.

Disclosure: I have no positions in any stocks mentioned, and no plans to initiate any positions within the next 72 hours.

seekingalpha.com