China Telecom: A New 3G Mobile Wireless Player

>> China Telecom Selects 27 CDMA Handset Manufacturers

Marbridge Consulting
Marbridge Daily
New Express
8/21/08

tinyurl.com

Since it launched its first round of CDMA handset bidding last month, China Telecom (NYSE: CHA; 0728.HK) has quietly cooperated with 27 handset manufacturers over handset customizations.

The cooperations cover 70 CDMA handset models, including: 8 from ZTE, 6 from Samsung, 6 from Huawei, 5 from Hisense, 5 from Yulong, 4 from LG, 2 from Nokia, 5 from Tianyu (K-touch), 3 from Gionee, 3 from Huaqi Information Digital Technology (Aigo), and a total of 4 other models between the 3 manufacturers OKwap, KingSun Technology, and Jepson Digital Technology.

Of the more than 20 handset manufacturers that produced CDMA handsets for China Unicom's (NYSE: CHU; 0762.HK) handset procurement subsidiary, Unicom Huasheng, only CECT, HTW, and SK, were not included in China Telecom's procurement list.

Several models from OKwap, Bird, Huaqi have WiFi functionality and 1 model from Jepson is a CMMB handset.

Previously, Tianyu, Gionee, OKwap, KingSun, and Jepson had backgrounds in the production of counterfeit handsets.

A China Telecom insider also revealed that China Telecom does not approve of previous CDMA promotional measures used by Unicom, such as subsiding calling fees and giving away free handsets, as such tactics are disliked by enterprise clients. In the future, China Telecom will likely customize some models to suit different market segments, however such models would compete on the market on their merits, rather than being given away for free. ###

>> ZTE Reportedly Picks Up Half China Telecom CDMA Contract

Cellular News
21st August 2008

cellular-news.com

China Telecommunications Corp., the parent company of Hong Kong listed fixed line operator China Telecom Corp. says that it has formally awarded a CDMA tender, estimated to be worth as much as US$1.5 billion. This initial contract is a prelude to a predicted much larger network infrastructure tender, thought to be worth upwards of US$10 billion.

The company hasn't given a break down of the tender, but said that the winners are China's ZTE Corp. and Huawei - along with Alcatel-Lucent's local subsidiary, Alcatel Shanghai Bell and Fujian Fujitsu. Local media reports have however suggested that ZTE has picked up half the contract.

ZTE won the entire contract for building the mobile positioning system service and part of the contracts for the gateway of multimedia message service, mobile internet gateway and other supporting infrastructure.

It had been suggested that Huawei is tendering a surprisingly low bid for the core network in order to earn money from subsequent base station sales.

China Telecommunications Corp. plans to invest CNY80 billion (US$11.7 billion) over the next three years in the CDMA network it is acquiring from China Unicom's parent, the company's listed unit, China Telecom Corp., said in a statement last month. ###

>> Qualcomm Wins at China Telecom

Bob Faulkner
Unstrung
August 25, 2008

tinyurl.com

While I'm a true capitalist pig through to the bone, it is interesting to see the Chinese bureaucrats move the players on the chess board around to suit their view of what will be best for their economy.

After years of anticipation, a couple of months ago we got the long awaited "restructuring" of the telecommunications industry (again) with the intent of creating three well defined wireless carriers from today's two. While there are dozens of opinions on who wins and who loses in this upheaval, I think one of the winners winds up being Qualcomm Inc. (Nasdaq: QCOM).

When you look at the Chinese wireless market of the recent past, growth has been fast and furious. Unfortunately, that growth really hasn't extended to systems supporting Qualcomm's code division multiple access (CDMA) technology. A quick look at the graph below shows you what I mean.

The data available from China Mobile Ltd. (NYSE: CHL) (100% GSM) and China Unicom Ltd. (NYSE: CHU) (GSM & CDMA) show distinctly different growth patterns for the last three-plus years. Following the typically high-growth-off-low-base period, the GSM base settled into a 20 percent annual growth rate. Whereas the growth from CDMA declined longer, settled into a growth rate half that of GSM (i.e., losing market share), and is in another period of decline ...



What becomes painfully obvious when you look at the details of the China Unicom numbers in the next graph is that from the spring of 2007 onward, net new CDMA subscribers were in a tail spin. China Unicom appears to have ignored this segment of its operations. Maybe that had something to do with anticipating the subsequent "restructuring," or given Qualcomm's hard-line stance on licensing of intellectual property relative to China home-grown 3G standard (TD-SCDMA), Unicom was being encouraged from above, so to speak. We don't know for certain, and that's the bottom line. What we do know is that the current CDMA networks have not been a priority for their current owner and that the customer base and the assets are being sold to China Telecom as part of the restructuring ...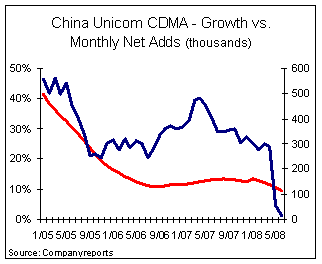 The conventional wisdom holds that, given the current dynamics in the wireless world of China, the dominance of China Mobile (more than 70 percent market share), it will be nearly impossible for a new competitor to gain much traction. That hurdle becomes even higher when the new competitor has limited experience and has to refurbish a neglected network. And that's where China Telecom's CEO Mr. Wang Xiaochu comes in.

While it's true that China Mobile has executed tremendously in its dominance of the wireless industry, many seem to forget that Mr. Wang was at the helm of China Mobile for much of that run. If you take a look in the graph below at China Mobile's subscriber growth from late 1997 to the present, you can see that during Mr. Wang's tenure as CEO he presided over a period of extraordinary subscriber growth. As something of a "reward" for the success at China Mobile, he was moved by the powers that be to head up China Telecommunications Corp. (NYSE: CHA) in late 2004 ...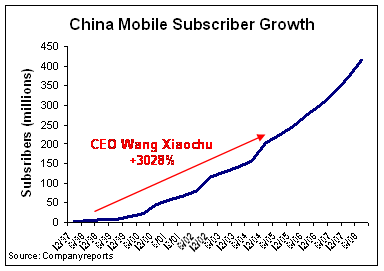 Lacking a wireless operation, China Telecom suffers from the same maladies as virtually any other wire-line carrier -- declining subscribers and revenue. Let's face it, wireless is where the Renminbi are! With Mr. Wang at the helm, China Telecom has embarked on an aggressive diversification program pushing the company quickly into high-growth, non-voice related services such as broadband access, valued-added services, and managed data services. These revenue streams now represent (as of 2007) more than one third of the company's revenue and are increasing at more than 25 percent annually. Maybe more importantly, these services have enabled China Telecom to become much more closely aligned with corporate and government customers as well as mid-to-high-end consumers. And that's where Qualcomm will benefit.

Don't expect China Telecom to go head-to-head with China Mobile for the mass market. They're simply too far behind from a network footprint perspective to make up the gap in any reasonable amount of time. However, what China Telecom will do is exploit their current strength, their own up-market customer base.

The wireless market in China today is largely driven by personal communications and has generally not been integrated into the enterprise (including government) space on any large scale. Expect China Telecom with Qualcomm's CDMA-based technology to go after this market very heavily and very successfully because it is largely virgin territory, and they have the added advantage of having the inside track. So too will be the case with the company's mid-to-high-end consumers who are now buying broadband Internet access from China Telecom. Look for the company to focus on "mobile broadband" and the wireless data services to this group. Here again, China Telecom already has the relationship with this high-end group courtesy of the their broadband and Internet services.

China Telecom has already indicated that it plans to spend RMB 80 billion (about $10 billion – $12 billion) over the next three years to build out the existing network infrastructure to a point capable of supporting 200 million subscribers (about 5 times the current level). While the natural reaction is to assume that the "typical" wireless infrastructure players divvy this up, I have thought for sometime that you'll see the bulk of the money directed to Huawei and ZTE. A recent comment in The South China Post seems to support that conclusion. However, the one common thread among all the players and prime beneficiary remains Qualcomm. At the end of the day, it is their proprietary technology being put in place.

Given an aggressive rollout by China Telecom and focus on "upscale" subscribers, this will generate a nice pocket of change for Qualcomm to offset any set-back from Nokia Corp. (NYSE: NOK). ###

Position: The Telecom Connection model portfolio is long QCOM. ###

- Eric -