ZACKS RESEARCH

GLAXO TIME

CEO
Irach Taraporewala



WORLD RENOWNED R&D ASSOCIATES
Milton Boniuk
Vivien Boniuk
Curtis Brandt
Eva Harris
Jennifer Moffat
Robert Webster
Elena Govorkova

Headquarters: Shelton, Connecticut, United States

Founded: 2000

Stock Price Today

Novel Nanoviricides® Highly Effective Against Varicella Zoster Virus in Cell Culture
Brian M. Friedrich1, V Arora1, V Bulbule2, V Chiniga2, A Datar2, R Giri2, N Holkar2, P Holkar2, P Koranne2, K Medovich2, A Onton2 , R Pandey2, M Rawal2, A Singh2, J Tatake1,2, RW Barton1, and AR Diwan1,2
1NanoViricides, Inc. 1 Controls Dr., Shelton, CT (bfriedrich@nanoviricides.com);
2AllExcel, Inc. 135 Wood St., West Haven, CT
WEBSITE

Virus trapping tech R&D
Glaxo-NanoBio-Blue Willow

Nanoemulsions are superfine mixtures of soybean oil and water, stabilized by surfactants and blended at very high speeds so that the resulting droplets are less than 400 nanometers in diameter. Nanoemulsion droplets fuse with a microbe's outer membrane, disrupt the membrane and kill the organism.


Read more at: phys.org

Disrupt the membrane and kill the organism!

Cold sores, caused by the virus herpes labialis, affect about one-fifth of adults in the United States. NB001 will add to GSK's Abreva line of over-the-counter medications for cold sores.

Read more at: phys.org

No wonder Glaxo loves our cides.


BTW, phase 3 trials of NB001 were unsuccessful!

link.springer.com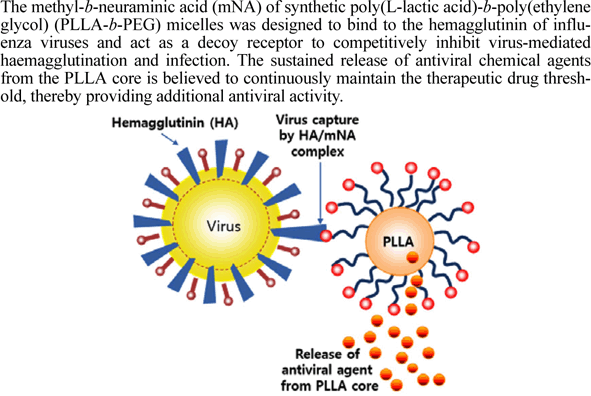 media.springernature.com
Preparation of multifunctional polymeric micelles for antiviral treatment
https://goo.gl/4aFNsr
2)
U.S. Department of Energy's Lawrence Berkeley National Laboratory (Berkeley Lab)
Sugar-coated nanosheets selectively target pathogens


A molecular model of a peptoid nanosheet shows loop structures in sugars (orange) that bind to the Shiga toxin (shown as a five-color bound structure at upper right). (Credit: Berkeley Lab)

Researchers have developed a process for creating ultrathin, self-assembling sheets of synthetic materials that can function like designer flypaper in selectively binding with viruses, bacteria, and other pathogens.

newscenter.lbl.gov

pubs.acs.org


Posted: Mar 29, 2018





(Nanowerk News)




Researchers have developed a process for creating ultrathin, self-assembling sheets of synthetic materials that can function like designer flypaper in selectively

binding with viruses, bacteria, and other pathogens

.In this way the new platform, developed by a

team led by scientists at the U.S. Department of Energy's Lawrence Berkeley National Laboratory (Berkeley Lab)

, could potentially be used to inactivate or detect pathogens.



https://www.siliconinvestor.com/readmsg.aspx?msgid=31721828

GL Hendricks
Modulating Influenza and Heparin Binding Viruses' Pathogenesis with Extrinsic Receptor Decoy Liposomes - eScholarship@UMMS
PDFescholarship.umassmed.edu › viewcontent
by GL Hendricks · 2013 · Related articles

Jun. 28, 2013 · Heparin sulfate decoy liposomes inhibit respiratory syncytial virus and herpes simplex virus. Preface . ...... infectious titer by trapping budding virus onto infected cell surfaces. Non-neutralizing anti-NP.

Liposomal Decoys Capture Influenza A Virus

Background: Better treatments are needed for combating influenza.

Results: LSTc-sialoside-bearing decoy liposomes competitively bind to influenza A virus, as assessed by hemagglutination inhibition, flow cytometry, and growth inhibition studies. Decoy liposomes co-localize with influenza virus, as assessed by confocal imaging.

Conclusion: LSTc-sialoside-bearing decoy liposomes are highly effective in capturing influenza virus.

Significance: Decoy liposomes may serve as an effective platform for presenting anti-pathogen receptors.

Abstract
Influenza is a severe disease in humans and animals with few effective therapies available. All strains of influenza virus are prone to developing drug resistance due to the high mutation rate in the viral genome. A therapeutic agent that targets a highly conserved region of the virus could bypass resistance and also be effective against multiple strains of influenza. Influenza uses many individually weak ligand binding interactions for a high avidity multivalent attachment to sialic acid-bearing cells. Polymerized sialic acid analogs can form multivalent interactions with influenza but are not ideal therapeutics due to solubility and toxicity issues. We used liposomes as a novel means for delivery of the glycan sialylneolacto-N-tetraose c (LSTc). LSTc-bearing decoy liposomes form multivalent, polymer-like interactions with influenza virus. Decoy liposomes competitively bind influenza virus in hemagglutination inhibition assays and inhibit infection of target cells in a dose-dependent manner. Inhibition is specific for influenza virus, as inhibition of Sendai virus and respiratory syncytial virus is not observed. In contrast, monovalent LSTc does not bind influenza virus or inhibit infectivity. LSTc decoy liposomes prevent the spread of influenza virus during multiple rounds of replication in vitro and extend survival of mice challenged with a lethal dose of virus. LSTc decoy liposomes co-localize with fluorescently tagged influenza virus, whereas control liposomes do not. Considering the conservation of the hemagglutinin binding pocket and the ability of decoy liposomes to form high avidity interactions with influenza hemagglutinin, our decoy liposomes have potential as a new therapeutic agent against emerging influenza strains.


Authors
Gabriel L. Hendricks‡, Kim L. Weirich§, Karthik Viswanathan¶, Jing Li¶, Zachary H. Shriver¶, Joseph Ashour?, Hidde L. Ploegh?, Evelyn A. Kurt-Jones‡, Deborah K. Fygenson§, **, Robert W. Finberg‡, James C. Comolli‡‡,1 and Jennifer P. Wang‡,2From the ‡Department of Medicine, University of Massachusetts Medical School, Worcester, Massachusetts 01605,§Biomolecular Science and Engineering Program,**Department of Physics, University of California, Santa Barbara, California 93106,the ¶Department of Biological Engineering, Koch Institute for Integrative Cancer Research, Massachusetts Institute of Technology, Cambridge, Massachusetts 02139,?Whitehead Institute for Biomedical Research, Cambridge, Massachusetts 02142, and‡‡Charles Stark Draper Laboratory, Department of Bioengineering, Cambridge, Massachusetts 02139 ?2 To whom correspondence should be addressed: Dept. Medicine, University of Massachusetts Medical School, 364 Plantation St., Worcester, MA 01605. Tel.: 508-856-8414; Fax: 508-856-6176;
E-mail: Jennifer.Wang@umassmed.edu.

m.jbc.org


4)
Broad-spectrum non-toxic antiviral nanoparticles with a virucidal inhibition mechanism

Valeria Cagno, Patrizia Andreozzi, Marco D'Alicarnasso, Paulo Jacob Silva, Marie Mueller, Marie Galloux, Ronan Le Goffic, Samuel T. Jones, Marta Vallino, Jan Hodek, Jan Weber, Soumyo Sen, Emma-Rose Janecek, Ahmet Bekdemir, Barbara Sanavio, Chiara Martinelli, Manuela Donalisio, Marie-Anne Rameix Welti, Jean-Francois Eleouet, Yanxiao Han, Laurent Kaiser, Lela Vukovic, Caroline Tapparel, Petr Král, Silke Krol, David Lembo & Francesco Stellacci

An international research team including Petr Kral, a UIC professor of chemistry, has developed innovative anti-viral nanoparticles with the ability to bind to a range of viruses such as respiratory syncytial virus, herpes simplex virus, Dengue and Lentiviruses, and human papillomavirus. In contrast to other broad-spectrum antivirals, which just restrict viruses from infecting cells, the nanoparticles developed by the team have the ability to destroy viruses.

Kral and his team, which comprised assistant professor of chemistry Lela Vukovic from the University of Texas at El Paso who was an author on the paper, endeavored to develop an innovative anti-viral nanoparticle based on HSPG, yet one that will get attached more tightly to viral particles and kill them simultaneously.

A Swiss National Science Foundation NRP 64 grant, the National Centers of Competence in Research on Bio-Inspired Materials, the University of Turin, the Ministry of Education, Youth and Sports of the Czech Republic, the Leenards Foundation, National Science Foundation award DMR-1506886, and funding from the University of Texas at El Paso supported the study.


5)
Multivalent Flexible Nanogels Exhibit Broad-Spectrum Antiviral Activity by Blocking Virus Entry

Pradip Dey†§ ?
, Tobias Bergmann‡ ?, Jose Luis Cuellar-Camacho†, Svenja Ehrmann†, Mohammad Suman Chowdhury†, Minze Zhang‡, Ismail Dahmani?, Rainer Haag *†, and Walid Azab *‡


† Institut für Chemie und Biochemie, Freie Universität Berlin, Takustrasse 3, 14195 Berlin, Germany
‡ Institut für Virologie, Robert von Ostertag-Haus, Zentrum für Infektionsmedizin, Freie Universität Berlin, Robert-von-Ostertag-Str. 7-13, 14163 Berlin, Germany
§ Polymer Science Unit, Indian Association for the Cultivation of Science, 2A and 2B Raja S.C. Mullick Road, Kolkata700032, India
? Institute of Biochemistry and Biology, University of Potsdam, Karl-Liebknecht-Str. 24-25, 14476 Potsdam, Germany

ACS Nano, 2018, 12 (7), pp 6429–6442
DOI: 10.1021/acsnano.8b01616
Publication Date (Web): June 12, 2018
Copyright © 2018 American Chemical Society
*E-mail: haag@zedat.fu-berlin.de., *E-mail: walid.azab@fu-berlin.de.


Cite this: ACS Nano 12, 7, 6429-6442

Abstract



The entry process of viruses into host cells is complex and involves stable but transient multivalent interactions with different cell surface receptors. The initial contact of several viruses begins with attachment to heparan sulfate (HS) proteoglycans on the cell surface, which results in a cascade of events that end up with virus entry. The development of antiviral agents based on multivalent interactions to shield virus particles and block initial interactions with cellular receptors has attracted attention in antiviral research. Here, we designed nanogels with different degrees of flexibility based on dendritic polyglycerol sulfate to mimic cellular HS. The designed nanogels are nontoxic and broad-spectrum, can multivalently interact with viral glycoproteins, shield virus surfaces, and efficiently block infection. We also visualized virus–nanogel interactions as well as the uptake of nanogels by the cells through clathrin-mediated endocytosis using confocal microscopy. As many human viruses attach to the cells through HS moieties, we introduce our flexible nanogels as robust inhibitors for these viruses.

Keywords: click chemistry; heparan sulfate; herpes simplex virus; multivalent; nanoparticles; polyglycerol
.
CONCLUSION
There are only two companies bringing this ligand virus binding technology to market; ExThera in a blood filtering system; NanoViricides in a drug, be it by mouth, injection or topical application. Both are following the FDA path to approval.
U.S. Food and Drug Administration (FDA) has granted ExThera's Seraph® 100 Blood Filter (Seraph) the agency's Expedited Access Pathway (EAP)