I see many people dance around the issue of Islam and religion, not wanting to offend anyone, even though the headlines constantly have atrocities committed by Islam. When a plot was uncovered to blow up 10 airliners over the Atlantic in Britain in 2006, nary a word from the muslim community, but draw some cartoons of mohammed, and riots with many deaths are the result! Radical fundamental islam is a death cult; moderate islam is the trojan horse into the west.

Islam in its current form is a cult devoid of any serious discourse and intolerant of any other viewpoints. And most of the time, Jews are the direct target of them, though the "Great Satan" (USA) is not far behind. But they are not subtle with their vitriol.






Nazi Antisemitic Cartoon - 1938










Muslim Antisemitic Cartoon - 2005


**************************************
See the daily list of attacks by the so-called religion of peace here:

thereligionofpeace.com



See how islam treats its women here:

gendercide.org



And hear what the stated goal of islam in the USA is, by Ibrahim Hooper, a CAIR spokesperson: "I wouldn't want to create the impression that I wouldn't like the government of the United States to be Islamic sometime in the future....But I'm not going to do anything violent to promote that. I'm going to do it through education."


And also by Omar Ahmed, Chairman of the Board of CAIR (Council of American Islamic Relations), San Ramon Valley Herald, July 1998......"Islam isn't in America to be equal to any other faith, but to become dominant. The Qur'an should be the highest authority in America, and Islam the only accepted religion on earth"

anti-cair-net.org



CAIR is simply not to be trusted!

danielpipes.org



************************************


Most people are not aware that current Hudood Laws in Pakistan dictate that if a woman is raped, she must provide 4 Male witnesses to the crime! And if she is unable to do so, she herself will be punished and possibly prosecuted for adultery!

en.wikipedia.org



Women face harsh punishment in islamic countries:





Let's be honest and call it what it really is.....a cult of death. Some examples for the people who still have their heads in the sand! If you notice, the vast majority of posts from me are merely news articles.....plain old news items speak louder than anything I could ever write, and so I post news articles until, one day, hopefully, this scourge comes to an end.


Beslan, with 385 fatalities, and the majority of them innocent schoolkids:

en.wikipedia.org




The 2002 Bali bombings left 202 dead:

en.wikipedia.org




The 2003 Morocco bombing left 26 dead:

en.wikipedia.org




The 2004 Madrid train bombing left 191 dead:

en.wikipedia.org




The 2005 London subway bombings left 52 dead:

en.wikipedia.org




The 2005 Annan, Jordan wedding bombing left 60 dead:

en.wikipedia.org




But all of these acts pale in comparison with the nefarious acts of islamic madmen which took place on September 11, 2001, and left nearly 3000 innocent people dead:

en.wikipedia.org





Other acts by this so-called religion of peace and tolerance:



Message 22729510 Graphic Picture Warning!



Message 22726497

Message 22726078

Message 22874631

Message 22726869

Message 22726857

Message 22726527

Message 22726518 Graphic Picture Warning!



Message 22726504

Message 22726502

Message 22726434

Message 22726490

Message 22726463

Message 22726459

Message 22726454

Message 22726444

Message 22726437

Message 22726431

Message 22726424

Message 22726421

Message 22726063

Message 22726059

Message 22726051

Message 22726045

Message 22726532

Message 22726538

Message 22726607

Message 22726483

And sadly, some in the west are caving in to the demands of these neanderthals:



Message 22880083

Message 22873525

Message 22886671


A Note: I created this thread after posting news items on various "islam" threads only to be banned for posting the truth! Tolerance is not the strong suit of apologists of islam. People are free to post here; I will not stoop to the level of stopping discourse from happening, but if this thread is taken over by people spreading MISinformation or DISinformation, or political talk not germane to the subject being discussed, they will be banned.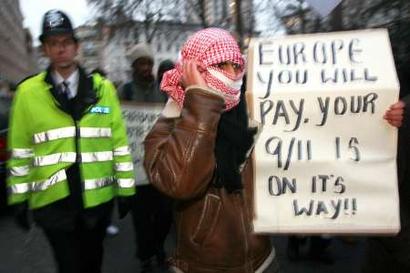 Never Forget what happened on that horrible day!


Palestinians Party on September 11

littlegreenfootballs.com



These thumbnail images are from HonestReporting.com, where they saved a screenshot of a Yahoo photo search page. All these photos were quickly removed after photographers and stringers were threatened with death by the Palestinian Authority, and it is now extremely difficult to find full-sized images of the celebrations.

*****************************
People on every continent watched in horror as astonishing images of terror in the United States filled their television screens. But in the West Bank town of Nablus, Palestinians cheered and distributed candy to passers-by, and Iraqi television played a patriotic song that began "Down with America!" as it showed the World Trade Center towers collapsing.

About 3,000 people poured into the streets of Nablus shortly after the attacks began, chanting "God is Great" and — in their traditional gesture of celebration — handed out candy.



Message 22841788

**********************************************

And apparently they have no qualms about using innocent children as human bombs:

'Baby bomber photo' shocks Israel

news.bbc.co.uk




********************

Bottle and baby used as bomb | The Daily Telegraph

news.com.au




A HUSBAND and wife arrested in the British terror raids allegedly planned to take their six-month-old baby on a mid-air suicide mission.

Scotland Yard police are quizzing Abdula Ahmed Ali, 25, and his 23-year-old wife Cossor over suspicions they were to use their baby's bottle to hide a liquid bomb.

************************************************************

I am also cognizant that there are good muslims out there, but I only wish they would make their voices heard. Radical islam will not change unless these people speak out, such as these brave people:



Message 22803182

Message 22818503

Message 22841363

Message 22843094

But unfortunately, I find these people to be the exception, rather than the rule.






This thread IS an unabashed pro Israel, pro United States, and pro Democracy thread. And I make no apologies about that.