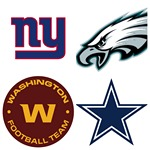 An SI Board Since November 2009
| Posts | SubjectMarks | Bans |
| --- | --- | --- |
| 3747 | 20 | 0 |
The National Football League's NFC East Division

This SI board originally hosted by Dale Baker is a forum for articles, blog posts, civil dialogue, opinions, or insight about NFC East teams. All NFL fans are welcome to participate here.

For broader coverage of the NFL please tune in the SI 'Football Forum (NFL)' board hosted by JakeStraw.





The NFC East founded in 1970 is a Division of the National Football League's National Football Conference (NFC). It currently has four members all of which have been in the division since 1970: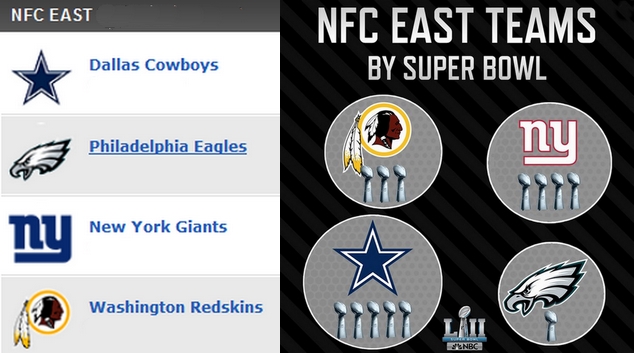 NFC East teams have combined to be the most successful division in the NFL since the 1970 NFL merger with 21 NFC Championship wins and 13 Super Bowl victories, the highest marks of any division in the NFL. The Cowboys have had 5 Super Bowl wins, The Giants 4, the Redskins 3. The late blooming Eagles have 1 earned in 2018 at Super Bowl LII in Minneapolis. The NFC East is the only division under the NFL's current divisional structure in which all four teams have won at least one Super Bowl.

The Cowboys play at at AT&T Stadium in Arlington Texas, the Eagles at Lincoln Financial Field in Philadelphia, Pennsylvania, the Giants at MetLife Stadium in East Rutherford, New Jersey, and the Redskins headquartered in Ashburn, Virginia play at FedExField in Landover Maryland.

Because the division's teams are in some of the United States' largest media markets (New York No. 1, Philadelphia, No. 4, Dallas-Fort Worth No. 5, and Washington No. 8), the NFC East receives a high amount of coverage from national sports media outlets. The NFC East can also be called the most valuable NFL Division. All four teams in the division are in the top ten of most valuable NFL franchises (Cowboys #1; Giants #3; Redskins #5; Eagles #10).

• NFC East (Wikipedia): en.wikipedia.org

• NFL & other Pro Sports at m³ Sports History: mcubed.net

• NFL Teams Depth Charts and Rosters: ourlads.com

• Pro Football Reference: pro-football-reference.com

NFL News:

• 247 Sports NFL News: 247sports.com

• ESPN NFL: espn.com

• Fansided NFL | fansided.com

• NFL News | nfl.com

• SBNation NFL: sbnation.com

• Sports Illustrated NFL: si.com

• Sporting News NFL: sportingnews.com

• USA Today Sports NFL: usatoday.com

AFC East Teams (SB Nation)

• SBNation | Cowboys: bloggingtheboys.com

• SBNation | Eagles bleedinggreennation.com

• SBNation | Giants: bigblueview.com

• SBNation | Redskins: hogshaven.com

- Eric L. -
| | |
| --- | --- |
| | Go to reply# or date (mm/dd/yy): |
| | |
| --- | --- |
| | Go to reply# or date (mm/dd/yy): |