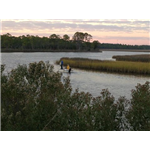 An SI Board Since October 2009
Welcome from Humble1

I want to thank Silicon Investor for this site. We are all guests here.

Nothing said or done here by me or anyone should be construed as trading or investment advice! I am not certified or qualified as an analyst or a financial adviser. I am a private trader who tries to make money swing trading the daily SPX bars and selected equities, with help from friends.

H1&STF is for discussions about Time and Price for use in swing trading the SPX and selected equities. I consider gold and silver coins a valuable long term holding to be accumulated during sharp sell offs. All charts and discussions concerning gold and silver are welcomed.

Your posts and comments are encouraged. Whether bull or bear, they will be appreciated. Swing trading means trading in both directions.

Absolutely no foul language, or faux foul language and related acronyms, of any kind.

Good Luck!

Fortuna Cornucopia






H1 Motto: In Utraque Fortuna Paratus


Astro Section

"As above ...





"... so below."

Mars Square Saturn

This is an issue we covered greatly in the Forecast 2017 Book and last week's special webinar. The inauguration of President Trump on January 20, 2017, at noon, occurred under a Mars/Saturn square at 23-24° of Sagittarius and Pisces (mutable signs). Mars is the god of war, and Saturn is resistance. Together, they are known as the planets of geopolitical tensions and possible military confrontations. Since it is an inauguration chart, it is in effect for the next four years. This Mars/Saturn squared made a grand square with the USA natal Mars/Neptune square at 20-22° of Gemini and Virgo, the other two mutable signs. Mars in a nation's chart reflects its capacity for war and aggression. So immediately, we see the greater than usual prospects of a war during this administration's first term.

- Ray Merriman

[AstroNutcakes may want to take a look at the Mars/Saturn on 10/11/17. - H1]


The Mars/Sun Conjunction

new.mmacycles.com and new.mmacycles.com wherein he discusses the 7/26/17 Sun/Mars, the 2017 August-October period, and the 2017-2020 reset.

We have the grand cardinal cross in effect now through July 20, followed by the Sun/Mars conjunction in early Leo, a fire sign, July 26. That is followed by the total solar eclipse of August 21, and then the final Jupiter/Uranus opposition of September 27.

new.mmacycles.com.

new.mmacycles.com

Chart Gallery





Perspective Gallery

A Cup of Tea

Nan-in, a Japanese master during the Meiji era (1868-1912), received a university professor who came to inquire about Zen. Nan-in served tea. He poured his visitor's cup full, and then kept on pouring. The professor watched the overflow until he no longer could restrain himself. "It is overfull. No more will go in!" "Like this cup," Nan-in said, "you are full of your own opinions and speculations. How can I show you Zen unless you first empty your cup?"

te esse hominem memento; mortalem te esse. memento mori. respice post te. nam mors indecepta!




Seasonality and Bubble Hit Confluence

Thanks to Zman for posting this interesting NDR 116 year seasonal chart. It happens to overlay nicely with my stream of low possibilities, which lasts until 11/6 (and maybe all the way until 12/21), and it fits in with the Astro warnings from Ray Merriman.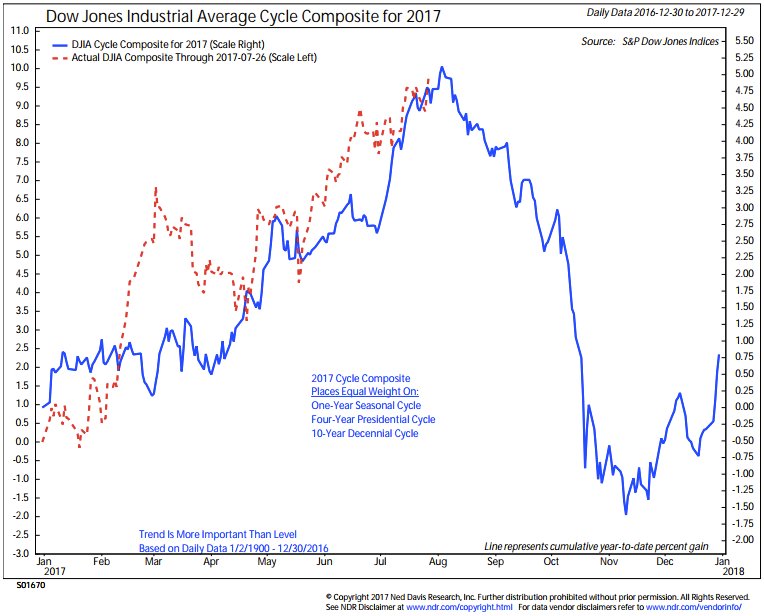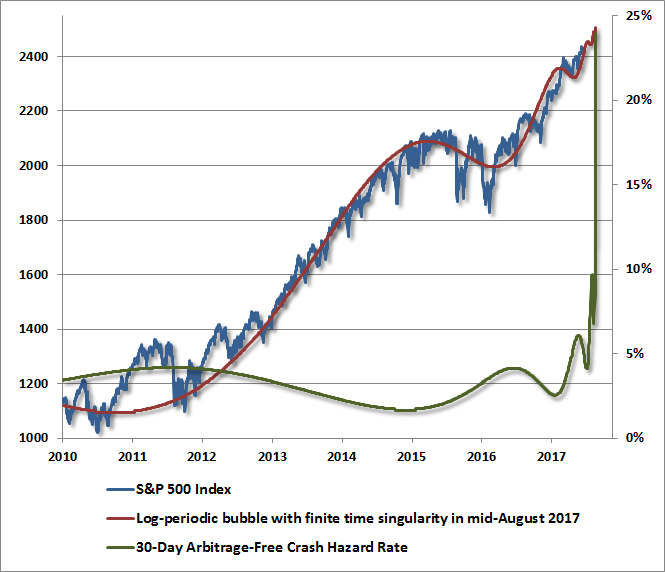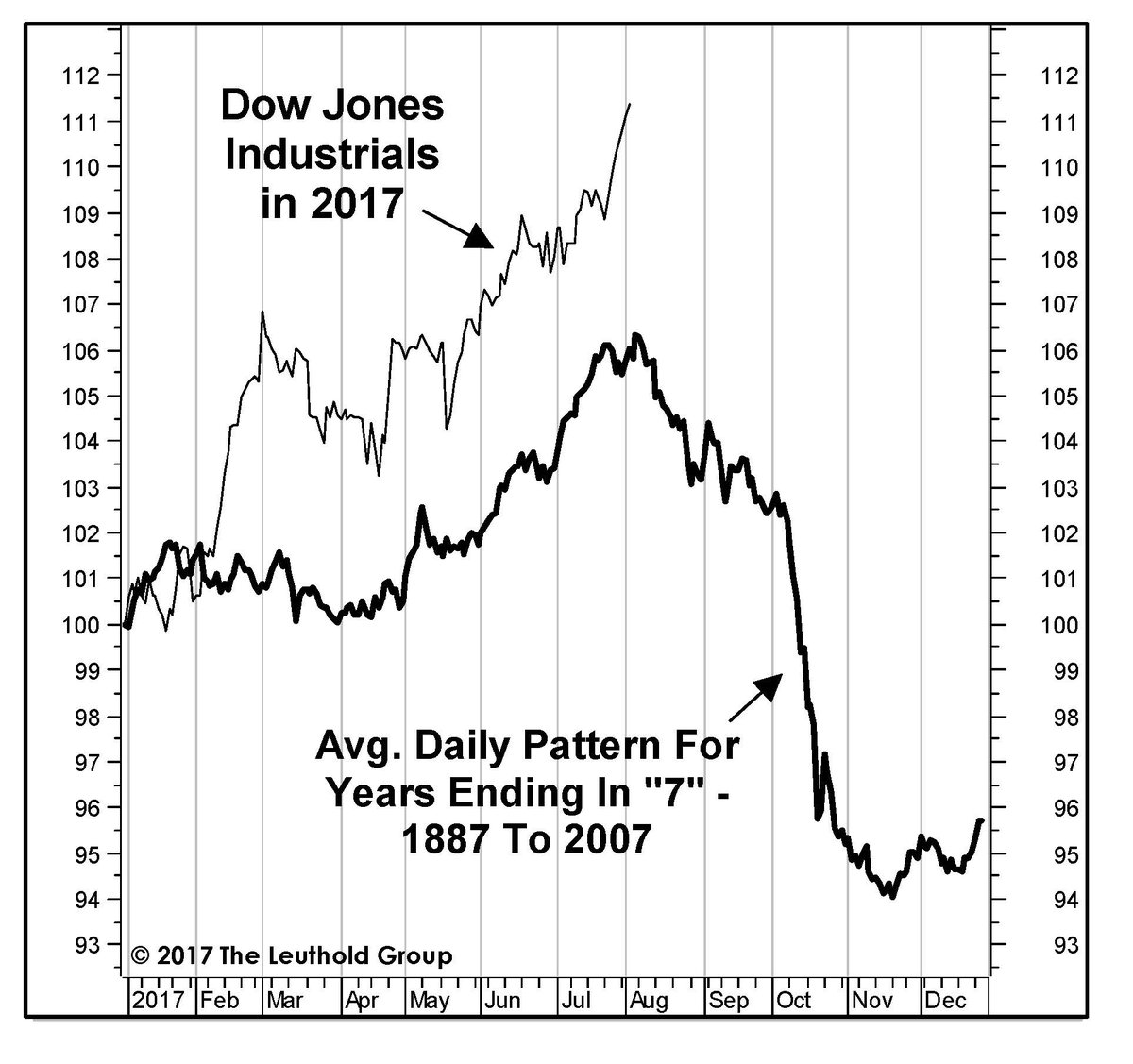 The panic window is opening wider by the day. All requirements have been met. The mid august Didier Sornette finite time singularity is now complete. The Puetz scenario, discussed in the intro, is on target. Valuation horror can take hold quickly.
------------------

DateWatch: 9/26/17! (+/-1) (zman date), 10/11/17, 10/19/17 (+/-1), 11/6/17, 1/6/18
------------------
AstroWatch: 9/25/17, 9/27/17, 10/7/17, 10/11/17, 10/18/17, 11/11/17, 12/21/17, 1/6/18
------------------
Event Watch:
9/20/17: FOMC Presser
9/26/17: Run-off Between Moore (Bannon) and Strange (Trump) breitbart.com huffingtonpost.com
10/18/17: Chinese Communist Party Conference
------------------
China Watch:
Outflows: Message 31267091
Debt Funding: Message 31267095
------------------
Price Watch: SPX 2083!
| | |
| --- | --- |
| | Go to reply# or date (mm/dd/yy): |
| | |
| --- | --- |
| | Go to reply# or date (mm/dd/yy): |